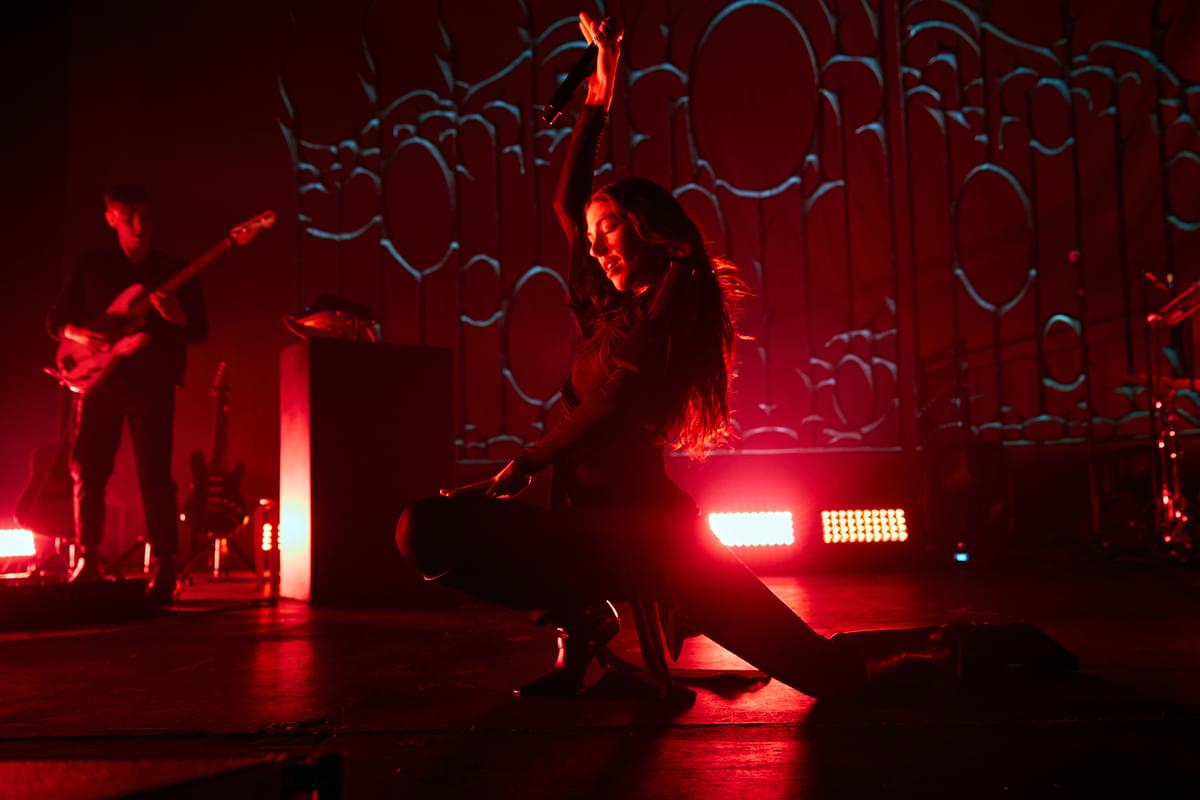 Haters will say it's autotune! Caroline Polachek triumphs in London
29 October 2021, 10:00
Teasing new music from the hotly-anticipated follow-up to her solo debut Pang, Caroline Polachek's vocal acrobatics and expert storytelling are awe-inspiring as she opens the door into her world of ethereal pop at Camden's Roundhouse.
Almost two years to the day since Polachek played her very first solo UK headline show at Hoxton Hall, her largest show this side of the Atlantic is a triumphant showcase of her unparalleled talent as a vocalist and disruptive force in pop. Fresh from an equally stunning headline performance at Islington Assembly Hall the night before, Pang remains front and centre and it's a testament to its greatness that its cosmic beauty and charm are still as captivating now as ever.
Polachek's 2021 set remains largely unchanged from both her Hoxton Hall show and her infamous March 2020 Heaven show, which occurred just days before the country was plunged into lockdown. The exceptions are her incredible live band and the addition of her quizzical whistle-led latest single "Bunny Is A Rider" (who is Bunny, what is she riding?) and three unreleased tracks, including "Smoke" which her and Danny L Harle wrote the day before Heaven and premiered live that night.
Remembering the day which tickets for this show went on sale in May, Polachek recalls the bike ride she was on with her sister, she'd been questioning whether people would be "too freaked out" to commit to an in-person live experience again, but she was wrong. Taking a pitstop on the cliff-top path they'd been following she tells us she sat and cried after learning they sold out in just one hour. Polachek teases "I dare you to have a better night than me."
At home on stage, backed by her infamous gate motif, Polachek sparkles as her voice, and hands, deliver intricately choreographed manoeuvres. Crashing live drums and tantalising lights elevate album standouts like "I Give Up" and "Ocean Of Tears" and her transcendent re-imagining of The Corrs' "Breathless" as Polachek confidently flips her hair and kicks the air. "Caroline Shut Up" feels really special, with the whole crowd screaming back the titular lyric, vanquishing any feelings of doubt and insecurity Polachek could've felt going into this set.
Special guests include Sega Bodega who hops on stage to play the guitar for flamenco-inspired new song "Sunset" and Danny L Harle who accompanies Polachek for a crushing rendition of Pang standout "Look At Me Now". Harle remains as Polachek unleashes a jaw-dropping run through "The Gate", a true haters will say it's autotune moment, and the vocal performance of the night.
"So Hot You're Hurting My Feelings" ends the pre-encore set, Polachek's signature song was made for this space – a euphoric and cathartic experience, one fan even smuggled in a banana to consume during the track's iconic bridge. Joined by the Trinity Girls Choir for "Billions" and set closer "Door", Polachek reveals this is her favourite show she's ever played. A note she didn't include the night before, but a feeling that's sure to follow as crowds grow and they continue their earnest attempts to hit the high notes.
Get the Best Fit take on the week in music direct to your inbox every Friday