Polaris Prize announces 2012 Longlist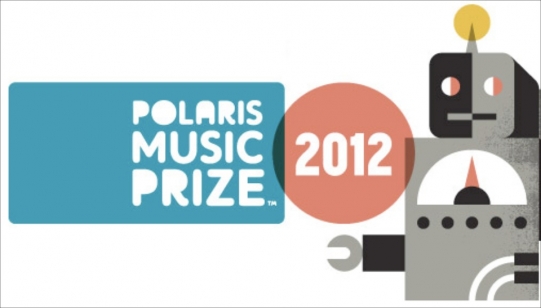 The long-list for the 2012 Polaris Music prize was announced today at the Waldorf Hotel in Vancouver, BC. The ceremony, hosted by CBC's Lana Gay with assistance from local artists Dan Mangan, Hannah Georgas and Veda Hille revealed the list of artists chosen by the various Polaris jurors drawn from across Canada. The judging panel is made up of music journalists, broadcasters and bloggers who are asked to put forward five albums of the year (in this case the year being 1 June 2011 to 31 May 2012) without regard to genre or sales history. Those with the most nominations are then put forward as a long list of 40, and the jurors are then asked to select a shortlist from these. The shortlist will be announced on 17 July.
While just 10 will make the short-list for the $30,000 prize and get the invitation to attend the award ceremony in Toronto in September, the long-list celebrates the sheer wealth of talent coming out of Canada at the moment. You can pick your winners, pick your nominees, or just pick up some recommendations of new music to discover from the 40 artist long-list. To help with your discovery, we've put links to the records for your streaming pleasure (where possible).
A Tribe Called Red- A Tribe Called Red
Marie-Pierre Arthur – Aux Alentours
Rich Aucoin – We're All Dying To Live
Avec Pas De Casque- Astronomie
Azari & III – Azari & III
Bahamas – Bar Chords
The Barr Brothers – The Barr Brothers
Blackie and The Rodeo Kings – Kings and Queens
Cadence Weapon – Hope In Dirt City
Kathryn Calder- Bright and Vivid
Cannon Brothers – Firecracker/ Cloudglow
Coeur de Pirate – Blonde
Drake- Take Care
Leonard Cohen – Old Ideas
Cold Specks – I Predict A Graceful Expulsion
Rose Cousins – We Have Made A Spark
Mark Davis – Eliminate the Toxins
Kathleen Edwards – Voyageur
Feist – Metals
Fucked Up - David Comes To Life
Great Lake Swimmers – New Wild Everywhere
Grimes – Visions
Handsome Furs – Sound Kapital
Japandroids – Celebration Rock
Dan Mangan – Oh Fortune
Mayors Of Thrace – The Pilgrimage
Arriane Moffat – MA
Lindi Ortega – Little Red Boots
Parlovr – Kooksoul
Sandro Perri – Impossible Spaces
Joel Plaskett Emergency- Scrappy Happiness
PS I Love You – Death Dreams
John K Samson – Provincial
Shooting Guns- Born to Deal in Magic 1952-1976
The Slakadeliqs- The Other Side Of Tomorrow
Patrick Watson – Adventures in Your Own Back Yard
Bry Webb – Provider
The Weeknd – Echoes of Silence
Yamantaka // Sonic Titan – YT//ST
Yukon Blonde – Tiger Talk