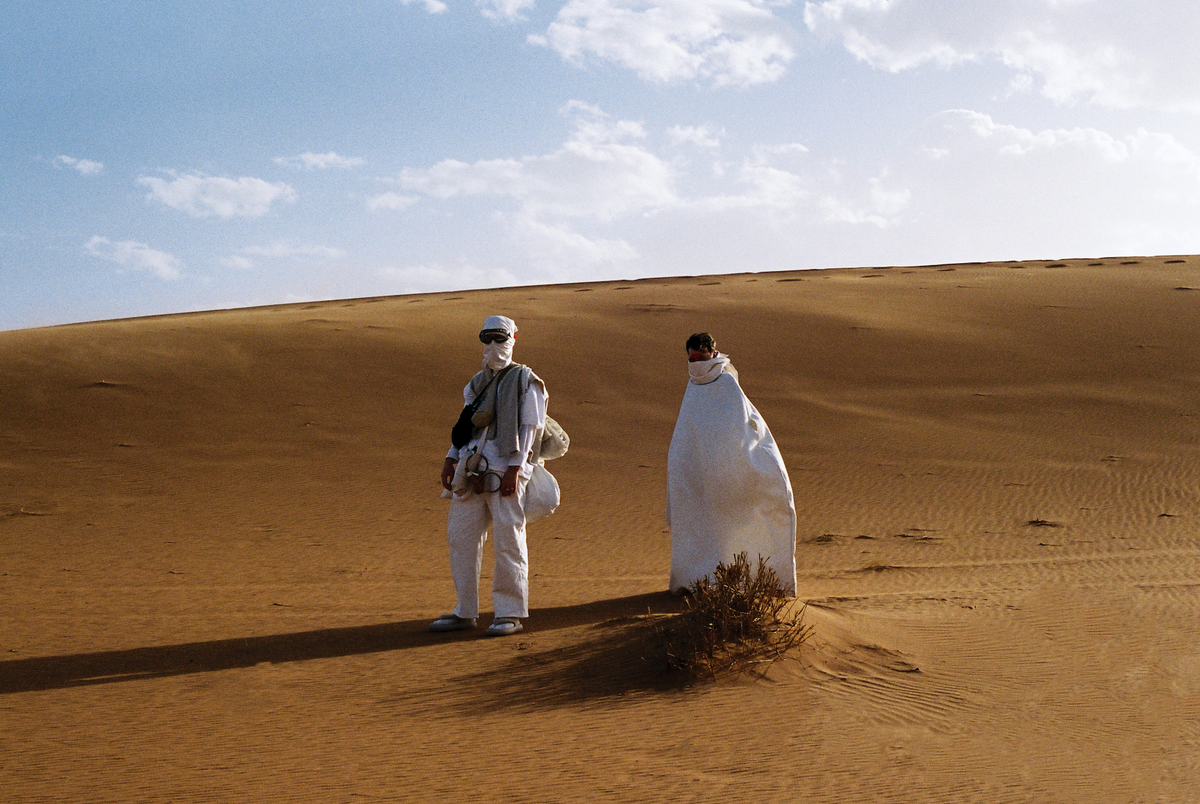 SuperParka channel Akira and make it sound "easy"
Parisian duo SuperParka found inspiration in the anime classic, Akira, for their latest single: the muscular, American R&B of "easy".
Of course, any mention of the word "easy" and the genre R&B causes the mind to centre on the Commodores' breezy breakup anthem of the same name – and whose own muscularity stems from an unusually primal, Lionel Richie groan. SuperParka (a.k.a. Simon and Paco) opt for a tom-heavy feel that mixes sinew and sweat, as if Prince's "1999" really were the end of a world and the future/sex of Jai Wolf and Miguel were the reboot.
Akira – a dystopian epic released in 1988 – surprisingly dovetails with the aesthetic of their latest track "easy". Whilst music from the original soundtrack falls somewhere between traditional Japanese folk, Steve Reich, Terry Riley, and Aphex Twin's "Xtal", what caught SuperParka's attention were unrelated visuals that brought them back to the movie.
Simon explains, "'easy' is born with the idea of making a soundtrack of an '80s futuristic inspired western. The whole idea originated from some pictures found in a magazine taken in the Mongolian landscape with a mix between traditionally dressed people [and] some others on motorbikes (almost the one from the movie Akira) with modern citizen/fashion clothes." The exploration of modern society, and the unpredictability of the universe as we hurtle towards a certain dystopian future also lays stage for the duo's upcoming album, quatro, set for release in October 2023.
No matter how hard Will Smith's Wild Wild West tried, R&B and dusty frontiers still make for strange bedfellows. Paco's yearning vocal aside, SuperParka ditch any frustrated-loverman overtones to concentrate on the stampeding beats and percussion.
Lyrically, "easy" takes up Akira's existential battles and resistance to oppressive societal forces. "Culture vultures waiting on me", Paco rails, "Blinding my vision, stealing my things." The chorus – "Easy... easier said than done" – provides levity, the ultimate anti-hero one-liner.
The duo's extensive equipment collecting did its part in contributing to the track's dry irony. "I just bought an old mic from the '70s", notes Simon, "that came completely broken but we decided to try and record the vocals with it. I put Paco's vocals through a lot of – too much – compressors and E.Q. and drove them crazy; the sound was ultra-compressed and perfect for the song. I decided later to repair this mic and it sounds fine but not as cool as before, it's a shame...lesson learned: if it's broken don't fix it."

"easy" is out new, ahead of their full-length debut album quatro, set for release 13 October 2023. Follow SuperParka on Instagram.