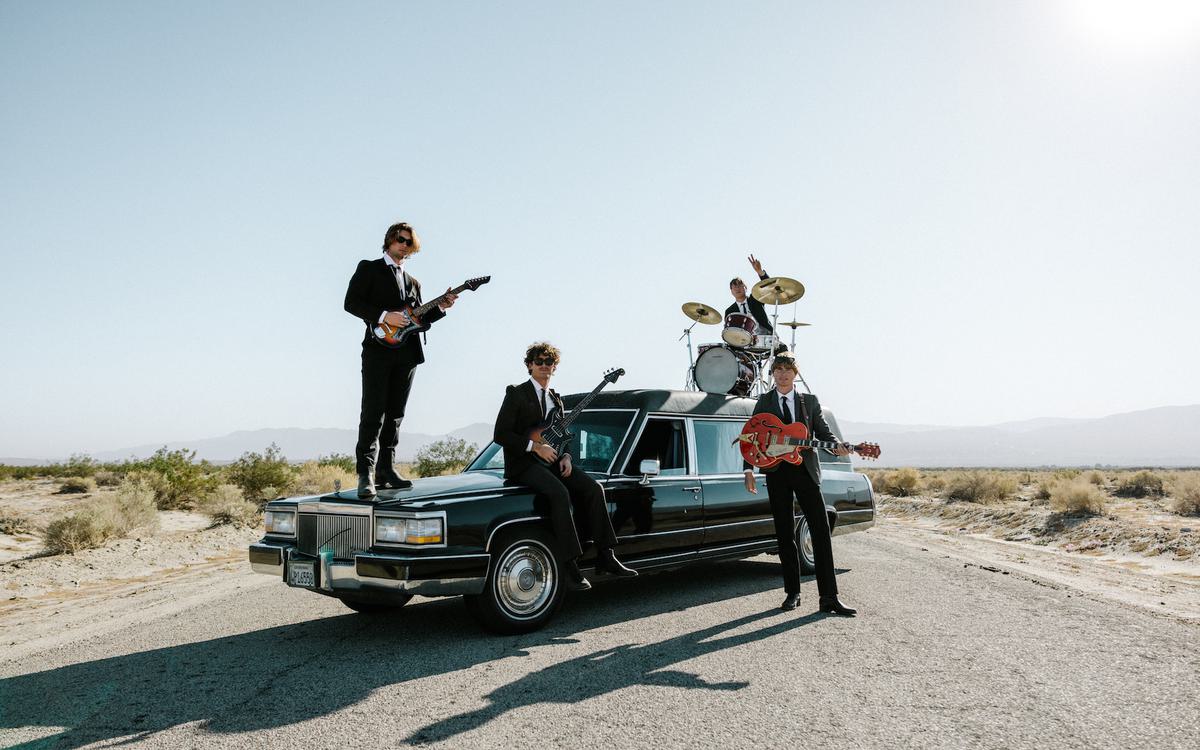 Sun Room deliver 60s charm on their freewheeling single "Cadillac"
Southern California's freshest garage outfit Sun Room are bringing cheerfully anachronistic sounds to the ruptured landscape of 2023, combining old-time influences with an impulse to seize the day on latest outing "Cadillac"
Formed in 2020 in San Diego, Sun Room's devil-may-care charm is a nod to the community of skaters and surfers they grew up around, whose back yards formed the backdrop to all of their early shows. Major support slots with Louis Tomlinson and Inhaler beckoned for the band after Netflix picked up a couple of their tracks for use on hit teen show Outer Banks, still retaining the crackle of raw DIY energy that got them started.
Aesthetically Sun Room channel Beatle-mania, and it's in full force on their latest cut "Cadillac": scratchy suits, grainy visuals, and a forthcoming music video with the kind of crash-zoom caper rarely seen this side of A Hard Day's Night. The raspy guitar riffs evoke The Kinks while the skinny ties give off the schoolboy swagger of early Rolling Stones, it really is the "sound of fun" as advertised in the boys' Instagram bio.
Along with the 1960s, "Cadillac" pays tribute to the garage-rock revival of the early aughts; the dizzy heyday of bands like The Hives and The Vines. Returning to those fuzzy, freewheeling noises of 2002 may be the perfect booster shot for winter, unless you've developed antibodies to that particular strain of music. Either way, you're getting a first class ticket to a time period when letting your hair graze your shoulders was enough to seem subversive.

But even if you don't hold either of those eras dear, the track's subject matter might still hit home in our cash-strapped times. The "Cadillac" of the title is a red herring: this is a song about trying to catch a girl's eye without having two pennies to rub together. After all, it concludes, the best things in life are free. Who needs a soft top when you're crammed into a van with all your mates, limbs knotted around vintage guitars as you chase your next adventure?
""Cadillac" is a rambunctious garage rock jam about being too broke for a girl," says lead vocalist Luke Asgian. "It's short and sweet with unhinged vocals and guitars, reminiscent of early 60s British Invasion bands. The song is exciting, fast, and intentionally unpolished, especially the unruly outro that seems to go about 200 miles per hour."
Despite its throwback appeal, "Cadillac" is a hymn to living in the moment rather than pining over what could be. Making an exception, however, to look ahead at what's to come for the Sun Room boys, the track also ushers in news of an upcoming debut EP for the band, Outta Their Minds.
While it's a little late in the day for four lads to shake the world, the bygone charm of "Cadillac" might at least persuade you to feel better in this moment – a blast of sunshine for next time you check your bank balance.