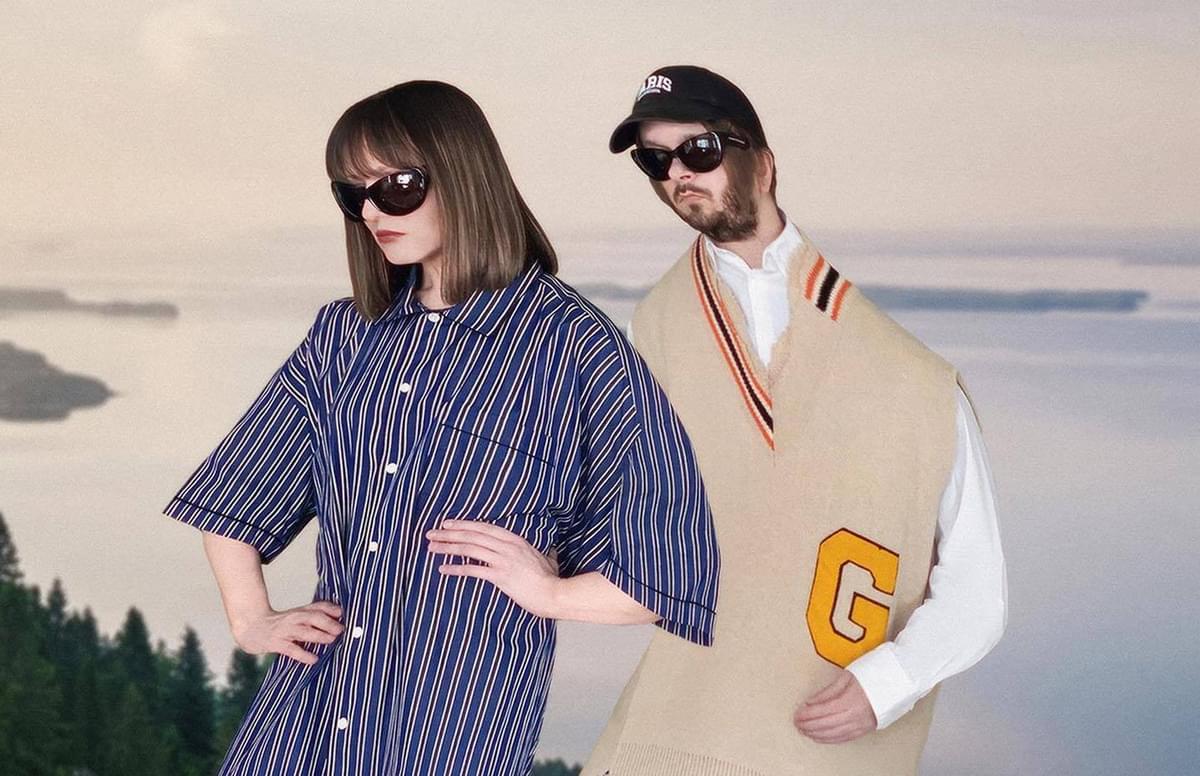 Pearly Drops create iridescent escapism on "Kiss Away The Pearly Drops"
Helsinki-based Pearly Drops meld real-world anxieties with dazzlingly celestial production on the synth-studded "funeral bop" "Kiss Away The Pearly Drops"
When keeping up with current affairs and international news, the world can - quite frequently, actually - feel like a dystopian place. Surreal in its vastness, and festering with doomsday stories and worrisome political action (or inaction), it is easy to feel defenceless to its unnerving ebbs and flows. Under the artistic moniker Pearly Drops, Sandra Tervonen and Juuso Malin find the timbre to illustrate their emotions and anxieties in shimmering synths and running watercolour.
Quite literally titling their 2020 debut EP Call For Help, the Finnish duo self-soothe in the studio, finding a certain solace in the creativity of music making, and the time for reflexivity it allows. From creating album artwork to producing their own material, it is Pearly Drops' hands-on approach that has been most restorative for them, fully invested in every stage of the process. Now on the precipice of their first album release, the similarly macabre titled A Little Disaster, they remain thematically fuelled by sombre undertones, and dark torments.
"I started to associate more and more radiant pigments - or luridness, even - with the album," Sandra explains on painting the cover art, "as I felt like the sense of irresolution and anxiety was so prevalent on the songs. There was also this kind of cozy warmth and tenderness." Filtering the unconscious through the process of songwriting, the sounds and narrations that Pearly Drops produce end up deliberately ambiguous, as the duo strive to be intrigued by their very own creations.

It is funny, then, that their music is so iridescent in the face of its subject matter. Described by the band as the power-ballad of the record, or "funeral bop," new single "Kiss Away The Pearly Drops" delivers a jaunty 80s synth-line and a beat that's as undeniably warm as it is layered. "It's about letting go (of someone or something)", the band explains. "Sometimes it's the living people that make us feel like we're living in a coffin." It's hard to imagine how Pearly Drops can make a song about grief and death so flamboyant, but somehow, it just works.

Combined with the surrealist sway of the production, Sandra's airy and delicate vocal over the track has now become a signature stamp of the Pearly Drops package - a band that may well hail from Helsinki, but sound so unique that they could have been plucked from elsewhere in the cosmos. They've brought this atmospheric touch to compositions they've made for other artists, including ALMA, Nightwave, and Inga Copeland.
Pouring two full careers worth of experience into their debut album, Pearly Drops are ready to deliver one of the most sonically intriguing, and thematically rich, projects of the year. Whilst it may have first been inspired by worldly anxieties, they have created an intergalactic sound to shelter in, and "Kiss Away The Pearly Drops" is the first taste of this iridescent escape.
"Kiss Away The Pearly Drops" is out now, with their debut album A Little Disaster set for release on 14 April 2023. Find Pearly Drops on Instagram.
Get the Best Fit take on the week in music direct to your inbox every Friday