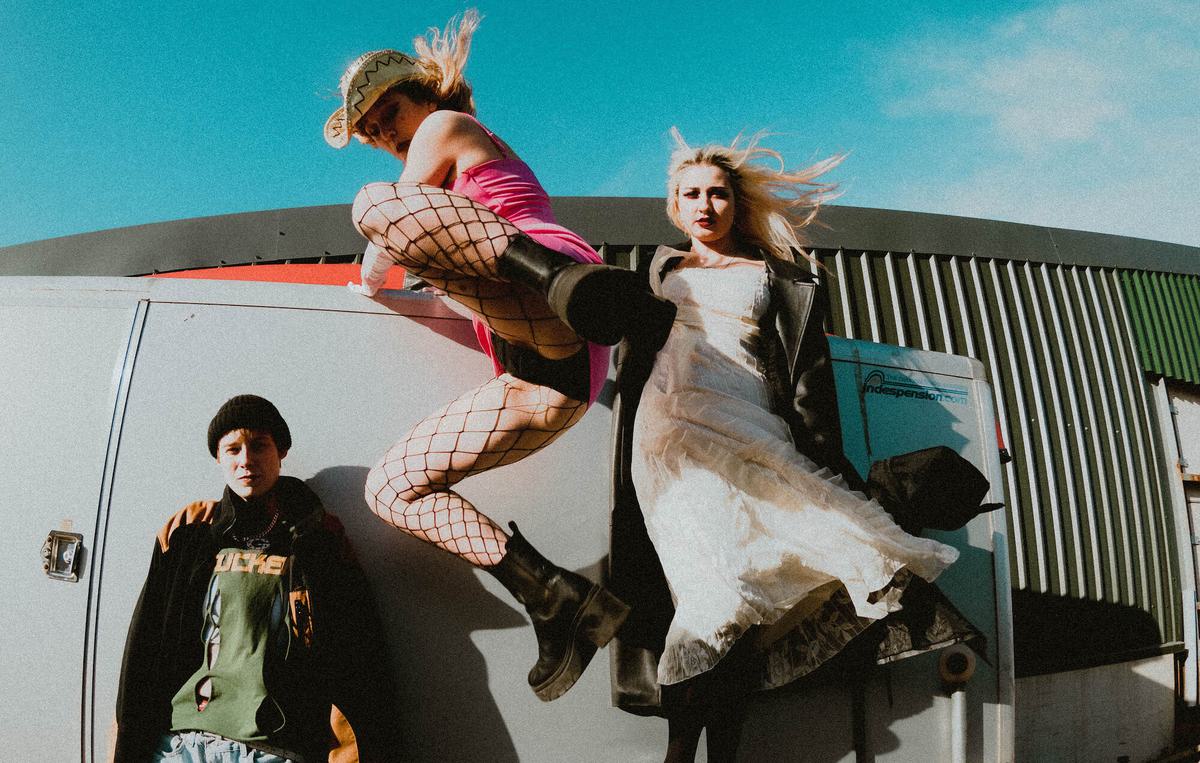 Lambrini Girls fire shots at catcallers on "White Van"
The Brighton punx lift the hood on street harassment with "White Van" – a boisterous call-to-arms with a sneering, sultry afterburner.
Sick of being leered at out the window of a Ford Transit, Lambrini Girls are putting queer, DIY punk back in the driving seat. They've already rear-ended the homophobes and homewreckers, so naturally, catcallers are next on their hit list. The weapon of choice? Some of the rowdiest, snottiest punk on the circuit.
"We're taught, systemically, that it's our sole responsibility to prevent our harassment," the band testify on its inspiration. "'What were you wearing?' or 'you shouldn't have walked home by yourself', implies our body in a public place is considered public property. That if we do not modify our behaviour in everyday life to protect ourselves, then it's our fault entirely. Instead of blaming us, maybe we should point the finger at Terry with his dick out behind the wheel and the system that has enabled his behaviour for years."
The trio's bolshy cocktail of goth-punk and societal commentary has long been a cornerstone of Brighton's queer community, regularly spilling out of local venues like Green Door Store and onto the cobbled streets below. But it was only after releasing a string of singles back in 2021 that Lambrini Girls would venture beyond the twittens of the nation's gayest city with the hopes their message would be as fondly received elsewhere (spoiler: it was).
Lurking somewhere between the sexy, the smart, and the absurd, LG's sound resists definition as vehemently as its band's members. Plucking from her repertoire of thuggish cheerleader chants and snarled hollers, sung sections and punk gabble, Phoebe Lunny leads the way on biting sonic crusades against social adversaries (namely: misogyny and the male gaze), while Catt Jack and Lilly Macieira summon searing rhythms that encourage twerking on the wreckage.
As recently as the early nineties, women at punk shows were dismissed as "coathangers" whose role was to stand at the back holding the coats while their boyfriend was moshing, and Lambrini Girls haven't forgotten it. Along with following proudly in the platform-booted footsteps of femme-punk stalwarts like Bikini Kill and Le Tigre, the trio are passionate about excavating a sonic space of their own. One where cowgirl hats are compulsory, cherry perry flows freely, and everyone is uplifted to be their authentic selves.
Coincidentally, it's not just the girls, gays, and theys who've been won over by such outrageous anthems as "Big Dick Energy" and "Help Me I'm Gay", but punk tastemaker label Big Scary Monsters who snapped up the band in late 2022. Stomping out concerns that the collaboration would water Lambrini Girls down, "White Van" has only stirred up more anticipation for their debut EP coming later this year.
Characteristically unserious, the band share on the project: "Ghostwritten by Matt Hancock, "You're Welcome" was considered to be one of the worst EPs ever released and declared a biohazard. Rediscovered by Lambrini Girls whilst bathing in their swamp, the EP can now be exchanged for discounted massage coupons and a selection of cured meats. Medical waste aside, if you feel invalidated, overlooked, or someone out there has made you feel like a flaming pile of shit, then we hope this EP empowers you to absolutely fucking send it."
It's a bitter pill to swallow that violence against women and the intolerance of homosexuality, non-binary, and trans people are still issues that need shouting about, but Lambrini Girls are the fizzy wine that helps the medicine go down. Drink up!