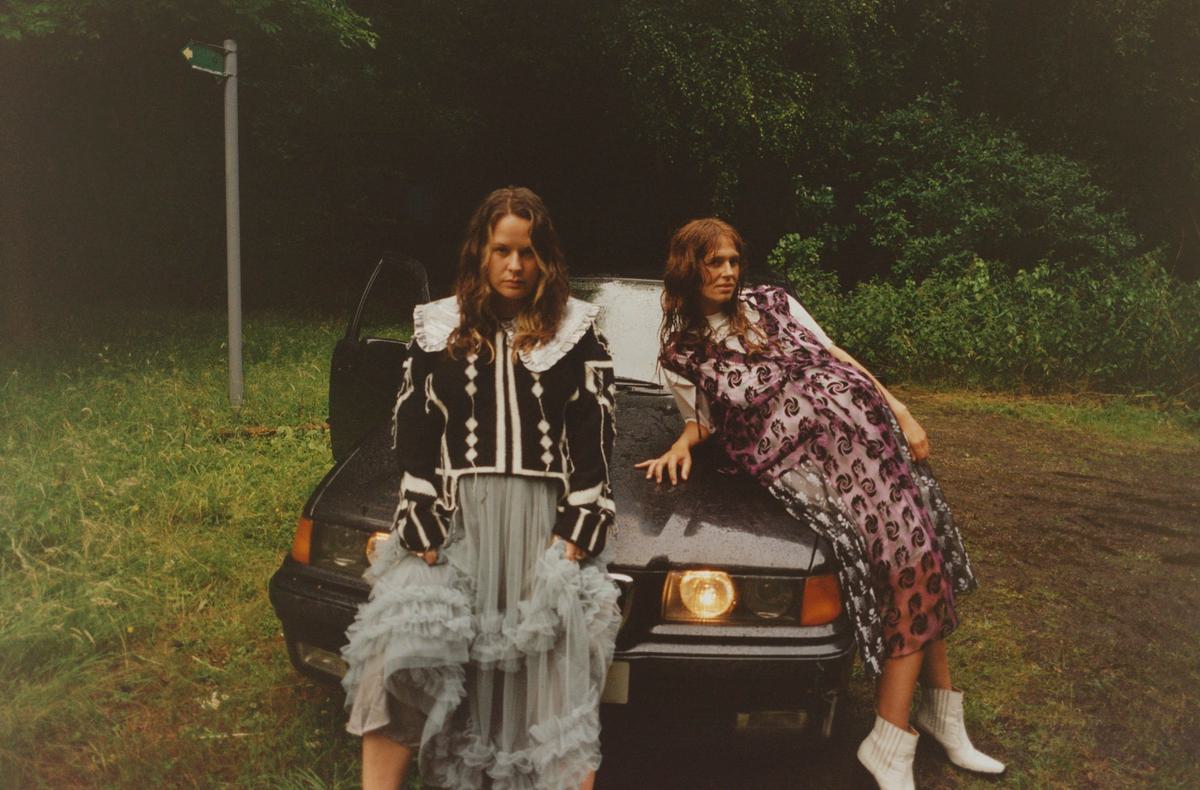 Dolores Forever lay friendships to rest on "Funeral"
A spritely companionship underpins Yorkshire via Copenhagen duo Dolores Forever but their newest single "Funeral" forays into friendship's deeper, darker sensibilities.
Since bonding over a shared love of Stevie Nicks on a rooftop in Greater London, Hannah Wilson and Julia Fabrin have been doing music (and life) together. As Dolores Forever, their friendship and creative connection has only blossomed; coalescing into a small but beautifully formed discography of impassioned indie-pop that channels Nicks and her predecessors.
Produced by King Ed (Years & Years, Baby Queen, Dylan) and recorded right back in London, "Funeral" is the latest, and perhaps greatest, fruit of their labour. A blissful, synth-powered pop melter soaked in hooks and the band's signatory soaring harmonies, it sees their knack for full-bodied, indulgent songwriting plunge to new depths. "'Funeral' is about toxic friendships and self-obsession," the duo say of the track. "Wondering whether your friends care about you and whether you should care that they care."
Prompted by their affinity for "morbid humour", the funeral in question acts as a dark allegory for the death of a friendship. A flame flickering out after one member has poured themselves into it, tenderly and tirelessly, while the other just draws from that bank without putting anything back. "If I die would you cry at my funeral?", the chorus implores. "Or would you show up at the end and keep everybody waiting?"
"We love a love song as much as anyone, but we always intended to explore writing beyond that," the band tells BEST FIT. "Like what are the songs that only we could write? 'Funeral' is very much ours, it's so specific to our own experiences and sense of humour as well." It's an unbridled innovative spirit that separates Dolores Forever from the swarming indie consortium. Their songwriting, while rarely superficially complex, shrouds labyrinths of hidden meanings and artful meditations on human relationships – the good, the bad, and the ugly.
Passionate pop culture connoisseurs, they cite their songwriting heroes for inspiration – Haim, Mitski, Sharon Van Etten – but in doing so have found a pocket of the indie scene to call their very own. A sonic shelter for anyone who, like them, feels things intensely. As their forthcoming EP draws ever closer, "Funeral" emerges as a small, bewitching terrain of what Dolores Forever is yet to show, as well as a rousing reintroduction to a best-pal duo with potential aplenty.
"We wouldn't have started this band if we weren't friends first," Fabrin finishes. "It gives us a sense of intuition when writing – we find it really easy to bounce lyric ideas back and forth as we're so on the same page. But you also have to navigate this path of working together while not burning out the friendship. We spend a lot of time together – luckily we still like each other, honestly we're just getting started."