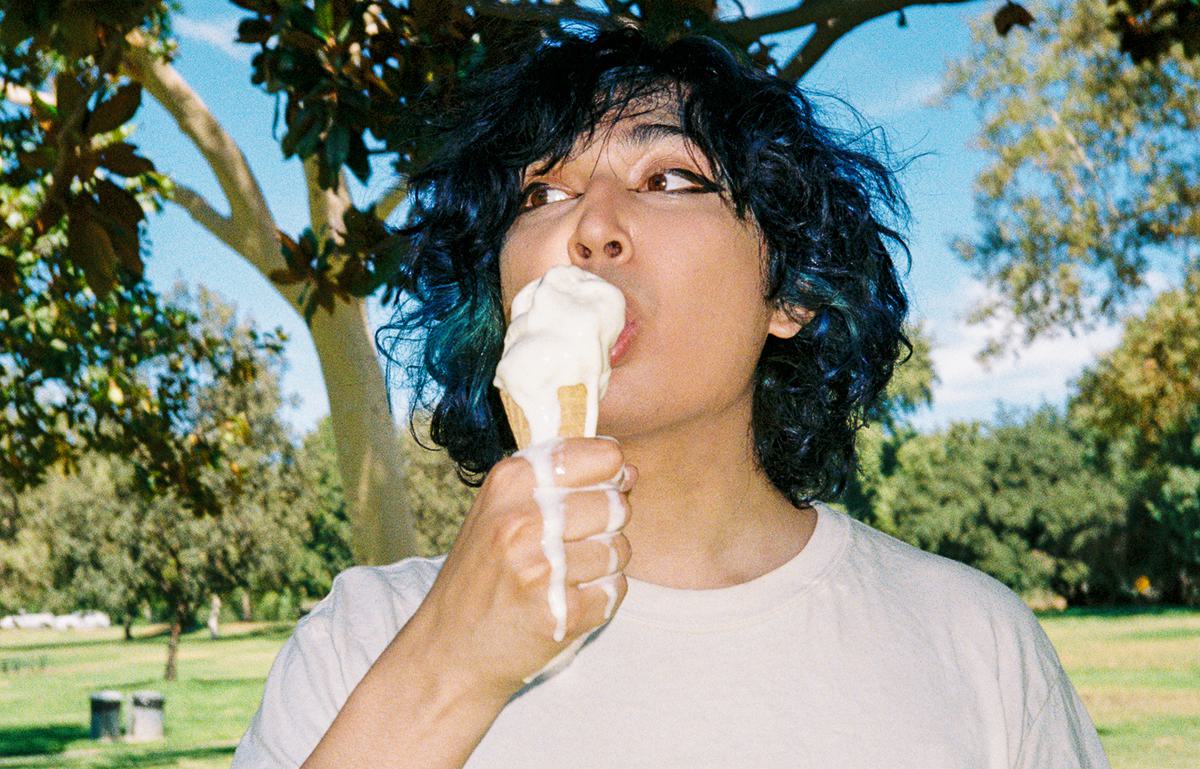 "Da Da Song" is carpetgarden's ode to fuzzy, lo-fi, queer love
Lo-fi and the love song are a match made in heaven (or in Carpetgarden's bedroom). On "Da Da Song", the Californian popster returns with a flushed, tender tale of falling for someone.
Growing up is hard, but carpetgarden's David Sweet is here to make it a bit easier; or if nothing else, sound a bit sweeter. The Fresno, California native has come a long way since posting ukulele covers on the web in 2017, but on "Da Da Song", their relish for whimsical sonics and heartfelt anecdotes burns stronger than ever.
Lapped up by a hip, disaffected teen audience, the style is dreamy, introspective and intimate, spanning across bedroom pop, lo-fi, emo, and confessional slacker rock, along with pretty much anything Sweet is enjoying at the time. It's music for balmy summer evenings with orange skies, flushed cheeks, and laughter in the air – a feeling of invincibility seeping in as you feel the days could last forever.
Soaked in euphoria and reverb, "Da Da Song" continues carpetgarden's quest for the perfect ratio of whimsical optimism to crushing reality. As Sweet explains, "This song is a really gay love song for my partner. I reference a lot of the little moments of my life that became more important once I had someone to share them with. My favourite part of the song is when it goes super distorted and almost overwhelmingly loud, just because falling in love can be overwhelming."
It's a sensation etched into the very bedrock of the song which returns to a dizzying central hook at every given chance, even as its structure falls into wanton abandon: "I'm fallin' for you/ you're always on my mind." Where you might expect the song to fade into the sunset, it does the opposite; descending into a fuzzy, amorphous mass of whoops, whistles, and warping reverb that does little to quell the obsessive thoughts that swarm and spiral in the mania. 'Living rent-free', I think the kids say.
For Sweet, music has always been this constant. Whilst grappling with gender dysphoria, embracing their non-binary identity, and finding comfort in a new community after abandonment, there was always a band humming in the background – The Garden, The Drums, Surf Curse/Current Joys. Anything dealing with existential woes and frenetic basslines.
It is perhaps extra special that Sweet's own sound has captured the imaginations of a legion of like-minded fans. Many of them are also self-proclaimed misfits, searching parlously for their place in the world and a soundtrack to accompany it. When taken together with lyrics that tackle growing up and embracing a unique identity, carpetgarden's rich, impish slacker-pop sound has begun to resonate on a truly impactful scale. Bedroom pop might just have a new ringleader.