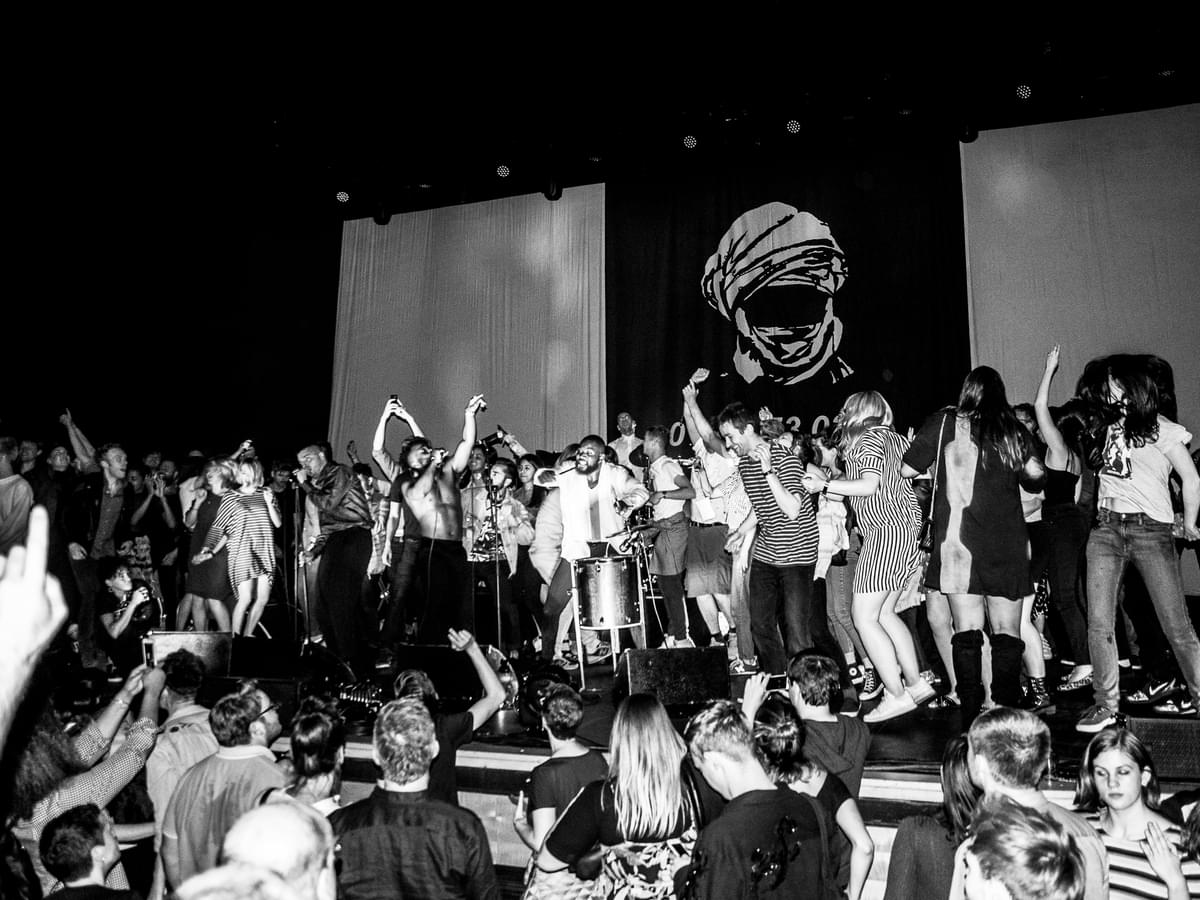 Transcending borders: Young Fathers live in London
It strikes me that Young Fathers would baulk at being described as one of Britain's most vital bands, despite the evident truth of that statement. Not due to false modesty - the Mercury Prize-winning trio have always come across as deservedly confident of their own talent - but because, as Graham "G" Hastings comments as they take to the Royal Festival Hall stage tonight (9 June), they're not a band who believe in "countries" or "borders".
It transpires that the South African singer meant to guest on their opening song was prevented from entering the country by the UK Border Agency, a sadly ever-more-common occurrence in these paranoid and reactionary times. As a result, the otherwise laconic Scots were forced to ditch their first number, and replace it with some impromptu remarks in its stead. But in many ways this speech, existing only as a result of bureaucratic injustice, set the perfect tone for the evening, one that declared that the only "country" that mattered was the one existing within the parameters of the Royal Festival Hall; a country open to all regardless of race or creed. What more perfect representation of this year's Meltdown festival, curated by inspirational Anglo-Sri Lankan firebrand M.I.A, could there be?
Expanding their typical three-man line-up to incorporate a drummer and a dozen backing singers, their live show remains strikingly stark and no-nonsense. Beyond the opening spiel, there's next to no banter; the stage setup is entirely monochrome (recalling the sparse but highly effective visual style of "Third"-era Portishead). That the spotlight is so firmly focused on the artists rather than gimmickry or fancy light shows could be a hindrance for a less charismatic trio, but Young Fathers have the taut, visceral self-assurance of a group who've been performing together since the age of 14.
Their genre-spanning sound isn't easy to summarise (and based on their interviews, they appear to take great pleasure from that), but despite the impressive array of influences and styles Young Fathers employ they maintain a marvellous consistency of tone and atmosphere. "Queen Is Dead" for instance combines elements of hip-hop, grime and bhangra; "Rain Or Shine" features spoken word verses, R&B harmonies and a vaudeville-style organ, and both songs nonetheless evoke the dark, cacophonous edge that's become the band's calling card.
What ultimately makes the Young Fathers live experience so noteworthy is the interplay between "G", Alloysious Massaquoi and Kayus Bankole, who take this ambitious melange of sound and render it with a passion one might find unnerving from an Edinburgh band. Their vocals range from guttural shouts to Motown-sweet soulfulness as they strut around the stage like caged tigers, engendering an experience both spiritual and sinister. Shirts come off, drums appear and are banged with alarmingly ferocity, and even those of us up in the gods couldn't help but absorb their remarkable vitality. Indeed, they made the extra musicians appear rather superfluous, though the backing singers did get their moment to shine during the euphoric "Ebony Sky".
The show concludes with their most unabashedly anthemic number "Shame", fittingly dedicated to our Prime Minister (at time of writing) Theresa May. Half the audience end up on stage, the rest of us dance in the aisles - whilst this new country Young Fathers have forged is but a transitory one, it's surely a hell of a lot more fun than the real kind.
Get the Best Fit take on the week in music direct to your inbox every Friday