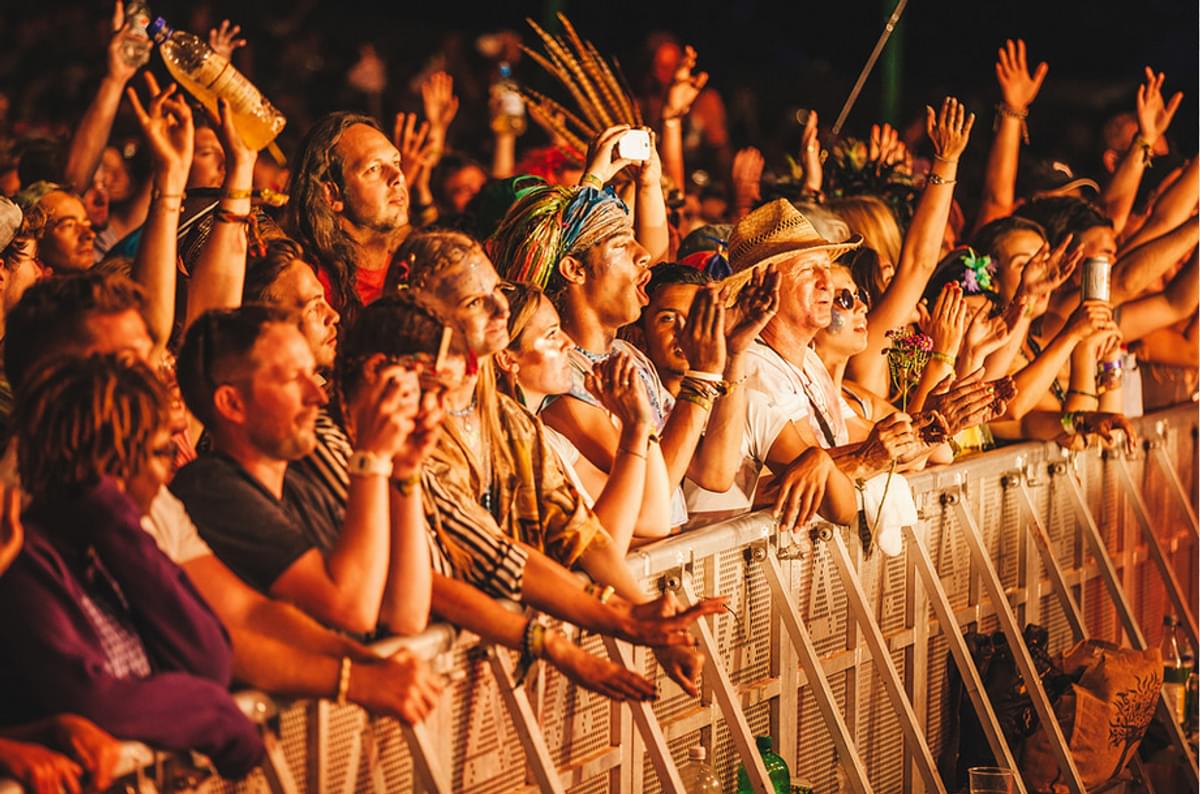 It's difficult not to raise an imperiously-arched eyebrow toward any event that features "secret" in its title, especially when said event is in its eleventh year, currently drawing around 30,000 attendees. Indeed, if Secret Garden Party were to be a real-life botanical space, it would have to be London's Kew gardens thanks to the serpentine queues that are peppered throughout - even "wild swimming" at the on-site lake requires an extensive, orderly line.
This hedonist's quintessential destination began as a single stage event with 1,000 visitors in 2004, but now extends over four days and 14 stages on Grange Farm in Cambridgeshire. Organisers have said that this is the largest capacity the festival will ever be, which appears to be a shrewd decision: any more and Secret Garden Party's championed attention to detail would be overwhelmed. For now though, its brand of freewheeling positivity, thoughtful curation, and unbounded decadence make it a labyrinthine universe of discovery, with the limelight less focussed on the music than other festivals.
Instead there are Alice in Wonderland-style keyholes leading to hidden woodland stages, portaloo tunnels to a field of sunflowers, a wrestling ring for dance-offs, a luxury toilet zone called Pootopia, the annual Big Burn fireworks display, a floating stage accessible only by boat, and a Holi festival-esque colour fight. Almost any glance will provide a sumptuously animated scene of festivalgoers replete with bushy tails or flailing headgear, wedding gowns or glittery body paint, copious amounts of spandex or those wearing nothing but a few carefully-placed sunflowers.
Most of these loyal 'gardeners' actually purchase their tickets before the headliners are even announced, thanks to the guarantee of a wonderously-sculpted environment. But it would be wrong to skip over the genuine musical offerings.
As part of a large Birmingham contingent, EKKAH's buoyant bass lines, crisp choreography - and especially Rebecca Wilson's ethereal vocals - aptly brought a bit of Karen O to the Where The Wild Things Are stage. Big Deal christened the Great Stage with their breezy demeanour and droney guitars, though it was two cover songs later in the day that proved more lasting. Soul-electronica pioneer Kwabs gave a gorgeous take on Arctic Monkey's "Do I Wanna Know?" that was only matched by Denmark's hip-thrusting, ponytail-wielding pop sensation MØ and her bombastic cover of Spice Girl's "Say You'll Be There".
There were a few poor scheduling decisions to contend with over the weekend, as psych-garage group Coves and their dusky melodies suffered in the scorching midday sun, whereas the gentle charm of Rae Morris was drowned out in the hubbub of Friday night in full flow. The Amazing Snakeheads were quite the opposite, channelling their raucous and riotous energy to a pumped-up crowd at Crossroads. Perhaps the only real disappointment of the weekend was Public Enemy, who - despite their iconic status - failed to gain real traction, amongst a slew of loosely-performed hits and self promotion. If anything, they were upstaged by Leeds' very own Submotion Orchestra who fired out jets of sonic caramel and bass that rattled your back teeth.
Secret Garden Party is in many ways a schizophrenic festival: part-boutique, yet part-hippie, extremely friendly, yet full of posers. It's a very English and bucolic version of Nevada's Burning Man, (meant to be one of the finest adult playgrounds), where it is almost impossible to not have a euphoric time. Though it seems strange that the festival - which was set up by an Old Etonian son of a baron - positions itself as anti-capitalist, with this year's theme 'Goodbye Yellow Brick Road' supposedly a rejection of living in fantasy. It's this odd juxtaposition that marks Secret Garden Party out on it's own, exactly as it is - and it shouldn't contrive to be otherwise.
Subscribe for news and competitions