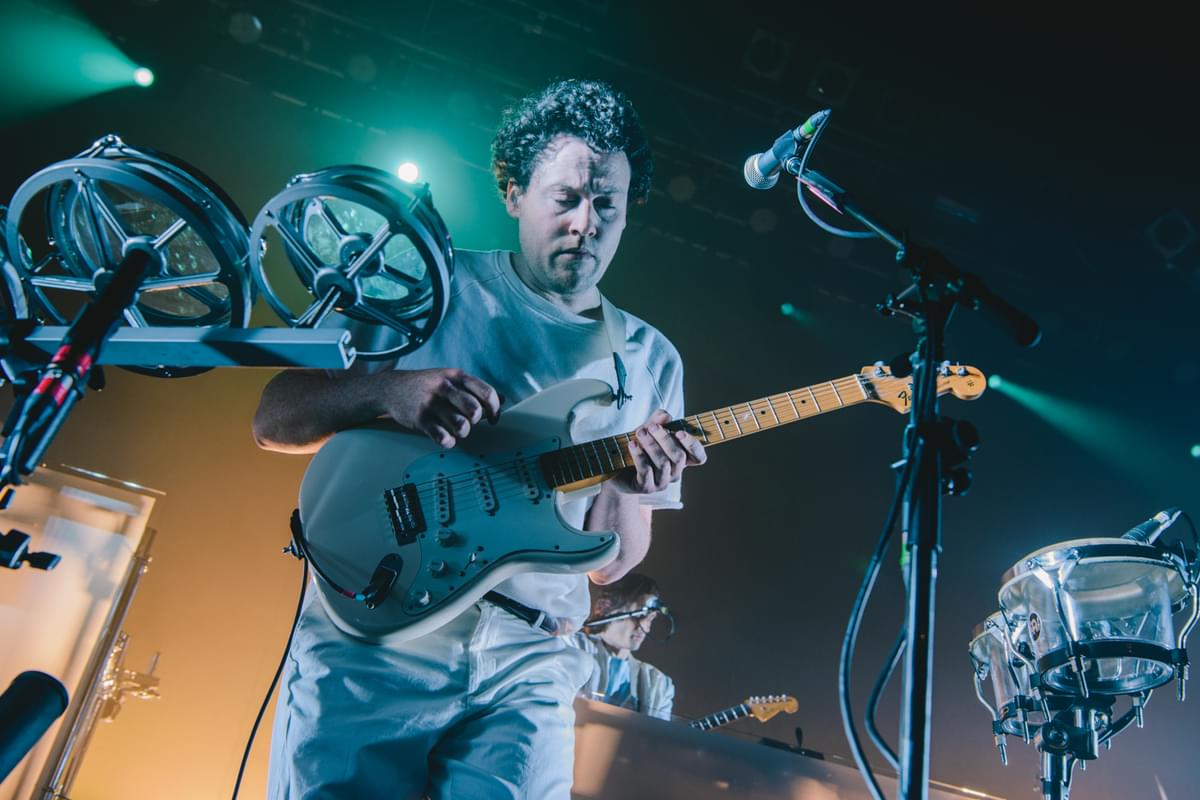 Summer 08, at last: Metronomy live in London
Last year, Metronomy fans were given something to savour - and some news that felt like a punch in the neck.
The group's fifth album, Summer 08 - a focused, funk-pop record that featured Robyn (yes, Robyn!) - was released in July 2016, and was excellent. That was the good news (obviously). The bad: Joe Mount, the mind behind Metronomy, had no plans to immediately tour it. It was disappointing, because here's a band who truly excel in live shows. Unlike some, it's when they're at their best.
Speaking to DIY, Joe explained that the group didn't want to exhaust themselves, and had young families to care for: "I thought, 'This isn't the worst thing in the world, is it?' Just not touring for a little while. What if the label had a band who suddenly lost their arms and couldn't physically tour?"
Almost a year later, everything's changed. Not only has the US placed an orangutan in the White House, but the UK decided to rip off its own limbs and – in the most shocking turn of events of the lot - Calvin Harris is actually making great music now. Oh, and Metronomy are touring Summer 08, thank goodness.
Playing the 5,000 capacity Brixton Academy, Metronomy were a delight in a set which saw the group rip through their back catalogue at pace, trying to squeeze as many tracks in before the curfew reared its head. It really was a show for long-term fans. Tunes from across Metronomy's career got a run-out, but it's a treat to finally hear Summer 08 live, especially "16 Beat", a song named after Mount's favourite drum beat.
Bassist Gbenga Adelekan is as slick as ever, and looks like he's having the time of his life, particularly on 'Old Skool'. Guitarist/keyboardist Oscar Cash, Joe Mount's cousin, continues to show everyone why he has a Tumblr dedicated to his charming, clunky dance moves (they're adorable), and drummer Anna Prior continues to be the rock that holds the group together.
The stage, bathed in smoke and lit up by an armada of lights from every angle, is a sight to behold. There's only one way to say it: Metronomy are just a really cool live band. They never disappoint, and the young crowd was as lively as you'd expect.
Here's some good news: Metronomy fans won't have to wait too long for new music, recently telling DIY that he's "trying to make a record that gets played on Capital FM. I'm trying to get onto Radio 1. That's what I'm trying to do."
Capital FM? Metronomy? We can't wait.
Get the Best Fit take on the week in music direct to your inbox every Friday