It's rare for me to begin a show as reviewer and walk out at the end, jaw firmly dropped, as a hardcore fan – but that's what happens tonight.
Pre-show, Japandroids had not exactly won me over on disc or on paper. There was a vague whiff of contrivance about the stripped down non-image espoused in their songs and artwork – the whole "post-nothing", black and white album cover, lyrics that declared Year Zero on rock n roll. That pseduo-marxist belligerence and heritage-denial put across in songs like 'Art Czars': "Here's your money back, here's your punk rock back" and "do as I say, boy.."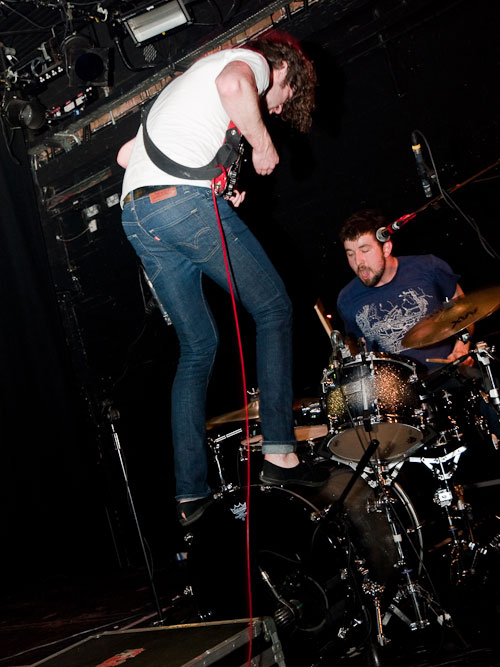 The vital ingredient missing from all this is the wit, humour and connection they engender in front of a crowd. It's a ballsy and unexpected element in tonight's show; pure 21st Century rock n roll, where the dialogue between performer and audience is established immediately as both important and, most of all, fun.
Brian King, guitarist and the more vocal Japandroid, is a mess of stubble and curls in a white t-shirt. He could pass for a more unkempt version of fellow Canuck Jim Carrey if you squinted a little. King's extended chats with drummer/co-vocalist David Prowse and the audience plays with in-jokes and their (by-now) familiarity with London audiences and he charms the pants off almost everyone in the room.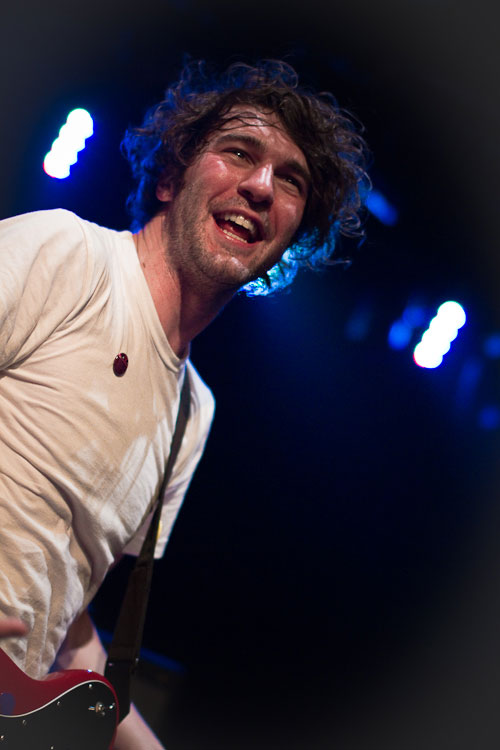 He's overly verbal – but humorously so – when prefacing songs like Young Hearts Start Fire, which could easily have stumbled right off the late 80′s Sunset Strip were it not for the Dinosaur Jr fuzz and post-therapy sentiments re: "not worrying about dying". Along with songs like 'Heartsweats' and new single 'Art Czars', they showcase a body of work that is equally profound and dumbly brilliant. Previous reviews have referenced King's consciousness of space on larger stages but tonight he's perfectly at one with the vastness of the ICA, swaggering guitar and fringe with equal might.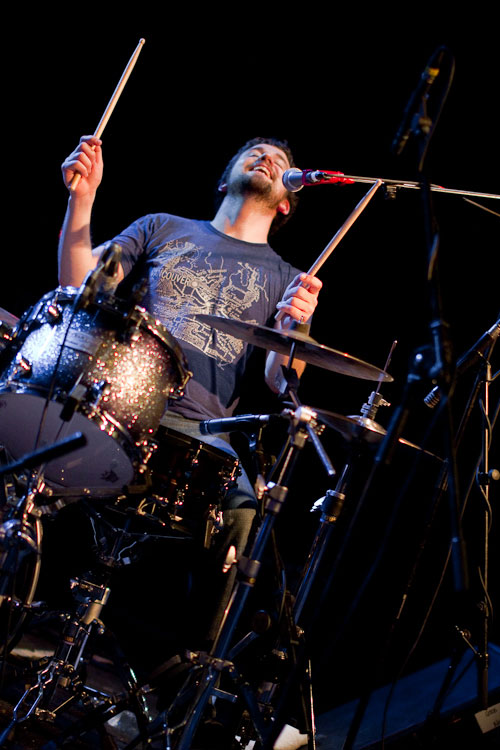 Ultimately whether they're part of the evolution of rock n roll or a middle finger up to the establishment doesn't really matter. There's little difference anyway. Their reference points are a weird mess of bands –  for every fuzzy J Mascis guitar moment, there are also pronounced nods to My Bloody Valentine, The Sonics and their beloved Mcluksy. Yet it's all thrown against the canvas of rock n roll myth and expectation and, somehow, the mess is Pollackesque aural rather than outsider art; mephitically beautiful in places and executed tight and fresh.
They end the show with an extended proclamation to the brilliance of Mclusky and a cover of their brilliant 'To Hell With Good Intentions' orchestrated to the plucky crowd surfing of a mock-heckling punter. King invites him onstage to dive off, making it clear that the crowd cannot allow his feet to touch the floor for the duration of the song. We comply without question – by now, we're acquiescent to anything this charismatic, cheeky-faced Canadian might suggest – and the bewildered body of the fan is delivered back to King as the final notes ring out.