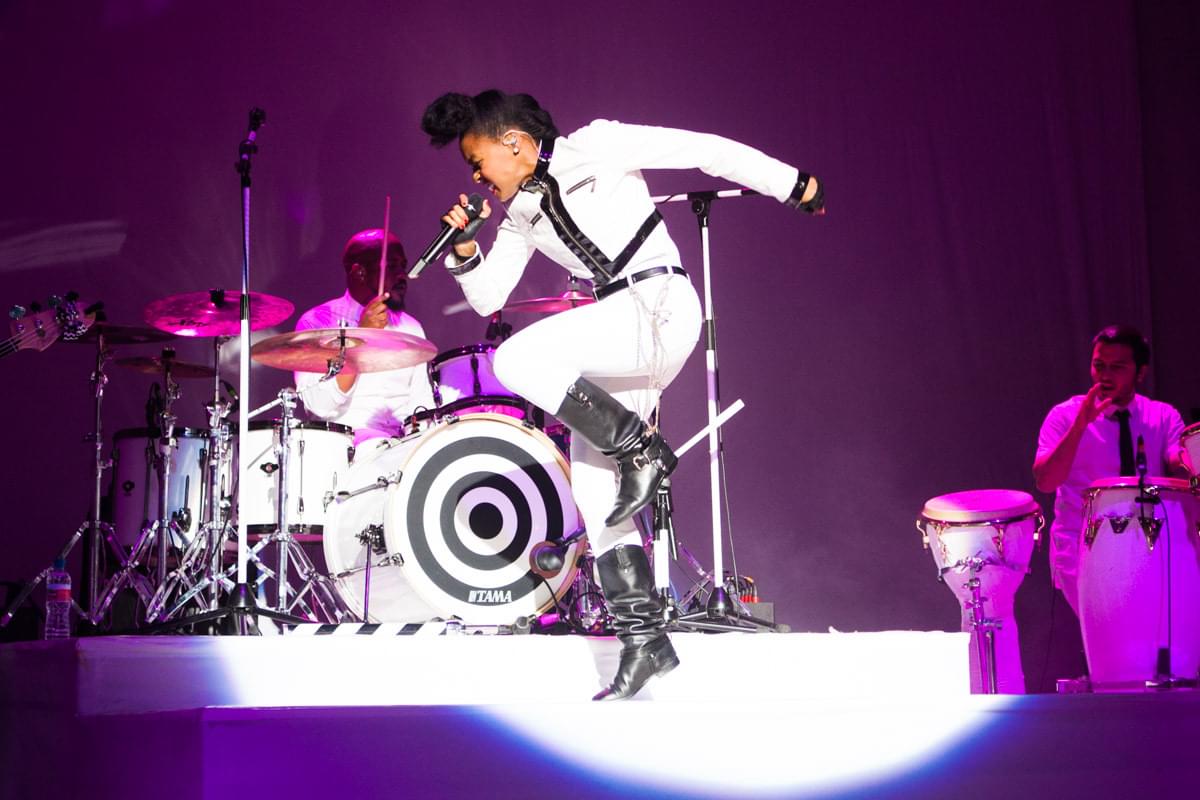 Janelle Monae – Brixton Academy, London 09/04/14
After touring her first full length, it felt like Janelle Monae could outstrip stadium sized acts like Beyonce within just a few years. Nobody was more commanding and adventurous, while also being so accessible. But with her second album The Electric Lady, Monae dove deeper into her idiosyncracies, sidestepping from the spotlight and embracing eccentricity. It was an incredible record, but one with no discernable smash hits to deliver her seemingly inevitable rise to stadium shows.
Tonight's set proves that this is a misinterpretation of The Electric Lady. These grooves are as slinky as they come, and even her zanier material is suddenly urgent and immediate. This is an overpoweringly crucial hour of funk, electro and soul, with vocal lines that soar with a shimmering sheen.
It takes nerve to cover Michael Jackson and Prince without a smidgen of irony, but Monae erupts as their heir apparent when she drops numbers like "I Want You Back" and "Let's Go Crazy" into the setlist. They sit there as comfortably as can be, without a hint of gimmickry. This is because her own cuts like "Q.U.E.E.N" hold a visceral command of the dancer as effectively as giants like Jackson ever did. And when you couple the rhythms with her sincerely world-class vocal performances, you get the shimmering sense that Monae is one of the future greats, still accelerating through an early upward curve.
One of her greatest strengths is her ability to meld an untouchable sense of perfection (her band in all white, every single move she makes, that waxed quiff) with an acute sense of humility. It's easy enough to come out onto stage banging the drum for one social justice cause or another. But somehow, the transition from Monae holding up a #BringBackOurGirls hashtag banner into "Cold War" was genuinely emotionally arresting, as much as it was physically invigorating.
The (forgive me) tightrope which Monae walks so expertly is between being forward looking without abandoning her influences, and being backward looking without being retro-throwback. Nor does she feel especially contemporary. Her music is unstuck from time, and for an artist who revels in the fluidities of fixed notions like gender and race, it feels like the perfect framework for her themes. If you thought that The Electric Lady was Monae's move away from populism towards artistry, you were wrong. Tonight proves that it was her way of achieving both at the same time.
Subscribe for news and competitions