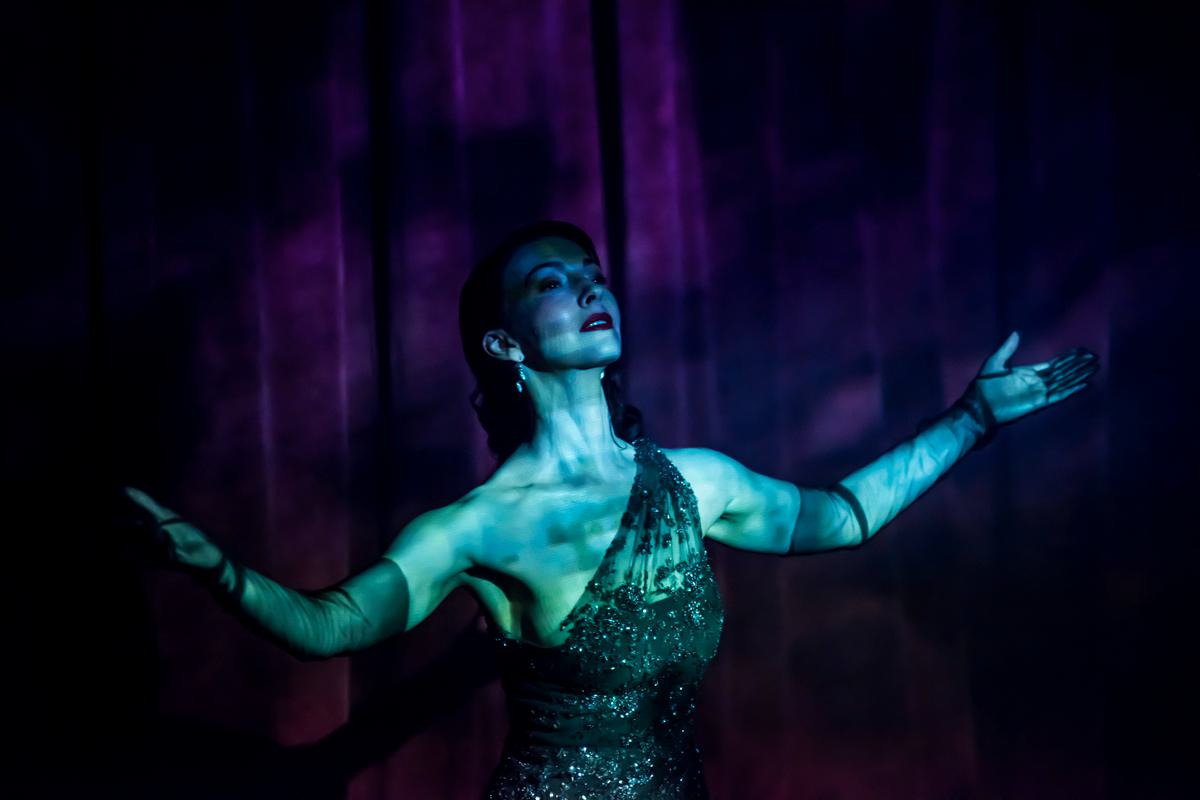 David Lynch's Manchester residency is a dream of dark and troubling things
Music has always been a crucial part of David Lynch's world.
When you couldn't make sense of what he was showing you on the screen at the cinema or on the walls at the art gallery, his sense of sound always offered you a way in. Every alternative musician of a certain age loves Twin Peaks and none of them can tell you exactly why; there's something intangible in the thick, inimitable atmosphere that Lynch and Angelo Badalamenti summoned up between them that makes the auditory side of the series every bit as important as the visual. It is not by accident that he ended up collaborating with so many artists revered in their own right, from David Bowie as far back as Fire Walk with Me and Lost Highway to Karen O on 2011's Crazy Clown Time and Lykke Li on The Big Dream two years later.
That's before we've even arrived at the solution Lynch found to the problem of how to carve up his masterwork, Twin Peaks: The Return. In an ideal world, viewers would have watched all eighteen episodes of the limited season back to back in a cinema, but 'ideal world' and Lynch do not go together - this is a man who once fiercely expressed a desire to live within the nightmarish landscape that he conjured up for Eraserhead. Most instalments ended with a musical performance at The Roadhouse, with a milieu that ranged from Eddie Vedder to The Veils, Chromatics to Hudson Mohawke. Even 'The Nine Inch Nails' showed up.
All of which is to say that you cannot put on a sweeping overview of Lynch's life and work, as Manchester International Festival are doing presently, without music being front and centre. Over the course of three nights at HOME, six acts took the stage to pay tribute to his oeuvre, with Chrysta Bell - the Texan artist who served as Lynch's right-hand woman as Tammy Preston in The Return - on hand as both compere and performer.
The lineup is typically eccentric and each evening is presented as a theatrical experience. Bell introduces each performance with a monologue from Lynch, standing in front of a red velvet curtain that immediately conjures up Twin Peaks' iconic red room; she then plays her own set of material culled from her solo records and her two collaborative projects with Lynch, as wells the occasional Lynch staple cover thrown in; she closes Sunday's set, for instance, with a devastatingly smoky take on Angelo Badalmenti's 'Sycamore Trees'.
Bell's shows are the foundation around which the rest of the evening's orbit; they're about as close as any of us are ever going to get to being in the crowd at The Roadhouse; all thick fog, dramatic inflections and darkly subverted Americana guitar. They also serve as palate cleansers in between opening and closing performances that veer off wildly in different stylistic directions, whilst maintaining something palpably Lynchian at their core.
Night one sees Douglas Dare open proceedings with a typically atmospheric solo performance that makes novel use of the loop pedal between his voice, his piano and his guitar - all inventive melodies, haunting vocals and lingering melancholy. The other side of Bell's set is Anna Calvi, playing a rare solo show and turning up the drama dial considerably. Anyone in need for a reminder that she is one of Britain's finest guitarists is in resounding receipt of one tonight, as she presents songs from last year's incendiary Hunter in a slower - but no less powerful - new guise.
Taking the stage by candlelight - by accident, rather than design - to open with "Rider to the Sea", she's soon illuminated and works her way with increasing intensity through sparse renditions of "Suzanne and I" and "Swimming Pool", before closing on a thunderous Hunter hat-trick of "Indies or Paradise", "Wish" and "Don't Beat the Girl Out of My Boy". There are no direct nods to Lynch's work within Calvi's set but, indirectly, she evokes his world in droves - the way her voice soars is pure theatre.
Bell presents a different set of her own on night number two, as well as introducing an eclectic turn from local psych-rockers Whyte Horses, who take the stage to the ominous sound of the Woodman's 'this is the water, and this is the well' mantra from the closing scene of Lynch's incendiary, genre-defying eighth episode of Twin Peaks: The Return. Fleshed out to a nine-piece - with three female vocalists - and backed by two dancers clad in vaudeville masks, the group run through a thoroughly idiosyncratic tribute to Lynch that includes two tracks with Bell on vocals, one of which is a stunning cover of Cher's "Bang Bang". It is, as Bell puts it in one of her monologues, 'a delicious descent into dark chaos and cabaret.'
You could say the same about the headlining appearance from These New Puritans, who round off a superb art-rock double bill. The Londoners have taken the Lynch brief seriously, with songs from across his canon outnumbering their own tracks but, admirably, complementing them, too. There's some real deep cuts in there; a thrilling early take on Bowie's "I'm Deranged" from the Lost Highway soundtrack, an abstract version of "In Heaven Everything Is Fine" from Eraserhead, and the gloriously sleazy "The Pink Room", plucked straight from perhaps Twin Peaks: Fire Walk with Me's most memorable scene.
Throughout, original Puritans tracks are introduced with Angelo Badalamenti segues, like snippets of "Laura Palmer's Theme', or Roy Orbison's "In Dreams", so famously used in Blue Velvet. Frontman Jack Barnett even goes as far as to introduce the individual members of their expanded four-piece band as Lynch characters - Windom Earle and Frank Booth are mentioned. A roaring rendition of "We Want War" for the encore brings to a close what, for true Lynch devotees, was surely the nweekend's most exciting show.
The final evening, meanwhile, brings the series to a close in a fashion both low-key and avowedly experimental. Bell's third set of the weekend is sandwiched by two more solo shows, the first from intriguing Japanese vocalist Hatis Noit. Her stage name means 'lotus flower' in her native tongue and, save for some low-key synth-led backing tracks, her show is entirely based around her voice, which she loops intricately to create some truly disarming soundscapes. It's easy to want to find Western frame of references from her to begin with - Imogen Heap, maybe, or Glasser - but as the performance ticks by, you find yourself happy to realise that there's no real box to put her in. At once ambient and unsettling, her music is a testament to the kind of abstract thinking Lynch himself is renowned for.
Closing out the weekend, meanwhile, is Oliver Coates, the cellist who has toured with Thom Yorke and helped contribute, as part of his work with the London Contemporary Orchestra, to the last Radiohead album, A Moon Shaped Pool. Contemporary is the key word, too, with him taking a decidedly avant-garde approach to his instrument of choice; again, loop pedals are heavily involved, and he summons up some truly epic sonic landscapes. Like Dare and Noit before him, this feels like one of the performances less directly indebted to Lynch's work, but also intangibly caught up in it; affecting, disquieting, and hugely ambitious - the man himself would surely approve of the introductions to the last three tracks, which have Coates paying tribute to Enno Velthuys, a key figure in the Dutch underground home taping scene of the 1980s.
It feels like a fitting end to a suitably eccentric weekend, one full of high drama and intrigue. It sometimes had Lynch front and centre (Bell, Whyte Horses, These New Puritans) and sometimes in the background (Dare, Calvi, Noit, Coates), but he was always palpably there in spirit. Like Eraserhead, David Lynch at HOME was a dream of dark and troubling things - in the best possible sense.
Setlist: These New Puritans
Dark Mood Woods [Angelo Badalamenti cover]
I'm Deranged [David Bowie cover]
Infinity Vibraphones [with Roy Orbison 'In Dreams' intro]
In Heaven Everything Is Fine [Pankow cover]
Inside the Rose
Sycamore Trees [Angelo Badalamenti cover]
Into the Fire [with Angelo Badalamenti 'Laura Palmer's Theme' intro]
Fire-Power
The Pink Room [Angelo Badalamenti cover]
Where the Trees Are on Fire
Encore:
We Want War