The Line of Best Fit returns to The Hague for another year. The Crossing Border Festival is a project by the Dutch to recreate the average literature-fancying music fan's wet dream and contain it inside one block of a city to see how many nosebleeds it can cause. It's a similar formula to that which you'd expect – a heavyweight musical line-up boasting acts from Grizzly Bear to Monsters of Folk, some of the best and brightest from the literary scene in Europe and further afield, all set in the centre of a historic City, in and out of it's venues and theatres over the course of three nights. Also (for this year at least) it's taking itself off to Antwerp to do one more night before presumably finishing off with some waffles and a Dutch language freeform interpretive poetry reading.
Crossing Border is one the largest combined music and literature festivals in Europe and among it's more conspicuous achievements is its ability to combine literature and music with equal proficiency and enthusiasm. There's no window-dressing here; while it might admittedly be monumentally difficult to avoid sacrificing some fantastic literature events for music events (and vice versa) while plotting a path among the head-lightening array of readings, talks and concerts, you can't fault the festival for managing an equally impressive line-up from both disciplines. Veteran rock-scribe Nick Kent, legendary folk musician and wordsmith James Yorkston, representatives from the one-and-only Mcsweeny's and the actual Jay McInerney (in real life) are all scheduled performers. With five brains it might still be a bit much to take in.
Here in the UK, the words and music trick isn't particularly a new one. People like good books and good albums. Or they are at least prepared to feign an equal interest in 1920's era blues and Dadaist surrealism for the sake of their own sense of cultural identity, which mindless cynicism aside, still has the pretty pleasing effect of bringing together the two art forms to enjoy a very encouraging and useful mutual appreciation. All Tomorrow's Parties, Latitude, Green Man, Bestival – there's probably no need to detail them all, there is no shortage of festivals that are now combining music and literature successfully to introduce another dimension to their own cultural displays. The difference with Crossing Border, however, is that rather than giving the distinct impression of a music festival momentarily tipping it's hat to the traditions of literature (as most British festivals, for all of their intentions, invariably do) Crossing Border feels like a literature festival with a lucrative sideline in gigs. Yes, in case you're wondering, this is actually a rather good thing. Behind Crossing Border is the definite thrum of a sincere passion for language and melody and this clearly fuels the diverse and consistent quality that the festival provides in both fields. If it wasn't squashed hopelessly into two nights, like a symphony into a ringtone it would probably be perfect. But touring schedules are touring schedules at the end of the day, apparently.
All of this now said, however, and with this piece intended for publication on what is essentially a music blog, what follows are the highlights of the live music performances from this years' festival. The highlights of the literary events shall sadly be forever lost to the sweeping tides of time, haunting the outer fringes of this 1,700 word limit.
The centrepiece for the live performances this year is the stunning Royal Theatre. This is where the 'headlining' bands perform. Tall and decorative, this the kind of place where applause sounds like monsoon rainfall hissing into the distance, to horrifically torture an analogy. It's sonically quite delicious, in other words.
Opening proceedings in these palatial surroundings are none other than New Jersey's favourite veteran alternative rock three-piece Yo La Tengo. Alas, Yo La Tengo really don't seem to want to be here all that much. In this particular case, however, it's hard to want to blame them. Yo La Tengo produce a captivating live show when on form, but something's up. The sound sounds like it's being either deliberately sabotaged or handled by someone in the depths of a Ketamine binge, which, while clearly not poor Yo La Tengo's, fault is pretty distracting. Guitarist/Vocalist Ira Kaplan doesn't seem to be comfortable "Usually I'm full of things to say at shows but there are too many eggheads at this festival, I gotta keep my mouth shut" he says. Nobody gets it. The vibe is flat. A bit of a shame then.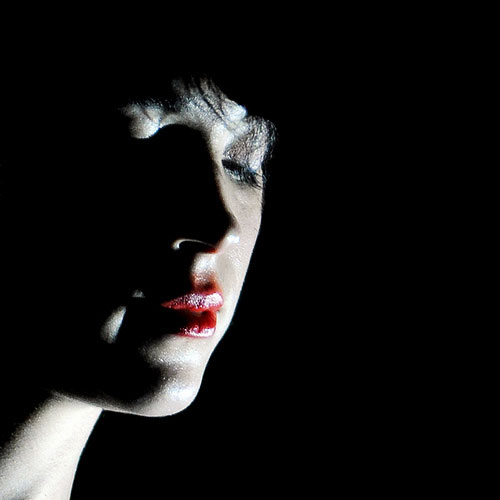 Upstairs at the venue next door begins a set from St Vincent and Annie Clark does want to be here. She tells us so. "I'm really happy to be here." Is what she says. It's easy to believe her. Alone with a loop pedal, she constructs crowd favourites bit by bit before our very eyes. It's always a pleasure to watch someone who knows how to use effects pedals properly, the luxurious, romantic St Vincent material aside. Annie gives a passionate and involved performance, riffing, layering, swaying and rocking. Akron/Family are next onto the same stage. With their warped American tie-die flag backdrop, Akron/Family weird it up for a bit and then hammer into their set midway through as though adding a series of exclamation marks, like so – avante garde, art rock !!!!!!!!!!!!!! Even as a three piece they hammer out bowel churning and pretty intoxicating noise. It's actually amazing fun.
Meanwhile, reliable sources report The Low Anthem to be as fantastic as ever. Their blues-lilted indie floating effortlessly upon Royal Theatre's swirling ambience. Next to perform on the main stage are Grizzly Bear. They drift through a fairly even mix of Yellow House and Veckatimest material, thrumming and echoing with moist eyed harmonics. They might play these songs every night, but something in the billowing mist of these echoing melodies runs away with itself. Particularly blood-stirring is the echoing, desperately sad 'Colarado' while YouTube favorite Rossen's 'Deep Blue Sea' makes an appearance, also. The theatre rises to it's feet as Grizzly Bear leaves the stage.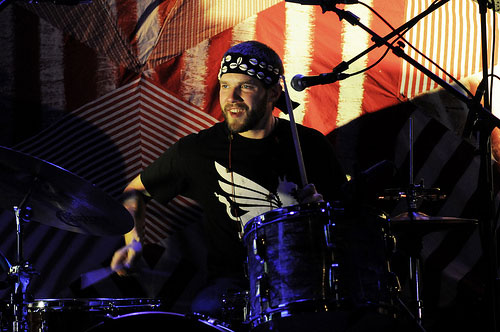 On Saturday, there's a live VPRO radio broadcast going on in the foyer of the Bucanan venue and Cymbals Eat Guitars play an acoustic live on air set for all to see. In the next room, Sleepy Sun sweat out an involved set of stoner, blues inflected indie rock, rolling and riffing and wailing beautifully to create dynamic, blood-stirring melodies.; there's a palpable fervour thrumming from the stage. A mightily impressive noise.
Equally impressive are Patrick Watson and the Wooden Arms, although in a completely different way. Patrick Watson's falsetto is delicate, rich and stylish, the laced with intelligent flare. Watson exudes an air of level of confidence and ability that only belongs to a select few musicians. In the face of this performance the accolades that have been laid at Watsons feet all year suddenly start to make a lot of sense.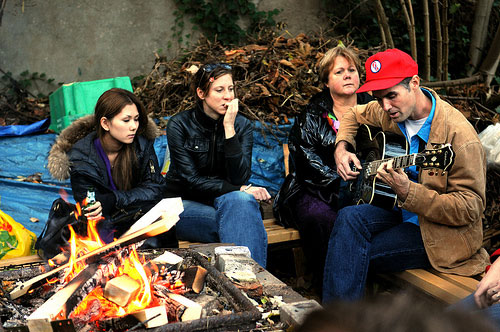 Jim White balances his performance of honest-hearted alternative country folk songs with lengthy anecdotes from his eventful life. Once Jim White was tripping off of his tits with a friend, looking out to sea and watching a storm rage over the water in the distance. A water spout formed (a twister over water) and began to make its way towards land, indeed towards where Jim and his friend were sitting. As it drew closer, Jim realized that he should perhaps be running away. His friend, however was by now running. Towards the twister. When Jim tells it himself it's a better story: full of colour and charm, he also includes the ending of the story. He then leads into 'A Perfect Day to Chase Tornadoes'. It makes for a wonderful show. His songs are gorgeous, simple and heartfelt and the man himself is the picture of likeabilty. At the end of the show he auctions off his shirt for Medicines Sans Frontiers and takes the time to meet fans.
American behemoth supergroup Monsters of Folk close out the festival in the Royal Theatre. The stage is crowded with frontmen pacing about and posturing, the songs are long and extravagant, and somehow, at times prone to wobble slightly. There is, however a tangible sense of an event taking place when this group performs – seeing Ward, James, Mogis and Oberst share a stage is rather irresistibly exciting. Feeling is suitably epic for a set closing out such a marathon of a festival. Monsters of Folk close with probably the most well-formed MOF track, the strong bookend that also concludes the self titled album, oh-so-sweet 'His Master's Voice', building from a James' driven extended indie folk ballad into a tasteful cascade of noise that seems to condense the onstage philosophy of the act. For this, again, the Royal Theatre rises to it's feet.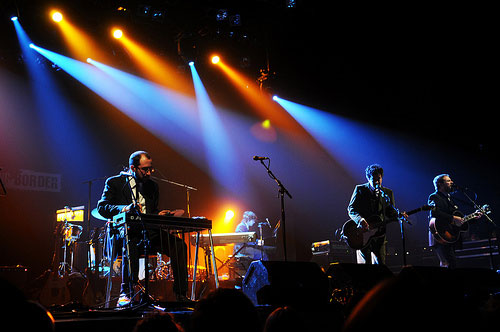 Crossing Border fully deserves it's reputation as a festival ascending to a major highlight on the literature and music calendar. The Hague itself is a City rich in culture, and for an enthusiast of the written word and music the festival increasingly seems to offer a quite unique treat. Crossing Border line-ups of late have been increasingly impressive and intruding, and on the ground the whole event simply oozes class. The Dutch are definitely having a ball over there with this one. At the risk of repeating ourselves: What with the relatively short journey from England, it's actually a pretty fantastic idea for a cultural long weekend for us too. Keep it in mind.