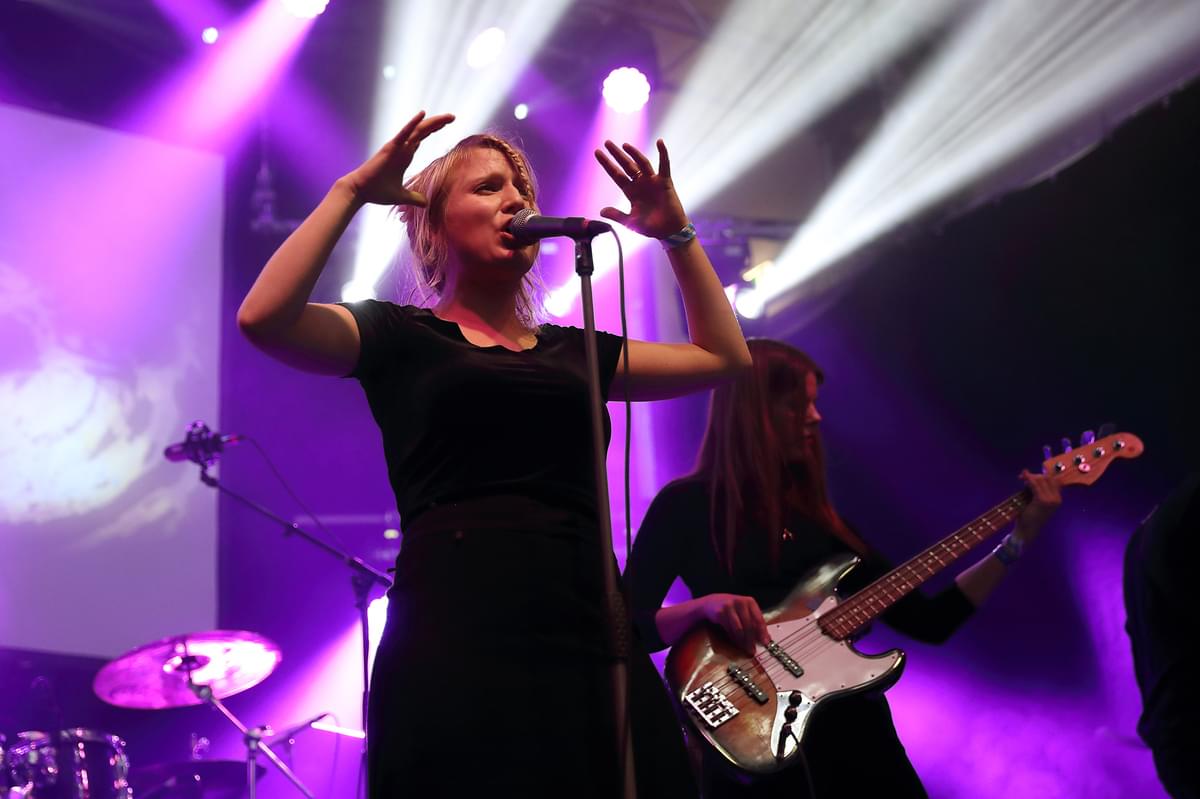 New Horizons: Bella Union's 20th Anniversary live in London
24 May 2017, 15:15
| Written by
Ed Nash
Keeping a record label relevant for ten years is quite an achievement - Creation Records managed such a feat from the late 80s – but to do it for twenty is something else altogether.
Bella Union started as a home for Cocteau Twins, who after an ill-fated spell with a major decided to take control of their own destiny. Ironically they split up without releasing a record for their own imprint, but Robin Guthrie and Simon Raymonde decided to put out releases by bands they loved instead, with Raymonde taking on the reins himself a couple of years in.
Twenty years later tonight (22 May) at Oslo in Hackney is both a celebration and a showcase of some of the bands who will form part of the label's next generation.
First up is Will Stratton, who, as with tonight's other artists Pavo Pavo and Mammút says how proud he is to be part of the family, before pausing to say "Everything else will be a stream of consciousness". With just his voice and an acoustic guitar, on which he performs a brilliant display of finger-picking, his torchsongs evoke troubadours such as Bert Jansch and Richard Thompson."
Having just released his first album Rosewood Almanac for the label - the sixth of his career - Stratton is unashamedly retro in parts, close your eyes and you could be in Greenwich Village in the late 60s, but there's a timelessness that lifts the songs beyond homage.
Mid-set Stratton says "I've been trying to write songs that are more empathetic, but they end up being incredibly hateful, this is one of those". Yet what follows doesn't sound remotely rancorous, it's a lovely, plaintive lament, that like his other tunes, has storytelling in its DNA.
Pavo Pavo open with a loose jam that mixes lounge music with space-age bleeps and ease into the sweeping panorama of "Ruby, Let's Buy the Bike." It's a different but similarly beguiling take on the American songbook to Stratton's - collegiate rock with layered vocals, lush guitars and keyboards - and is followed by a standout from their debut Young Narrator in the Breakers, "John, a Little Time" with Eliza Bagg taking the lead vocal and joined by Oliver Hill's woozy falsetto.
They play a clutch of new songs that bode nicely for record number two, retaining their marriage of pop sensibility with classic songwriting that wouldn't have sounded out of place on the Bugsy Malone soundtrack, before finishing with a celebratory "No Mind", which channels the disco of The Jackson 5's "Can You Feel It?" and "Ran, Ran, Run", which gets the room dancing.
As soon as Iceland's Mammút take the stage a bass rumble sends a shiver through the room and you're immediately hit by the visceral nature of the music, but where they really hit the spot is when they marry their love of rhythm with hooks. Singer Kata says "Now we'll play some Icelandic songs for you" and nothing's lost in translation, the emotion of the music still chimes through as urgently as the songs sung in English.
Having released three albums in the last ten years, the songs from their upcoming debut for the label, Kinder Versions, sound like a band on the verge of breaking through. Powered by Kata's astonishing vocals, the band play a formidable part too, from the power of bassist Ása and drummer Andri to the melodies of guitarists Arnar and Alexandra, whose lead guitar playing is so good she could become a new kind of guitar hero, with her unfussy but sharp use of noise and melody.
The evening moved up in terms of energy, from Stratton's acoustic Americana, Pavo Pavo's art-pop to Mammút's pummelling art-rock, but the theme was consistent. Tonight was a celebration of a label that's still revelling in a love of music.
Mammút Setlist:
The Moon Will Never Turn On MeWallsBreathe Into MeSaltGlæðurSorrowPray For AirWhat's Your SecretKinder VersionWe Tried Love
Get the Best Fit take on the week in music direct to your inbox every Friday