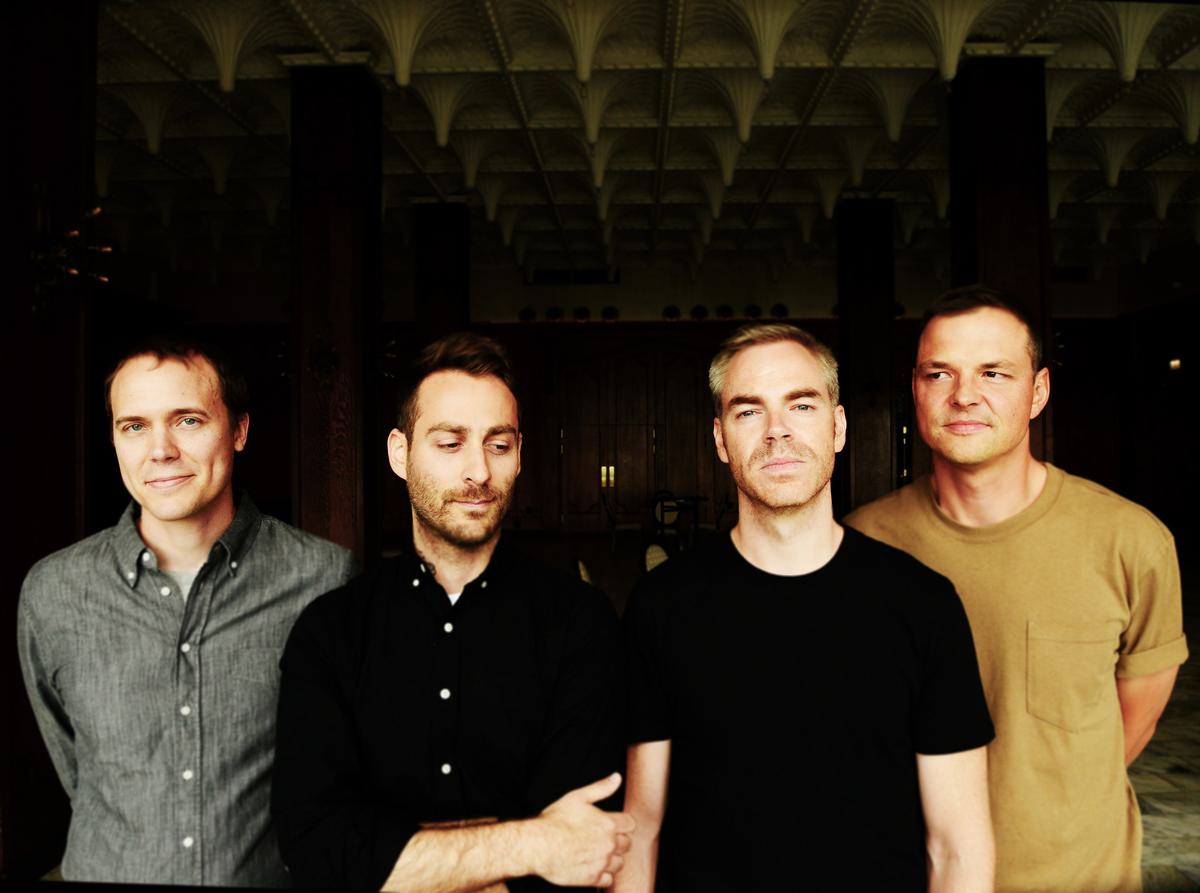 American Football debut return record in its entirety at stand-alone London show
14 February 2017, 09:00
| Written by
John Bell
If the worldwide reaction to the reformation of Illinois's seminal late 90s emo band American Football back in 2014 wasn't enough confirmation of their cult reverence, then perhaps tonight's headline show at London's Shepherd's Bush Empire should be considered so.
Worldwide isn't used here as hyperbole, either. With an extended re-release of American Football, seventeen years after its original issue, founding members Steve Lamos (drums), Steve Holmes (guitar), Mike Kinsella (vocals/guitar) and joined by Nate on bass (Mike's cousin and fellow Joan of Arc contributor) set off to play major festivals and tours in the States, the UK, Spain, Australia and Japan.
As Lamos noted in a recent Facebook Live session with The New York Times, the band is now at a stage where they fit in these significant shows and mini-tours wherever their work and home life allow it, and tonight's show in the 2,000 capacity Empire is a stand-alone performance, their first in the UK since the release of their second full-length American Football (LP2) back in October, with a simple but high-end light show to back it.
Beams slowly rise to silhouette the four impressively as they reel off the entirety of LP2, adding to the atmospheric hues of tracks such as "Where Are We Now?" and "Give Me The Gun". Whilst some are overheard not particularly enjoying the set being segmented by record, beginning with recent material certain improved appreciation for it; "My Instincts Are The Enemy" for example has an invasively catchy interplay between guitar and drums, whilst Kinsella croons "I think I'm in trouble".
In any case, despite a new record and a fancy light show in a fancy setting - 'this might be my favourite place to play a show ever', Kinsella admits - this is still very much American Football show. There's the imperfect vocal shrills that have become synonymous with the genre they helped to create and that contrast with the perfect, crystalline guitars in the likes of "I've Been Lost For So Long" and later "Stay Home".
Into It. Over It.'s Evan Weiss opened the show and also fills in for Nate on bass, and admits at one point he forgot his vocal part due to sheer admiration of how great the band sound, and it's not false praise, they really do sound stunning. Lamos' jazz background is clear as he rattles ghost notes off effortlessly, and silences the hall with his trumpet interludes. At one point Lamos admits he messed up, but it was unnoticeable; their modesty is still intact as well as their humour too as Kinsella retorts "You're fired".
Oh, and there's the reliability of the odd few who, presumably giddy on overpriced Tuborg shout "Never Meant" several times throughout the evening as if there was even a slight chance the band was not going to play what is by far their most celebrated anthem. It's a little awkward imagining how that makes a band who returned from the quiet seventeen years later with an array of other material to perform feel.
But as they do indeed close the evening on this anthem, seeing 2,000 people the other side of the Atlantic vibe out carelessly in their own way - eyes closed, arms raised, hands held - to a song that in many ways represents an admiration that has survived a silence of almost two decades must actually feel pretty fucking cool.

Setlist:
Where Are We Now?
My Instincts Are the Enemy
Home Is Where the Haunt Is
Born to Lose
I've Been So Lost for So Long
Give Me the Gun
I Need a Drink (or Two or Three)
Desire Gets in the Way
Everyone Is Dressed Up

Encore:
The One With the Tambourine
Stay Home
Honestly?
For Sure
I'll See You When We're Both Not So Emotional
The Summer Ends
Never Meant