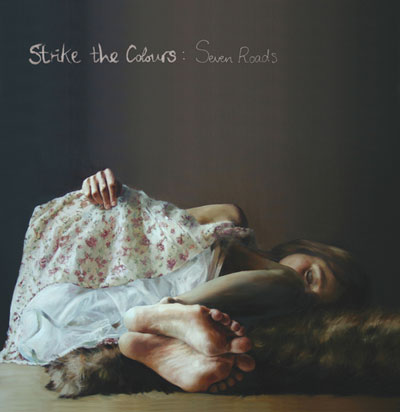 There's a definite air of familiarity about this second release from
Strike The Colours
, and that's certainly not a criticism. It isn't even anything to do with the fact that singer/songwriter Jenny Reeve was the featured female on Snow Patrol's 'Eyes Open'. It's simply that the well-crafted song writing and finely judged musicianship on display here lend an immediate ease to the way in which this album weaves itself into your consciousness.
Seven Roads
delivers on the promise of previous demo-ish EP
The Face That Sunk A Thousand Ships
with a refined reflective set that captivates in its own largely subdued way.Jenny Reeve is the figure head for this folk collective, but the 'band' conceals talent from members of Snow Patrol, Idlewild and
Arab Strap
amongst others (she's also played/sung with the latter two in the past). In fact, it's as if the members of Scottish indie supergroup The Reindeer Section has been thrown up into the air, and this time Ms. Reeve landed on top. As you might imagine, it's not a permanent configuration - but there's no inkling of a lack of commitment or the oft experienced lazy dalliances of a 'side project'. Their back history yields an easy atmosphere of caring collaboration - enhanced by the fact that the whole album was laid down in one continuous two week block; hence retaining a homogeneity of spirit and sense of place. It's as though a group of friends really have been laid up in the back room of some proverbial Celtic inn just striking up the music on an autumnal evening. However, whilst their influences may extend back to traditional folk, and the previous sentence implies a more rootsy feel, this is a modern sounding album that careens between urban folk and acoustic pop - all the while the delicate unplugged loveliness of its attractive sheen sheltering more sombre imagery just beneath the surface. Credit is due to Paul Savage as producer (Franz Ferdinand, Mogwai, Brakes, The Twilight Sad) for managing the compact recording schedule and capturing the pin-sharp sound.Reeve's voice is ambiguously placed - only when the pace drops is there a slight hint of the Scotch in her whispery, though often still forceful, delivery. Most times it could be anything from Scandinavian windswept to Southern belle. Comparisons might be drawn with a less croaky Julia Stone. Aside from those vocals, her contributions on violin are haunting, delicate additions that are perfectly placed to complement each song and lace it with an extra element of melancholy. Piano is also sparingly and effectively used - the clarity of the mix enabling each individual additional instrument to gracefully make its mark. The combination of superficial attractiveness and often brooding, more complex, message recalls early 10,000 Maniacs (
The Wishing Chair
) and their version of folk with a face-lift. Like Natalie Merchant, Reeve frequently articulates the darker personal heart of this album: even alongside the skipping rhythms of single 'Breathing Exercise': "I don't want to be a saint ... I've taken all the drink and drugs I could to calm me down". 'If I Don't Belong' is as starkly matter of fact in discussing death as ghoulish old Scots ballad 'The Twa Corbies', and there is heartache a-plenty: the usual over-used three little words being "strung together" "with a look of distrust instead of love" in 'Cold Hands'.Musically, amidst the polish there's still a place for more angular sounds from fiddle and occasionally, as on 'Cat', abstract trumpet when needing to heighten an emotional climax. 'Train Of Thought' would be my highlight - with simply the most memorable melody, and being one of several songs that deals with travel and its resultant paradoxical emphasis of a sense of belonging to person or place. Also notable for wonderfully capturing the languid torpor of its slow flowing titular element is final track 'Rivers'. As Reeve states at one point: "I told you I'd be your question mark". There's enough to ponder on, engage with and enjoy for some time here, and the real question is: how successful will this album be? I know what I think it deserves.
Strike The Colours on MySpace