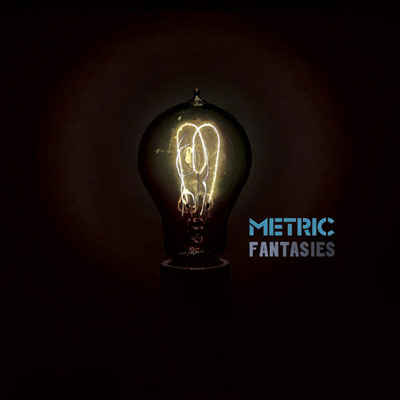 Back in late 2007 I saw Emily Haines dance, and it's fair to say that it has stayed with me. The dance in question went something like this; legs astride, hands on hips, eyes and face tilted towards the floor and then the finishing touch, the flicking of the head. Curling, rocking and swinging all in perfect time to
Metric
's monster-anthem 'Monster Hospital
'.
The effect was certainly mesmerising, but more so, it seemed to speak for what Metric as a band stood for: something strange and at odds, something that was unconventionally cool and yet still wickedly unhinged and raw. It was magnificent. Almost 2 years later, Emily Haines and her band Metric welcome us back into the melee with
Fantasies
. Well almost. Think less melee and more gentle ruckus.There couldn't really be a more fitting opening than 'Help I'm Alive', for an album that is strong on imagined terrors and calls for rescue. The opener is a thumping proclamation of survival - I've survived but I'm going to need your help here. With Haines' opening call ofÂ
"I tremble" she sets the tone for lyrics that continuously address feelings of vulnerability and exposure, feelings that end up providing a mass of material for the twists and turns found over the course of the album's 10 tracks.'Sick Muse' almost proves to be
Fantasies
' premature pinnacle with the lines "Everybody, everybody just wanna fall in love - everybody, everybody just wanna play the lead..." perfectly encapsulating the thrill of falling for someone, intertwined with the thrill of receiving attention. The blurred line between love and lust. It's soaring, sing-along rock and a perfect slice of what takes place over the course of the record.'Satellite Mind' packs a punch with the line "I'm not suicidal, I just can't get out of bed," but the lyric feels horribly wasted on a song that, instrumentally speaking, is really quite dull. Guitars pound the track into something reminiscent of 90's band Garbage, except things are all a little cleaner and neater and a whole lot glossier. The song is representative of a problem that is endemic on
Fantasies
-the constant pulling between two opposing desires: the one to play it rough and the one to play it clean.Gaining a balance between the two competing aspirations comes 'Twilight Galaxy'. Filled with wonderfully deep synths that seem to break down and to go into reverse, the song swathes lyrics like "there's glitter in the gutter"
in
glorious darkness and night time reverb.Perhaps the weakest song on
Fantasies
is 'Gimme Sympathy'. The song has a ghastly radio-friendly swoon on the chorus as the band toots along in the background. You can almost sense the band's grinning faces as they sweep from one chord to the next. It's a frustrating track in the middle of an album that rarely slips into such middling territory.Compounding the mediocrity of 'Gimme Sympathy' still further comes the beautifully delicate 'Collect Call'. It's Haines at her economical best, each word picked for its power to unsettle, as the band follows in equally restrained suit with quick-step rolling drums and gentle keys. 'Blindness' also manages to pull at you with its ghost-choir harmonies and calls of
"
I wanna leave, but the world won't let me go." These songs are yet more proof that when Metric gets it right, they really are a band to behold.There can be no doubt that
Fantasies
is Metric's most smooth-riding, clean and pop-orientated album to date. But underneath the pop sheen simmers darkness, a yearning for something bigger, something raw and more unpredictable. Sonically speaking it's Metric's modus operandi on
Fantasies
to work their way around these darker moments, to brush the edge and to keep their eyes firmly fixed on a more palatable conclusion. Lyrically though Haines has no trouble in addressing the emotive, you just wish the rest of the band were with her.
Fantasies
is littered with lyrics that catch you in your step, as Haines' strong writing hand captures the tug of life, the pains of love and the fantasies of living. But you can't help but get a little annoyed at the inherent restraint in these songs, feeding off Metric's apparent desire to keep things nicely palatable and agreeable. And ultimately it's hard to find a 'Monster Hospital' here, that head rolling, psychotic-prance inducing track, the one that makes you just a little crazy.
76%
Metric on MySpace