Laura Jane Grace shines on solo debut, Bought To Rot
"Bought To Rot"
Release date: 09 November 2018
Album of the week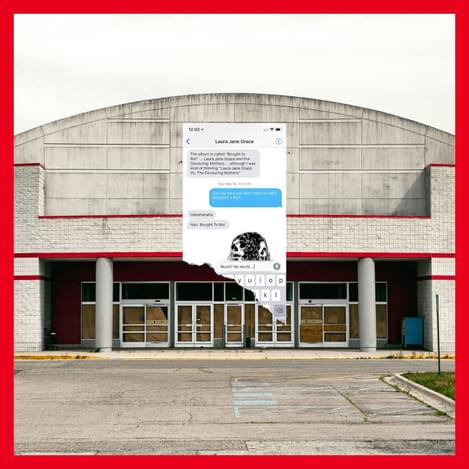 Just in case you weren't sure that Laura Jane Grace & the Devouring Mothers' splendid debut, Bought To Rot, was a solo effort, the absurdist album cover makes it certain. Floating in front of a boarded-up storefront is a partial screenshot of a real text conversation between Grace and graphic designer Steak Mtn. discussing the album's title and whether the cover should include skulls.
And skulls certainly would be pitch perfect for an Against Me! record. But BTR isn't that. This is Grace laid bare—as much as AM!'s Transgender Dysphoria Blues, and perhaps more so—with the record acting as a direct line between her and her audience. To that end, BTR doesn't have any of the overt politicking, anarchist teenage posturing (or the subsequent reflection on a fake revolution), or interpersonal demon fighting of AM!.
Instead, the album is an extremely personal affair. Indeed, Grace opens the record by proclaiming, "Learn to trust yourself, no one else matters." Throughout the 38-minute runtime, the solitude of "I" and the "You and I" dichotomy emerge as central themes. On "Manic Depression," she expresses a desire for self-destruction so that her life can have some excitement and then concedes, "I can't help what my head is telling me". Later, she finds time to write a love letter to a close friend: "You and me would make a great team in an apocalypse scenario". And by the end of the record, she's (sarcastically?) making amends while ensuring the blame doesn't lie solely with her: "My apologies for however I have yet to fuck up / One day you'll learn from your mistakes, too".
Perhaps more than any release, Grace is (rightfully) the star here. Having steadily improved over her career, Grace's voice is front and center on every song. She can now expertly croon, talk-sing, scream, and seethe to fit the songs and ideas she's been saving up for BTR. The appropriately titled "Screamy Dreamy," for example, alternates between gentle lullaby and redline punker while Grace's calm singing unites the two halves as a kind of referee. On "Valeria Golino" she brilliantly matches the song's progressive intensity, beginning quietly inside the composition before exploding out of it at the first chorus. It's as if she's trying to shout down a tornado, perfectly matching the feeling of (sexual) frustration discussed in the lyrics. Even when some of the hookiest material she's ever written would allow her to phone in a vocal—e.g., "The Airplane Song," "Reality Bites," and "The Friend Song"—she refuses, and instead opts to have as much fun singing along as her fans do.
Bought To Rot, then, is the most varied release in Grace's catalogue. Among a myriad of sub-genres, there's bouncey post-punk, heartland rock, rockabilly, and a few kinds of indie rock experimentalism sprinkled in. As a result, the album doesn't quite cohere as a singular work. And that was kinda the point: She recently told Rolling Stone that she wanted the record "to feel like a mixtape" and there's truth to that. BTR best functions as a way to experience every mode that Grace has to offer as both songwriter and vocalist. It's also the closest that Grace has come to letting others in and having a direct dialogue with the outside world, following her 2015 memoir, TRANNY: Confessions of Punk Rock's Most Infamous Anarchist Sellout. Upon the book's completion, Grace set fire to the journals that made up its basis. Given the intimate nature of this album, you get the sense that these lyrics might've found a similar fate.
Get the Best Fit take on the week in music direct to your inbox every Friday