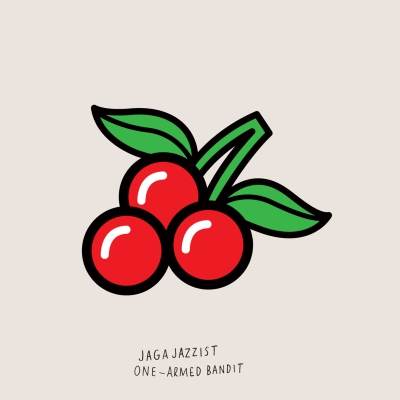 Jaga Jazzist
have covered a lot of musical territory since their 2001 debut
Living Room Hush
, and must surely have wondered if they could break new ground after the incredible
What We Must
(2005). With fifth full length
One Armed Bandit
(OAB) the Norwegian masters have proven they are most definitely capable of scaling new heights.The crux of Jaga's style, perfected on inevitable reference point
What We Must
(WWM), has always been establishing a central theme and then exploring every angle, every texture, every interpretation of its dynamics.
OAB
makes no departure from this but as a whole the album is less hook-laden then its precursors, a tad more experimental and, shockingly, every bit as good as
WWM
.'220 V / Spektral' is emblematic of the subtly different direction Jaga have attempted to take. The track begins innocently enough with a simple piano flourish and a gentle melody, and before long begins a slow-burn characterised by breathy sax and ambient synths that becomes utterly mesmeric.'Toccata' is another good example; the marimba riff it begins with runs continually though the nine minutes, yet still shifts from menacing to redemptive, through melancholy to hopeful, in the space of one passage. It is urgent, consistently staccato, and this sense of immediacy is maintained brilliantly throughout the song; the additions of epic brass and stuttering woodwinds propelling this tune beyond any reasonable doubt into the realm of brilliance.Closing track 'Touch Of Evil' is atypically one of the heaviest; a distorted guitar line frequently interrupting more blissful soundscapes, electronic beats compliment the live ones, and a short section that wouldn't feel out of place in a deep house remix adds extra further flavour.It seems bizarre, but
WWM
seems borderline conventional when placed against
OAB
. Thanks to the nine consummately talented multi-instrumentalists that comprise
Jaga Jazzist
, every one of the nine songs on offer here flows seamlessly from one mood to the next, seem almost without boundaries.
OAM
also places a greater emphasis on harmony as opposed to melody than ever before, meaning the tracks are even deeper, more subtle, and stand up even better to repeated listening.Jaga Jazzist are clearly without peers and have crested the pinnacle of their signature sound.
One Armed Bandit
is their most eccentric and refined effort, a triumphant fusion of musical ideas and is consistently compelling.

Buy the album on Amazon | [itunes link="http://itunes.apple.com/gb/artist/jaga-jazzist/id3634799?uo=4" title="Jaga_Jazzist" text="iTunes"]