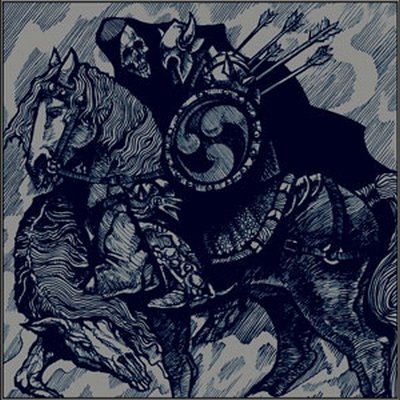 Forty years after
Paranoid
hit shelves, England has given the world
Conan's
debut album
Horseback Battle Hammer
. Conan are not hesitant to let the world know what music they play, music they have dubbed "caveman battle doom." Even before popping in
Horseback Battle Hammer
, what you see is what you get.What exactly do you see? Well, first, there's some killer cover art featuring a horse-riding Grim Reaper tripping up a knight whose enemies decided to decorate the back of his armor with arrows. Then, there are the song titles, such as 'Krull' and 'Dying Giant'. Oh and there's the band name too. Think of a certain governor of California who spent his younger years toting around a sword and slaying James Earl Jones. Yes, Conan is a band that caters to those that pass through the Gates of Slumber every
Black Sabbath
to worship at the Cathedral.While the afore-mentioned bands have their faster moments, the songs on
Horseback Battle Hammer
mostly stomp along with long, drawn-out riffs. At various times, things pick up to a mid-pace and it feels that much faster because of the marsh that the listener is dragged through for most of the album. Even though Conan are steeped in the imagery and ideas of traditional doom, their music has more in common with recent bands like Bloody Panda, Monarch! or Khanate.The vocals reverberate in a way that adds to the mood of the album; when the words ring out during 'Sea Lord', it definitely sounds like what a sea monarch's address to his warriors probably would. However, even though the vocals are sung traditionally, the words are not very distinct and not pushed to the front of the mix. Instead, they blend with the other instruments to create more of an album-length experience than four individual song experiences.The drums thunder, at times with double bass pedals, and work in wonderful tandem with some heavy guitar riffs. The fact that both instruments drive the album gives the songs the closest thing to accessibility that they have. The guitar may appear to dominate but all of the songs are, at one point or another, groovy and very likely to get heads banging and horns thrown in the air.With their first album, Conan have shown that they know doom metal. They've got the look (at least on the album. Their appearance remains a mystery to me.) and the vocabulary but, more importantly, they've got the sound.
Horseback Battle Hammer
bodes well for the future of the band and, hopefully, hints at a variety of directions in which the band might be taken in the future.