Bob Dylan and the Band - The Basement Tapes Complete: The Bootleg Series Vol. 11
"The Basement Tapes Complete: The Bootleg Series Vol. 11"
Release date: 03 November 2014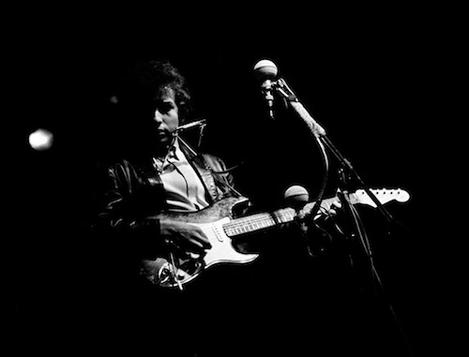 They used to do things differently back in the olden days. In the six years - barely enough time for modern high profile acts to laboriously produce two identical albums - between signing to Columbia in 1961 and the legendary 1967 sessions exhaustively documented during this 6-CD marathon,
Bob Dylan
had transformed himself from a novice folkie also-ran to a God for the burgeoning psychedelic counter-culture
To start off with, Dylan became a bard for the protest-folk movement in the early 60's, crafting a rich raft of songs that transcended the typical topical limitations of the era and genre they were written in to become timeless classics. Done with that in 1965, Dylan plugged in, unleashing a torrent of amphetamine-poetry visions set to a pumping rhythm 'n' blues beat that marked the point when rock (serious artistic intent for the hip grown-ups) officially split up from pop (sugar-sweet nothings for undemanding ears). Another set of classics was born.

The 25-year old Dylan who went flying over the handlebars of his motorcycle in the Woodstock area of upstate New York (Dylan's homebase at that time) early one morning in July 1966 was a bona fide legend. The accident - seriousness of which has been debated - gave Dylan respite from the type of punishing touring schedule you wouldn't subject a machine to these days, and all the bad habits acquired to sustain and cope with it. Officially, Dylan effectively retired. In private, he soon went on to record this treasure trove (138 tracks!) of material with his touring band (yet to become famous as The Band, the granddaddies of Americana, ironically 80% Canadian) instead at a series of informal jamming and home recording sessions at the basement - hence the title - of The Band's Woodstock H.Q.

There are other 'lost sessions' that merit the term legendary: think of the Beach Boys' Smile recordings, also in 1967, for example. Having inspired a veritable bootlegging mini-industry before and after 1975's official Basement Tapes comp was put out, Dylan and The Band's industrious undertakings in 1967 are in a league of their own when it comes to music that exists mainly in the sphere of rumour and legend. Whereas the '75 comp cherry-picked from the sessions, focusing on original Dylan material that was - with a fair bit of success - peddled for other acts to cover in the late 60's, as well as featuring overdubs and other sweeteners, The Basement Tapes Complete goes for the full documentary, verite approach: everything in the order it was recorded, as it was recorded, presented in the best possible audio quality modern re-mastering allows (surprisingly good, in fact: there's some hiss and surface noise but for the main part less so than on the type of vintage Blues record that inspired these proceedings, for example).

Initially, this musicologist's dream can be a less than obsessive listener's nightmare. At its least rewarding, the 6-CD mammoth contains the type of inept, possibly pissed fumbling the cutting room floor was invented for; it's doubtful that even the most fervent Dylanologist would want to regularly revisit the bits in the box where the assembled musicians massacre covers of folk standards and contemporary tunes they are seemingly barely acquainted with in the spirit of 'name that tune' or poke at semi-structured originals that aren't going nowhere in a hurry. When Dylan mutters something about wasting tape at some point, it's hard not to concur. There's raw and ragged and there's just plain sloppy; during the less compelling parts, to paraphrase a well-known nugget from these sessions, nothing is delivered.

Once the proceedings cohere and come into focus, the music doesn't just merit the hype, it actually exceeds it. The Basement Tapes have often been pitched as Dylan - worn out and weary after the rollercoaster ride he'd been strapped on to throughout the 60's - feeling his way back into the music following the accident and the serious rethink that ensued. There must be some truth in that. The rich mixture of styles that Dylan and the Band gobble up covers pretty much the entirety of American music tradition and beyond. There's plentiful nods towards Blues (a less than reverential take on John Lee Hooker's flood-themed talking blues "Tupelo" is a hoot), traditional folk (the downbeat renderings of "Young But Daily Growing" and prison ballad "The Auld Triangle" point towards Dylan's masterfully bleak early-90's solo acoustic folk/blues collections Good As I Been to You and World Gone Wrong), country, gospel, soul (a beautifully sung if musically rough take on Curtis Mayfield's "People Get Ready") and early rock 'n' roll (the brilliant doo-wop parody "I'm Your Teenage Prayer"), suggesting some sort of a reconnection with the roots, of getting to the next stop by going back to the beginning and accidentally founding what's now understood as Americana in the process. Certainly, The Bands's own celebrated albums Music from the Big Pink (1968) and The Band (1969) speak of an ample exposure to this sort of arcane source material.

However, there's not a lot of the type of hesitation this theory implies in the original material. The more serious-natured songs ("Tears of Rage", "This Wheel's on Fire", the semi-incoherent but compelling mystery of "I'm Not There", the passionate holler of "Going to Acapulco") are impressive and recognisably the work of mid-60's Dylan. It's the more light-hearted stuff that really stuns here, though, establish as it does an entirely fresh songwriting voice. Still surreal and populated by a wild and varied cast of characters but mischievous instead of acerbic and much less prone to near-gibberish levels of verbal diarrhoea than Dylan at his lightning-speed mid-60's pomp, these songs moved from urban environments and the here and now to some mud-splattered backwater riddled with drunkards and oddballs; you're never quite sure which year, even century, we're operating in. The irresistible likes of "Please Mrs. Henry", "Odds and Ends" and "Apple Suckling Tree" revel in zany couplets and bizarre character vignettes, reaching a comic potency that's deliciously at odds with the seriousness that Dylan's every utterance was greeted with at the time by fervent followers who had him pegged him as a spokesperson for their generation, not to mention the solemn tones of Dylan's next album, 1968's stark folk-rock opus John Wesley Harding. It says something of Dylan's songwriting pace that he effectively ditched tunes of the career-making calibre of "You Ain't Going Nowhere", "Silent Weekend" and "Million Dollar Bash" immediately after the recording.
The performances are impeccable: even without Levon Helm (fed up with the incessant heckling, the drummer ace had quit during Dylan's 1966 world tour and was yet to return to the fold), The Band sound like they were born to be funky, whilst Dylan, whose vocals hint at the richness they would acquire on 1969's Nashville Skyline, chews at these tragi-comic lines with audible relish and care: the two versions of country-blues rave-up "Crash on the Levee" are particularly priceless lessons in phrasing and timing. There's even one genuine gem amongst the super-obscure, never-before-heard doodles in the form of "Wild Wolf", an enigmatically murky, richly atmospheric song that's mysteriously both clearly a half-formed work in progress and a totally complete, dramatic bravura performance; squint your eyes and its possible to see the shape of the apocalyptic "Ain't Talkin'"off 2006's Modern Times - a latter-day Dylan masterpiece that's certainly carved from the same unsettling materials - amidst its restless, foreboding churn.

To be fair, all but the most obsessive Bobcats would do better to get the 2-CD Basement Tapes Raw 'best of' and a download of "Wild Wolf" than fork out the steep, £100+ asking price for the full 6-CD set. Even so, there's a palpable sense of joy (tunes often threaten to dissolve into outbreaks of laughter) and discovery, the delight of playing music for its own sake by musicians talented enough to make the outcomes appeal to people who weren't actually there clutching an instrument at the time, that almost makes you forget the profiteering nature of that ambitious price tag. The Basement Tapes are an integral part of music history. Here they are, warts and all, the reality for once a near-match for the bloated myth.