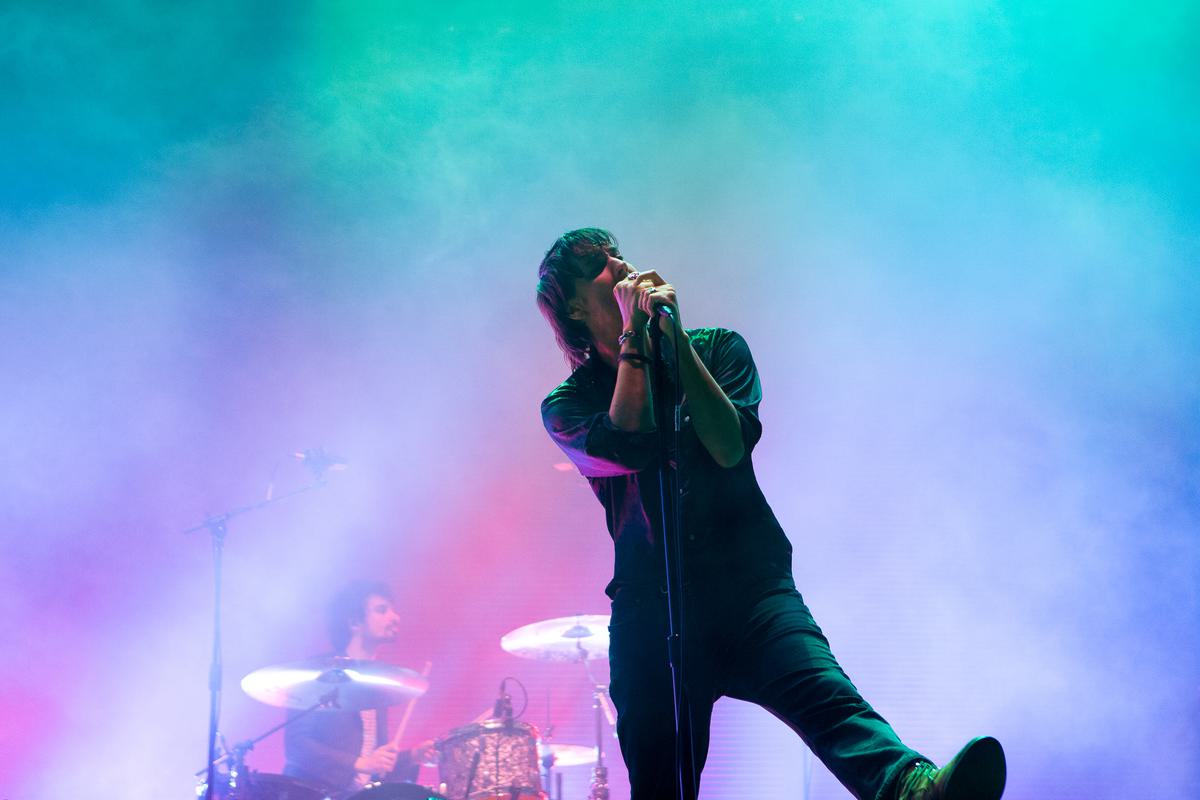 The Strokes add show in Singapore following The 1975's protest which led to cancellation of Malaysian Festival
Last weekend, Matty Healy of The 1975 protested against Malaysia's anti-LGBTQI+ legislations at Good Vibes Festival.
His comments led to The 1975 being banned from Malaysia, as well as the cancellation of the remaining two days of the festival which were due to take place.
The Strokes were set to make their Malaysian debut the festival, but were unable to, due to the cancellation. In an attempt to reconcile with fans, the band, who were already scheduled to play in Singapore on 2 August, have added an additional date the following day in hopes that some fans who were not able to see them at Good Vibes might be able to make the trip.
"In an attempt to accommodate all of our fans in Southeast, Asia, particularly our fans in Kuala Lumpur affected by last weeks cancellation, we have now added a second show in Singapore at MBS Expo Hall," the band said in a statement on their socials. "We know this isn't perfect for our fans in Malaysia, but it was the closest and most convenient location to put on a show in such a short time... We hope this eases the disappointment from the events that unfolded last week."
On his personal Instagram, Julian Casablancas offered an extra apology, and added that they tried their best to organise something as close by as possible: "hope this mildly eases some of the disappointment for some, and hope to see as many of you as possible there. (i know it's not the shortest trip either but if it makes anyone feel better i'll be driving 8 hours tomorrow back and forth for fujirock ha…)".
In an attempt to make the trip more cost efficient, and worth it, for fans, Casablancas said that the band would be offering extra discounts on their merchandise for anyone who has travelled to see them, and is able to prove their residency at the show.
Earlier this week, Julian Casablancas shared his thoughts on The 1975's controversy, initially agreeing that it was "good to raise awareness", but it's important to "be knowledgeable and respectful toward the culture you're not familiar with".
"It's a different world not his job to come fix then bail… if he stayed and went to jail then damn, respect. but i think he just made a joke/ laughted [sic] and flew home first class imm guessing," he added. "it def helped the white outsider awareness yes, for sure… i felt the same. had no idea. but when you look into it, it likely will change little to nothing in Malaysia. it's like saying you helped awareness of injustices in n korea … not one of those situations where twitter pressure's gonna work, they don't care, govt is intense there."
Tickets for the new date are on sale today, at 4pm local time in Singapore.