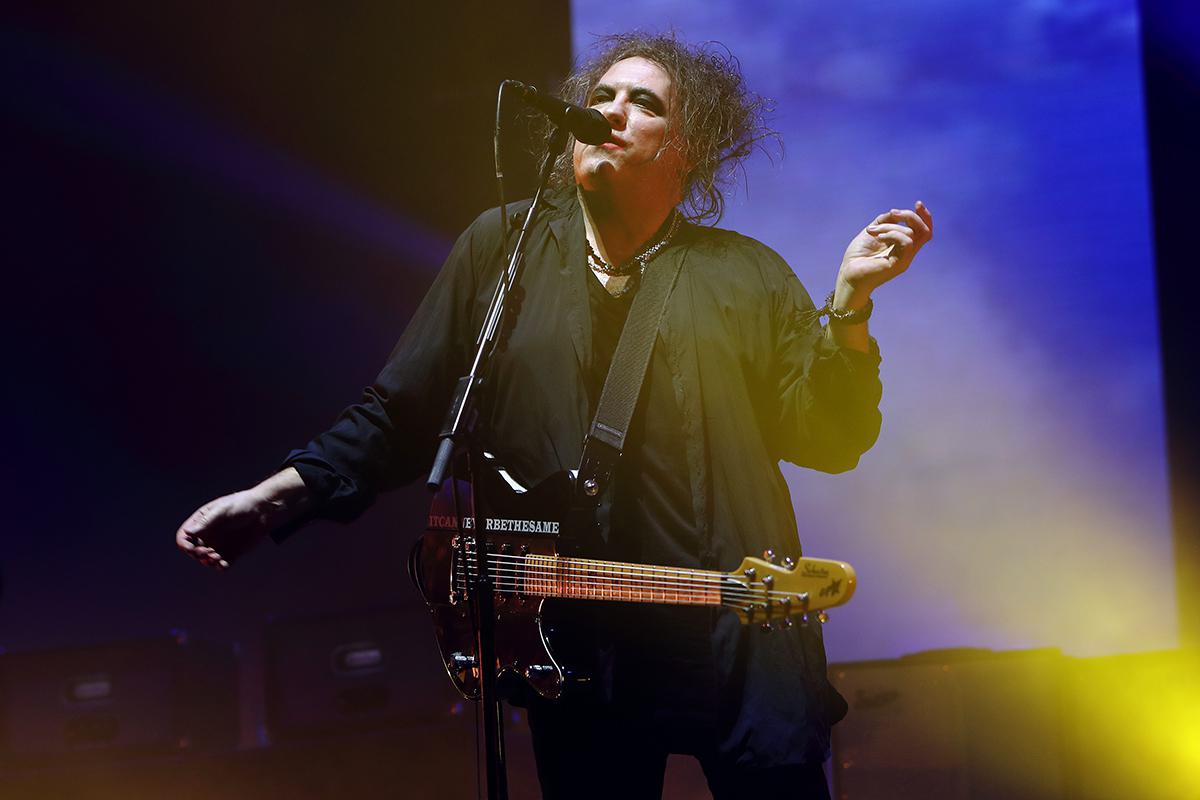 Robert Smith responds to Ticketmaster adding fees on The Cure's tour tickets: "I am as sickened as you all are"
The Cure's Robert Smith has shared his thoughts on Ticketmaster adding fees to their North American tour tickets, saying he's "as sickened as you all are".
Last week The Cure announced that tickets for their upcoming North American tour will not be "transferable" as they want to minimise "resale and keep prices at face value", and after speaking about how their system is "far from perfect" earlier this week, Robert Smith has responded to fans seeing Ticketmaster adding extra fees to The Cure's tour tickets.

the cure deliberately kept ticket prices low and @Ticketmaster was like "lol bet" and charges more in fees than the band is for the actual show pic.twitter.com/Ig0U5Ywcpw

— frank costanza's lawyer (@_carrrmen) March 15, 2023
Smith wrote, "I AM AS SICKENED AS YOU ALL ARE BY TODAY'S TICKETMASTER 'FEES' DEBACLE. TO BE VERY CLEAR: THE ARTIST HAS NO WAY TO LIMIT THEM. I HAVE BEEN ASKING HOW THEY ARE JUSTIFIED. IF I GET ANYTHING COHERENT BY WAY OF AN ANSWER I WILL LET YOU ALL KNOW.
"HAVE BEEN TOLD: StubHub has pulled listings in all markets except NY, Chicago, Denver (IE. CITIES IN STATES THAT HAVE LAWS PROTECTING SCALPERS). PLEASE DON'T BUY FROM THE SCALPERS - THERE ARE STILL TICKETS AVAILABLE - IT IS JUST A VERY SLOW PROCESS...
"I WILL BE BACK IF I GET ANYTHING SERIOUS ON THE TM FEES... IN THE MEANTIME, I AM COMPELLED TO NOTE DOWN MY OBVIOUS RECURRING ELEPHANT IN THE ROOM THOUGHT... THAT IF NO-ONE BOUGHT FROM SCALPERS... THEN..."
I AM AS SICKENED AS YOU ALL ARE BY TODAY'S TICKETMASTER 'FEES' DEBACLE. TO BE VERY CLEAR: THE ARTIST HAS NO WAY TO LIMIT THEM. I HAVE BEEN ASKING HOW THEY ARE JUSTIFIED. IF I GET ANYTHING COHERENT BY WAY OF AN ANSWER I WILL LET YOU ALL KNOW. X

— ROBERT SMITH (@RobertSmith) March 16, 2023
I HAVE BEEN TOLD: StubHub has pulled listings in all markets except NY, Chicago, Denver (IE. CITIES IN STATES THAT HAVE LAWS PROTECTING SCALPERS). PLEASE DON'T BUY FROM THE SCALPERS - THERE ARE STILL TICKETS AVAILABLE - IT IS JUST A VERY SLOW PROCESS... X

— ROBERT SMITH (@RobertSmith) March 16, 2023
I WILL BE BACK IF I GET ANYTHING SERIOUS ON THE TM FEES... IN THE MEANTIME, I AM COMPELLED TO NOTE DOWN MY OBVIOUS RECURRING ELEPHANT IN THE ROOM THOUGHT... THAT IF NO-ONE BOUGHT FROM SCALPERS... THEN... X

— ROBERT SMITH (@RobertSmith) March 16, 2023