To the untrained eye things have been pretty quiet for Styrke, but it's been all systems go behind the scenes as she continues to work on the follow up to her long-awaited second album Kiddo. Apart from a guest appearance on Top Of The Pops' New Years Eve Special, where she performed vocals on Alan Walker's super-size hit "Faded" and an interview with a Swedish magazine, Styrke has been keeping a low profile.
"Say My Name" is no-strings-attached, unadulterated pop and that's something which musical Swedes seem to know a thing or two about. Working with Elof Loelv (Rihanna, Zara Larsson), something clicked whe the pair finished this track. Styrke's new music is more introspective, as she further explains below, and instead of Kiddo's lyrical braggadocio, "Say My Name" is a love song of sorts.
"There's a reason why so much music is about sex and love," Styrke says. "['Say My Name'] is linked to one's worst and best experiences. I have not written about love before because I didn't want to write another love song. But I have changed. I am tired of being angry, right now I just need to make music that makes me feel good."
We caught up with the pop star to get some more details about the world she's currently building at home in Sweden.
What have you been up to over the past couple of years? It's been a while since we heard from you...
Yeah, the last thing I did was the Years & Years tour, but since then I've been writing a lot, trying different things. I've tried working with a lot of different people and then this last fall I found this guy who I've been working a lot with now, his name's Elof. I met him last year and we did this song "Say My Name" and I don't know, something just clicked for me with this song. Then I kept working with him and writing more. So that's what I've been doing, I've been writing and in the studio trying and finding that gold.
How do you feel about dropping this new single?
I'm so excited! I just can't believe it. I've had it for a long time and it's my baby. I tried it on a bunch of friends who don't work in music and I did this thing, where I don't tell them anything, I just put the headphones on them and watch their reaction. Everybody's smiling and that's what kind of song it is to me, it just makes me feel good and apparently it works on my friends, so I hope more people will like it.
You said that "[you're] tired of being angry now" and that "[you] just need to make music that makes [you] feel good"…
Yeah I guess, I meet a lot of people, like artists and people who work creatively and just like muggles as well. We came up with that yesterday for like people who have like regular jobs, it's like the nastiest thing you can say, but it's still hilarious I think; when you have a job that's strange to most people. I think it's not just me, maybe it's a reaction to the world being a lot right now. There's so much bad stuff and then it gets so exhausting to process that in my music, in my case, and instead I use my writing as a tool, to just feel good things. It's more of safe place, I don't want to explore the world, and it's more of an introspective kind of thing.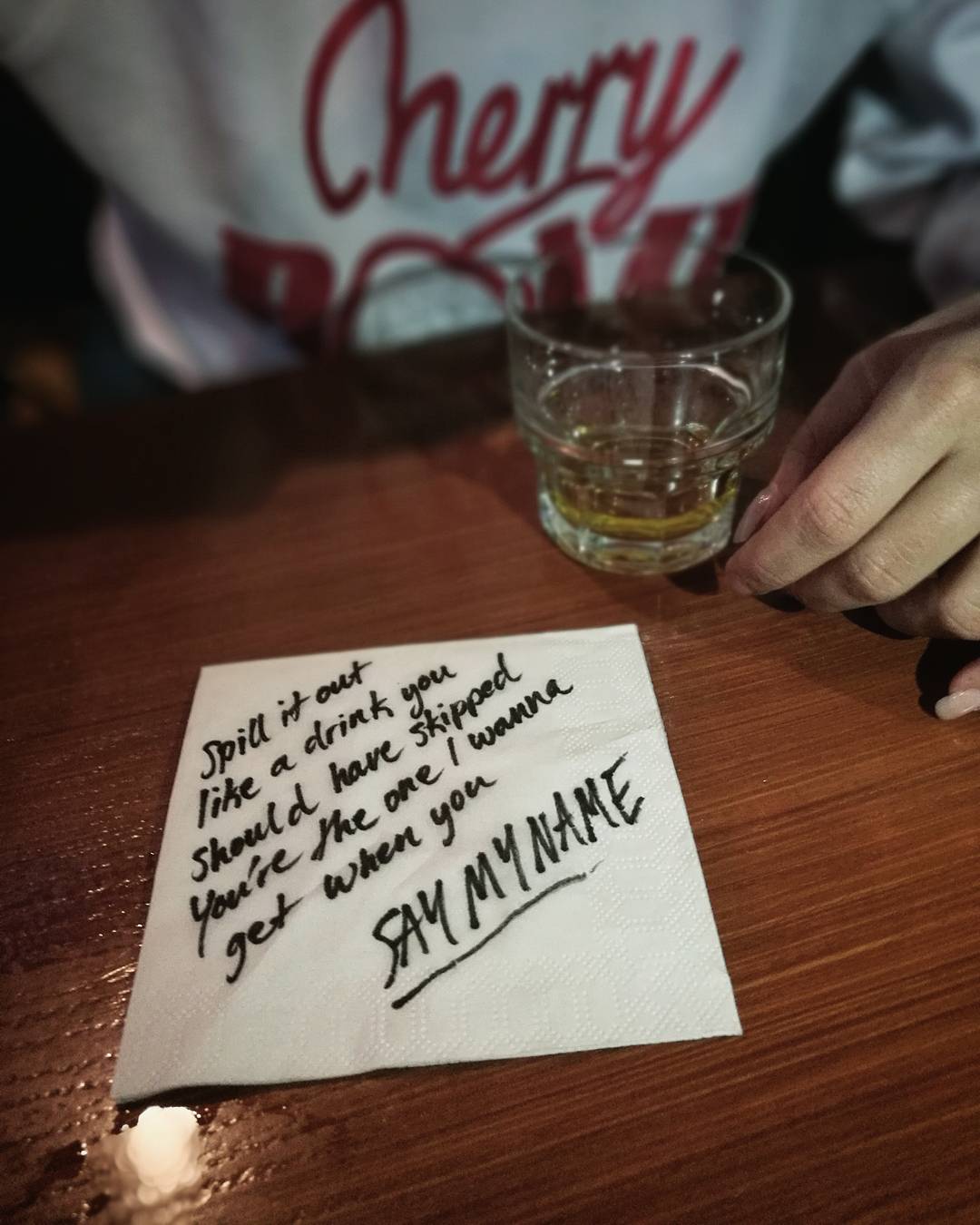 Can you tell us a little more about how "Say My Name" came about?
We started with a track and we thought it was so funny, because it sounds a bit like "Macarena". I love "Macarena" because it's so simple, it's basically just two notes which is kind of the deal with "Say My Name" as well. I mean I hate to say it, but "Macarena" was like a reference point. We started out with the chorus and came up with "say my name / wear it out like a sweater that you love / spill it out like a drink you should've skipped" and thought that was so smart. Then we just kept playing on that, it's kind of like wanting to be with somebody and saying we don't need to complicate it, because it's just good or it just happens. It's not that complicated a song.
You've got a new aesthetic where cherries keep popping up - any particular reason why you've gone for cherries?
Not really, I was just kind of really into that emoji and I used it a lot for different things. I'm thinking a lot about it and I don't know if I'm going to keep the cherries for every song, so that's the "Say My Name" thing and the next song might be something different. I also think it fits, because I think about the artificial ones that are in drinks and stuff and it just feels colourful and pop and nice.
So presumably "Say My Name" is coming in advance of a bigger project... the next album?
Maybe… soon [laughs]. I'm definitely working on something that's a bigger thing, because all the songs that I'm making now, they definitely fit together very neatly. I feel like I definitely have two songs, which are like my babies, one of them is "Say My Name" and then there's another one which is more like a ballad, it's very small, but really big in that. If you hear those two, that is the world, the thing and there's a lot of things that fit in between them, but I have a very clear vision of what I'm doing for myself and all this new material, the visual stuff and everything. It's definitely part of something, but I don't know if it's an album, I'm not sure.
How would you say the music you're working on compares to Kiddo?
It's quite different. To me it's the total opposite. The themes and the writing are more introspective and like looking at yourself, that kind of thing and also the sound, because on Kiddo my only rule was there is no rule; let's do everything, let's add everything, more is more, maximalist, that kind of thing.
This time what I've been trying to do is keep it as simple as possible. If it's not necessary, if it doesn't do a lot for the song then it goes, production wise. I've also been trying to keep the sounds as simple as possible. We've been using a lot of sounds that are 'pluppljud', like 'plup, plup, plup' and you can have just one sound for the bass, the mid, and the whole thing, but it's just one sound. Keeping it all very tight is what I've been trying to do, but still interesting and keeping the listener awake, because that's the hard thing. It's easy to get into this groove, but you always need to add things to make people wake up every now and then.
Are there any plans to come back to London for live shows?
I want to wait and see how things go with this song and then start making plans. I'm taking everything as it comes, last time I had a kind of rough schedule and plan of what I wanted to do, but now I'm keeping it very open. I'm very open to anything and let's just see what doors will open.
Is there anything else you want people to know about "Say My Name" and the new music?
I know I've said this already, but I'm so happy to release it and I really feel, and this is what I'm always aspiring to feel every time I release something, I really feel that this is the best thing I've ever done. My best song so far and it's such a great feeling. I'm just so proud of it.