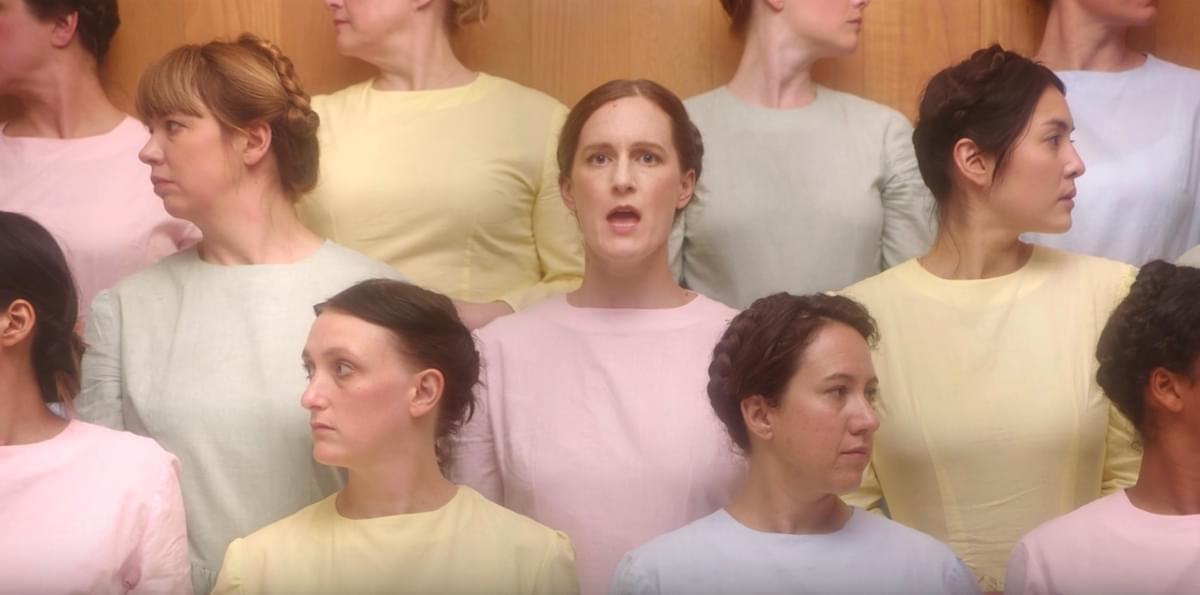 Laura Gibson shares new track and cult-inspired visuals for "Domestication"
Laura Gibson explores "the story of wolf trying and failing to live as a woman" with new track and video "Domestication".
"Domestication" arrives as the second offering from Laura Gibson's forthcoming Goners record, after last month's "Tenderness".
Arriving with visuals directed by Alicia J. Rose and Laura Gibson, the US multi-instrumentalist explains her new track further, "The song "Domestication" took form as a fable, the story of wolf trying and failing to live as a woman. I was thinking a lot about shape-shifting. Wolves and dogs seemed to haunt my lyrics on Goners. The fable form gave me the language and the bravery to explore more personal things. In short: Still, at times, though I know better, I'll catch myself thinking in terms of what I should desire of womanhood instead of what I actually desire. I catch myself feeling I am failing at something, at some ideal I was never actually aiming for. I finished these lyrics a year ago. It's strange to release the song now, when it feels so much is coming to a head. So much has cracked open for women, in the year since writing "Domestication". So much remains the same."
Gibson adds, "Though I'd meant "Domestication" in the animal sense, when it came time to make the video, I liked the idea of using the term in the homemaking sense. I'd been obsessed with this photo I'd found of the pastel women of the FLDS cult, and wanted to build a world and a story around the aesthetic, something like the speculative societies of Margaret Atwood or Ursula Le Guin. At the end of the story, I wanted the women to act like wolves."
"Domesticated" is taken from Gibson's forthcoming Goners record which is co-produced with John Askew, who she also collaborated with on her 2016 Empire Builder album.
Goners will feature guest instrumentals from a number of Gibson's frequent collaborators, including guitarist/synth extraordinaire Dave Depper (Death Cab for Cutie), drummer and percussionist Dan Hunt (Neko Case), and stand-up bassist Nate Query (The Decemberists). Kelly Pratt (St. Vincent and David Byrne, Father John Misty) and Kyleen King (Stephen Malkmus, Case/Lang/Veirs) contributed to the woodwind and string instrumentals.
Speaking of her forthcoming Goners record, Gibson explains, "I'd known for a long time that I wanted to make a record about grief. In some ways, every song I've ever written has something to do with grief. This time around, I felt compelled to stare into the abyss. Goners seemed an apt title because it speaks of both the future and the past. The word is used for two types of people: those who lose themselves in the ones they love, and those whose deaths are imminent."
"Domestication" is available now, while her Goners album arrives on 26 October via City Slang. Laura Gibson plays London's Southbank Centre with Dan Mangan on 13 November.
Find out more
.
Get the Best Fit take on the week in music direct to your inbox every Friday