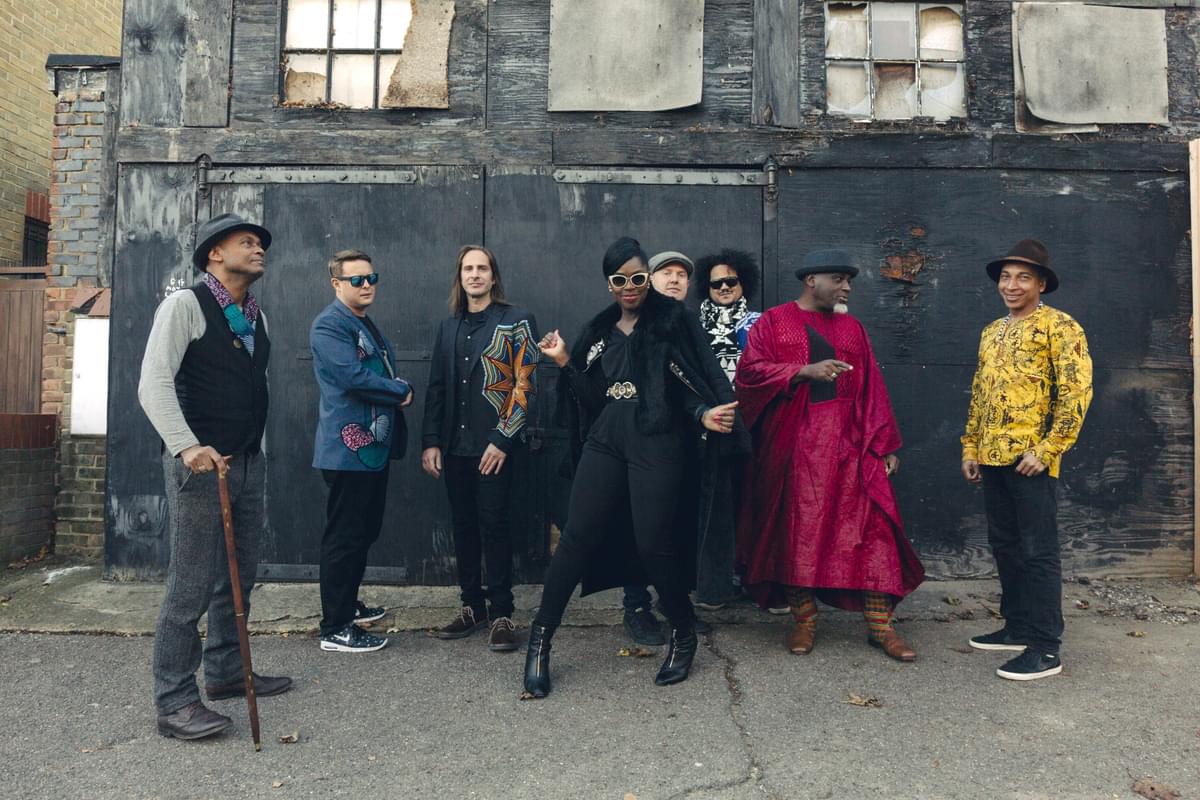 Ibibio Sound Machine: "As an artist you have to capture your moment in time..."
The musical force that is Ibibio Sound Machine chat to us about inspirations, capturing a moment in time, and the legacy of William Onyeabor.
The collective returned late last year with "The Pot Is On Fire", the first from upcoming second record Uyai. More recently, they unveiled "Give Me A Reason", a song about the Chibok schoolgirls who were abducted in Nigeria. This single is telling of the band's commitment to tell stories from further afield, with both their music and lyrics. Something that seems more important than ever when our politicians seem intent on dividing us rather than uniting us.
The eight-piece band fronted by the inimitable Eno Williams shared perhaps their most political song to date in "Give Me A Reason". While in the past the band has shared African folk tales, their latest effort is about the strength and empowerment of women and people in general.
We had to find out more.
The release date for your new album is nearing - what are your hopes for it?
We don't have any particular expectations as such; it's up to other people to interpret it. We hope it brings enjoyment and happiness to people! We hope it will give us the chance to reach new people and play to new audiences.
Do you get particularly nervous waiting for the first reviews to emerge?
Yes, a little. I think we all want people to like what we do! I guess there's something of a feeling of pressure when a few people like your first record. We want to reach people with this one too and continue that conversation.
Could you give us an insight into how you were recorded this album?
Well, we had our own studio which we got together over the last couple of years. So it was nice to have an actual studio space to work in, as the first album was recorded mainly in our houses, bedrooms, etc.
We felt that what people seemed to comment on with our first album was the mix between the live and electronic elements in the sound, the way we mixed those two together. This time around we tried to head further in that direction. We were more purposefully trying to mash up electronic sounds with more traditional elements. For example, in the track "Give Me A Reason" we recorded several cowbells which made up the percussion part but then we extracted the MIDI information, the timing and pitch of those parts and used that to turn them into triggers for synthesisers, if that makes any sense! If things sounded 'traditional' we more consciously tried to change direction and attempt to come up with different sounds. Some of the tracks were recorded a couple of times before making it on the album.
With such an interesting mix of musicians, is it hard to distil your ideas? Are there arguments?
There is certainly never any shortage of ideas! Yes, we do disagree sometimes about what things should sound like, but that's part of the buzz of making music together. Often we tend to throw a lot of ideas in and then step back and try and decide which ones work. It can be chaotic, but then you get a moment when something pops up and puts a smile on everyone's face - that's the journey of making music. One feature of the current state of the 'industry' seems to be that there are less defined rules - a little more anarchy if you like. People have access to so much music and so many influences and that can manifest itself in some interesting ways. A lot of people don't seem to fit a traditional pigeonhole - it's the blurring and bending of things that interests us, as well as trying to get a positive message across in what we do.
What music were you listening to while making this record?
Oh, loads of stuff, too much to recall! We listen to a lot of African artists and a lot of people doing music inspired by that sound. A lot of old Celluloid records stuff. We mixed the album at TRC studios in Stoke Newington with Kristian Craig Robinson and Dan Leavers who both have fantastic projects called Loose Meat and The Comet Is Coming respectively.
When we travel around we discover great bands that influence us - there's nothing like seeing an act live to get you inspired. Future Islands were great when we saw them at Glastonbury. We recently played on the bill with a trio called Peluché who were brilliant. The song "Trance Dance" on our record was inspired by seeing Jupiter & Okwess International give a massive performance at Roskilde. Just the other day we heard a really cool drum'n'bass record by a guy called dgoHn. There really is so much wonderful music out there!
What for you is the main difference between this record and the last? It sounds like it still has all the elements that we love about Ibibio Sound Machine... but calmer; more sophisticated, maybe.
Our first record was a bit of an experiment - we weren't especially trying to do anything in particular, just make some music involving the Ibibio language vocals. This album was an attempt to progress in the direction of what we felt worked about the first one. Obviously we are still ourselves, so sounds from the first album are present. It's a more thoughtful album, maybe that's where you hear calmness.
Last time, you provided translations for your lyrics online. Will you be doing the same?
Yes, all the translations will be available.
Was there any theme or part of your life you explored through the lyrics for this record?
A lot of the first album was based around folk stories from my upbringing. This time the lyrics are more about the strength and empowerment of women and people in general. The title of the album, Uyai, means 'beauty' in Ibibio and that's what it's referring to. I was especially thinking about my mum and sisters in that regard.
What was the reason behind your move from Soundway to Merge?
We have a lot of respect for Soundway and what Miles Cleret has done with his label and for us also - we loved working with him, he's a totally inspiring guy. However we felt that we had to explore new territory and Merge is a label which is not only fantastically independent but also has a great track record of believing in some amazing bands and giving them a platform to progress and do what they do. Their vibe and positivity about what they do gave us the sense that we had to try working with them when the chance came up, and they've been really so helpful and encouraging. We've never managed to play in the US and the opportunity to tour there is one of the things that excites us about working with them.
Your music incorporates lots of styles from across the world. Is 'global' music more important at a time when our politicians seem intent on dividing us?
As an artist you have to capture your moment in time and the zeitgeist now seems definitely to be about all of us trying to find a global identity. It's like the continents are squashing together as populations and technology expand - all of a sudden everyone is right on everyone else's front lawn. That is proving to be both good and bad, but as musicians our job is to try and represent that - hopefully in a positive way. I think music should reflect that concept of what's going on around us and we want to do it in a way that makes people think, but also makes them feel good about this closeness. That's maybe a way to overcome potential divisions.
This whole subject is quite important to our identity as a band because we actually like the challenge posed by almost no-one being able to understand our lyrics, but we still have to get a message across - it's strangely liberating and we try to highlight that musically with the babble-like mix of influences and sounds! That concept is reflected in political ways on this record, such as in "Give Me A Reason". That's part of this idea of the modern clash between cultures. Our underlying point in the song is that surely in 2017 both boys and girls all over the world should have a chance to be educated and follow their dreams.
William Onyeabor died recently. What did his music mean to you?
He was a wonderful artist, really one of a kind and such an eccentric. His music is definitely an influence for us and I have an amazing memory as a child of hearing his music in the market in Lagos where my grandma used to have a shop. I would help her out there and it was around this time that I have a very fuzzy, nostalgic memory of his song "When The Going Is Smooth And Good". He will be sadly missed.
Uyai
is released 3 March via Merge. You can pre-order now from
iTunes
.
Get the Best Fit take on the week in music direct to your inbox every Friday