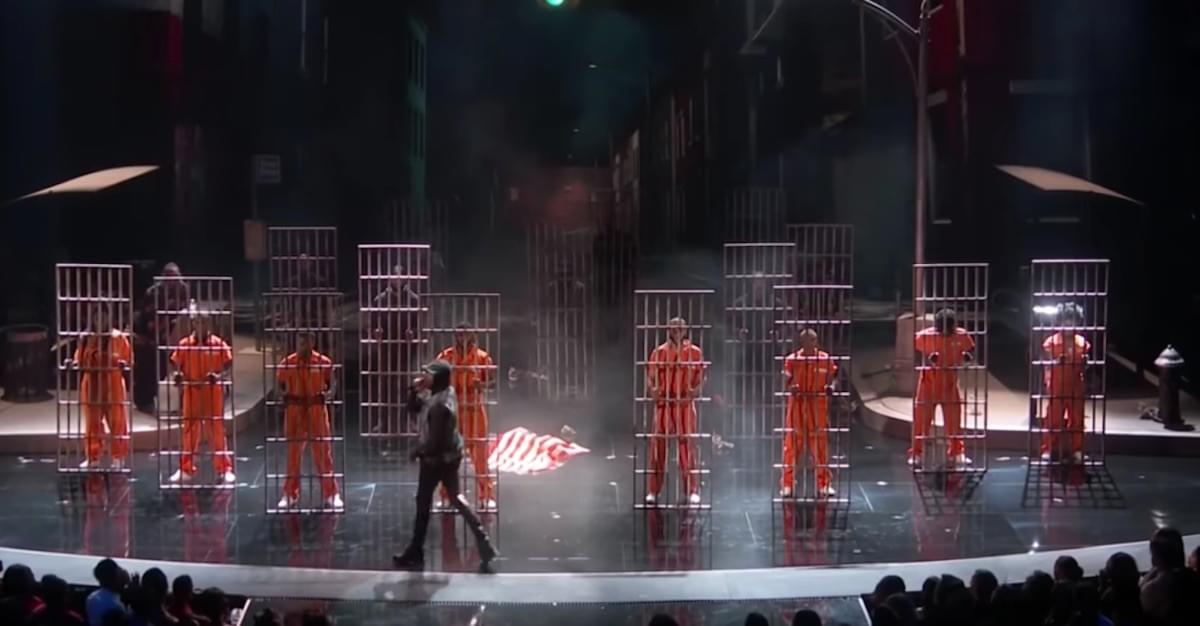 Here's the best moments from last night's BET Awards
Last night, Los Angeles welcomed The 2018 BET Awards presented by Jamie Foxx. Amongst the award announcing the performances were of mixed deliveries, including some with strong messages, and some bringing back memories with classics.
Rapper Meek Mill shocked viewers with his powerful performance of new song "Stay Woke" with singer Miguel also joining him on stage. Having been released from prison in April, Meek Mill turned the BET Awards stage into a street corner, and proved his dedication to pursuing reformation of the criminal justice system. His performance included police officers, hustlers and saw a young child being shot and killed, with his mother left to deal with the aftermath.
Meek Mill also wore an XXXTentacion hoodie, showing his support for the 20-year-old rapper that was fatally shot last week.
Nicki Minaj took to the stage to bring multiple tracks to life. The more recent "Chun-LI" was backed by neon oriental props and saw the female rapper create a medley and dipped straight into "Rich Sex". While collaborator Lil Wayne didn't join her on stage, Minaj continued her performance and welcomed YG, 2 Chainz and Big Sean to perform their "Big Bank" collaboration, with Nicki Minaj performing her verse on a fake pink sparkly horse.
Singer/songwriter Janelle Monáe also performed at this year's BET Awards. Accompanied by a small dance troupe, Monáe kicked off with Dirty Computer's "Django Jane" that saw her and her troupe in checkered outfits and Monàe giving a passionate delivery. Monáe also announced the statement "Let the vagina have a monologue," before slipping into anthem "I Like That". Her "Django Jane" performance featured the familiar throne from her music video.
Snoop Dogg also graced this year's BET Awards as the closing act, and brought a celebration of 25 years since the release of his 1993 debut album Doggystyle. The iconic rapper created a medley out of some of his biggest hits, including Dre collaboration "The Next Episode", and Doggystyle hit "Who Am I? (What's My Name?). Snoop Dogg also performed two tracks from his latest album Bible of Love, which were backed by a gospel choir.
Alright, now! @SnoopDogg is taking us to churrrch... it is Sunday evening after all. #BETAwards pic.twitter.com/o0YBTYUTn8

— BET (@BET) June 25, 2018
Last on our list is J. Cole, who was joined by Daniel Caesar and Wale to perform the heartfelt "Friends", which appeared on his fifth album KOD. The rapper gave a powerful performance as he touched base on topics from substance abuse to police brutality.
Listen closely or you might miss the message in @JColeNC's #BETAwards performance of 'Friends' with @DanielCaesar and @Wale! pic.twitter.com/NPmc0RFPxv

— #BETAwards (@BETAwards) June 25, 2018
This year's BET Awards saw the likes of Beyoncé, SZA, Cardi B, Kendrick Lamar, Bruno Mars, Drake, and more pick up music awards. You can find the
full winner's list over at XXL
.
Get the Best Fit take on the week in music direct to your inbox every Friday