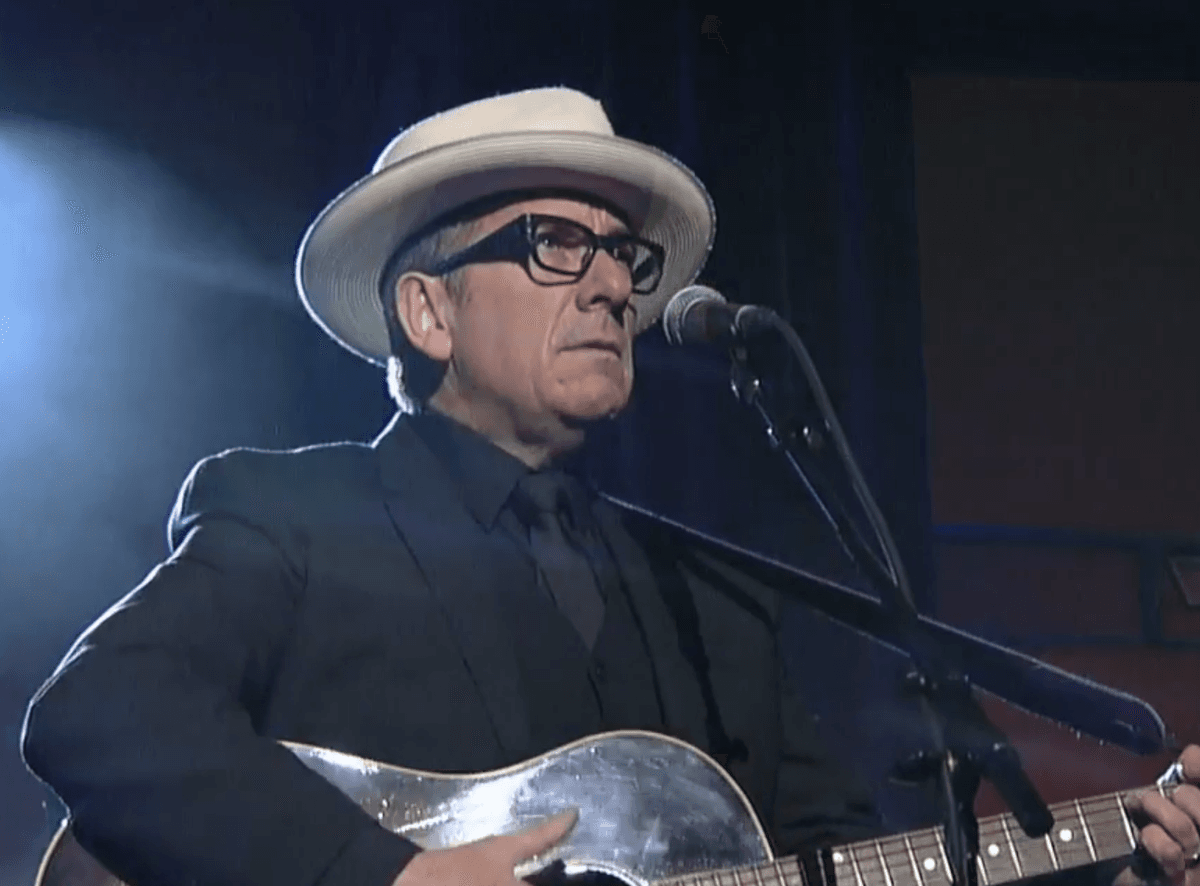 Elvis Costello pens lengthy tribute to John Prine
Elvis Costello has shared a lengthy essay that pays tribute to late singer/songwriter John Prine.
Over the weekend, Costello shared a tribute post to John Prine, who passed away aged 73 the week before following complications with coronavirus.
Costello reveals that he and his friend/Best Man Alan Bleasdale were talking about John Prine and his death, and remembered that "forty years ago, when we were first introduced, the condition of us becoming friends was that the other also loved John Prine."
He writes that his introduction to Prine's music was "via an Atlantic Record single plucked out of a discount bin of 45rpm records on the counter of Rushworth and Dreaper in Liverpool." He adds, "It was a copy of "Sam Stone" backed by "Illegal Smile", which in two short songs showed me everything that I would come to appreciate in John's writing; on the A-side, a song of incredible empathy, an unflinching account of an addicted veteran and the impact of his torment on his family, all written with the authority of a man who had served in the army, while the b-side, was a good-humoured celebration of forbidden pleasures."
Costello reveals that Prine was a guest on his Spectacle show back in 2009, and that he opened the show with performances of ""Poison Moon" and "Wave A White Flag", two of the songs that I told the audience were written when the height of my ambition was to be able to write with the economy and unusual subject matter of a John Prine song." He adds, "Truthfully, I could have talked to John all evening about the implications and the writing of this one incredible, panoramic song but of course much of our conversation had to be put aside by the editor in order to accommodate the other guests."
He also reflects on the kind of song Prine might have written during the current pandemic, "When I consider the moment in which I am writing, I wish we could hear the song John might have written about an exhausted nurse quarantined in her own attic away from her three frightened children or an ode to the fruit picker who puts the strawberry on our Sunday tart or the delivery driver or shelf filler who makes sure there is food to purchase for someone to put on the family table, because these seem like scenarios or portraits that might be found in his catalogue."
Expanding on his feelings regarding Prine's passing, Costello writes, "Perhaps it was his resilience that makes accepting John's passing more difficult. He had repeatedly shown such strength and courage in overcoming the challenges of illness. He was so loved by Fiona and his family and all of his friends, admirers and listeners that it was easy to believe that he would be returned to us; to laugh as he read all of those many quotations from his lyrics that acquaintances, strangers and his longest-lived pals have been sharing in these last days. They tell us that a world with John Prine in it has been much better than the poorer one in which we now dwell."
Get the Best Fit take on the week in music direct to your inbox every Friday