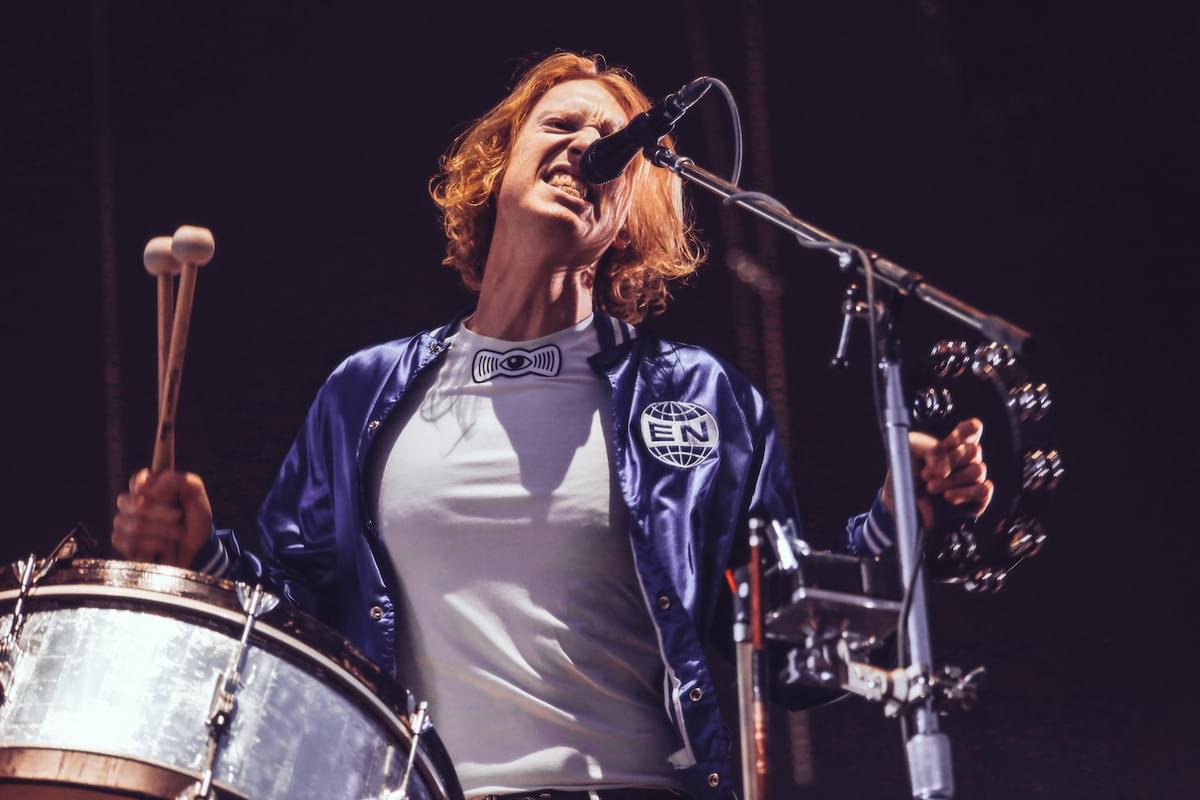 Arcade Fire don't want anyone talking to Richard Reed Parry
Following the controversial (and slightly confusing) #DressCodeGate last month, yet more of Arcade Fire's pre-performance demands have 'leaked' online.
World -renowned content machines Arcade Fire are performing on The Late Show With Stephen Colbert this Thursday. That much we know. Ahead of their performance The Late Show have 'leaked' a list of demands made to the show by the Everything Now Corporation.
Requesting their own space to prepare and pack up, a decently timed performance, and that some of the audience space be given to fans of the band shouldn't be too unreasonable, right?
"First off, thanks so much for having them," the note begins, "the promotion means a lot. Anyway, just some little stuff..."
What a bunch of tools... pic.twitter.com/arRi9dRxoy

— The Late Show (@colbertlateshow) August 2, 2017
Even though almost definitely fake (although at this point, who can tell with this band any more?), the demands seem to suggest that the attention brought on by the relentless marketing campaign surrounding the release of Arcade Fire's latest album Everything Now has sent the band a little power crazy - specifically Richard Reed Parry, who is not to be spoken to by anyone "for any reason, even if he speaks to them first."
Responses to the demands this far have ranged from humour to blind insults. So far the only comment from the brand has been chastising The Late Show for sharing "a confidential fax," dealing with the major issue at hand here.
Parry seems a little taken aback by the faux rider.
@EverythingNowCo WHAT IN G_D'S NAME IS THE MEANING OF THIS https://t.co/ONcOlpjfYI

— Richard Reed Parry (@ParryReed) August 2, 2017
Not that his outrage will do much good - it seems the Everything Now Corp have already put these demands into practice, and are promptly not speaking to him for any reason, even if he spoke to them first.
@EverythingNowCo and why aren't you ANSWERING YOUR EMAILS

— Richard Reed Parry (@ParryReed) August 2, 2017
Is any of this real? When faced with a band who released their latest album as a fidget spinner, who knows? Keep your eyes peeled for a can of Chemistry energy drink on the desk when Arcade Fire perform on The Late Show With Stephen Colbert tomorrow (3 August).
Get the Best Fit take on the week in music direct to your inbox every Friday