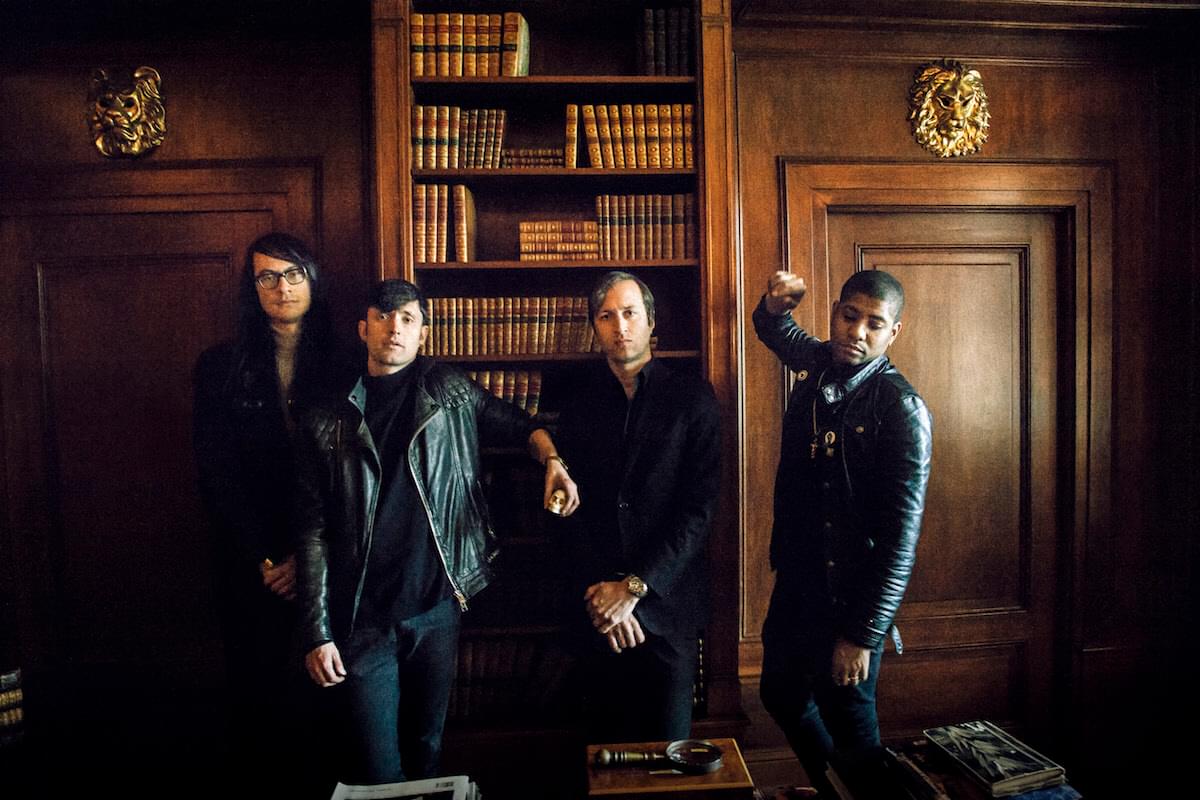 Algiers discuss the hope woven through the fury on new album The Underside Of Power
Back in 2015, Algiers filled that gospel rock hole in your life that you never knew needed filling. Their anti-establishment lyrics and pounding guitars gave us a sound that had few parallels.
Much of this is still evident on their sophomore record, The Underside of Power, but something new is in play: hope. Rather than stare into the depths of despair, the Anglo-American four-piece search for light amidst the darkness. They say that whilst you may not see change in your lifetime, your actions will make a difference eventually.
Much of our conversation follows this track. Ryan Mahan (bassist/multi-instrumentalist) hails the rise of Labour leader Jeremy Corbyn and Franklin James Fisher (singer/guitarist) emphasises with Che Guevara's final days praising him for his ability to walk tall while facing certain defeat. In addition to this, they talk about Brexit, their confrontational live performances, and the "utter nightmare" of making their second record.
What was the main motivation for making the record?
Franklin James Fisher: What we wanted to do is follow up the first record relatively quickly as a lot of bands, I think, have the tendency to overthink their sophomore record. We didn't really want to fall in that trap and we have so much material that we really wanted it to be considered almost as a continuation of the first record.
This album is definitely as realist as the first, but it does sound more hopeful. Why do you think that is?
Ryan Mahan: I actually think it was somewhat a concerted effort. I mean we're generally cynical about the world but we all share a common desire to go forward; we're not nihilists in any sense of the word and I think before we even sat down in the studio together we did discuss some of the themes and some of the small shreds of light that exist not only in history but also in art. I think if you succumb to despair you only serve the interests of the status quo. That was something we wanted to reflect and Franklin was able to actually manifest that in his lyrics, so it was kind of a band idea.
Franklin has described recording this album as an "utter nightmare". Why was it like that?
Fisher: [Laughs] Well to be sure the initial sessions were pretty amazing and incredible because we were at Peter Gabriel's studio with Adrian Utley and that was all incredible. But we were a bit ambitious in terms of the amount of time we thought it would take to record this record, which was essentially two weeks in between two European touring cycles. As a result of that, there were so many logistical obstacles that came into play after those initial sessions that took us through a series of more than six different engineers, several other producers, and at least six or seven studios between about four or five different cities in a period of about six months. In the interim, we all have jobs, I'm married, we have financial restraints and that kind of struggle gives you a real insight into what it's like to be a band on a record label making a record in 2017. It also gives you an appreciation for just about any band that's ever made a record because you realise how difficult it actually is.
Even though you've recorded it with lots of different engineers and producers, how did you bring it all together to give it a unified sound?
F: Ben Greenberg was a massive player in bringing that into fruition. Him as well as Randall Dunn, who mixed the record, they really were the ones that helped us reclaim this record and understand what we were doing and trying to say in a manner that we weren't really able to do prior. It's all for the best, as if we had not gone through the aforementioned nightmare we wouldn't have met those two guys who are now collaborators and really good friends of ours.
While this record is still focused on America, there's definitely more of a discussion about British and American politics on it.
F: Yeah, absolutely, and that's very much a result of the lives that we lead separately as individuals in different places. It's more than a decade now that Ryan's been living in London, and I think we're pretty sensitive and perceptive to things to happening on local political levels and definitely on a geopolitical scale. I think it's important to point out the sense of internationalism and shared struggle because these themes and the way that subjugation, oppression, and power operate is not specific to one nation and that's why I think it's important to highlight this sense of cosmopolitanism and shared struggle across national boundaries.
Mahan: Yeah, working people have similar and different struggles around the world and I think that's something that we reflect. I know people focus on the anti-racist element of our music but it's just as much focused on working people, on class, and all the other struggles that are in between, and I think that's important to reflect.
I think all four of us have a strong relationship with the UK, Franklin was in London in 2004-05, Matt's from Bournemouth, and Lee's lived in London on and off for the past four years. We therefore have all been able to get involved in British politics. The rise of Corbyn has been fascinating to watch and it feels like the UK is on the verge of huge change. Sometimes you think 'oh fuck, this is desperate', but then on the other level you think 'wow, there are so many things opening up in British politics when for the last 10-20 years there was a neo-liberal consensus across both parties'. So, it's a pretty amazing time.
You describe that powerless feeling on "Death March" when you talk about those living in ivory towers passing the hate on. In your mind how does that work?
F: There's a line that Michel Foucault uses in his debate versus Chomsky in the early '70s - he talks about looking at institutions that appear neutral and harmless, and understand certain institutions as hubs of power in the real way through which power works and operates. What I was doing with "Death March" was using that as a starting point and very basically just painting a picture as concisely as I possibly could by just throwing up images of the way that this phenomenon is perpetuated.
In contrast "Cry Of The Martyrs" is a much more hopeful song. It sort of reminded me when Martin Luther King said "I can see the mountaintop..." and you, like him, can see the end of the system.
F: Yeah man, absolutely. It's funny you pick up on that because Ryan wrote the chorus, and he was envisioning Che Guevara's last days and then what's going to be a failed revolution - but still holding your head up high and marching with pride into certain defeat or death. That's what very much what this record is about and something that's an undercurrent in certain songs.
M: It's supposed to paint the most bleakest of pictures but also the most hopeful at the same time. There's a line that says 'our hands are shorn for all to see', and that actually happened to Guevara in Bolivia - they cut his hands off and paraded them around the media. We wanted to show how bleak that is but also the courage that's involved in that. For me it has a lot of parallels with gospel music in the United States because gospel music was often born out of circumstances of horrible slavery and exploitation, and still you have these very hopeful songs amidst that. So, there's a sense of despair and darkness but there's also a sense of hope that there's another future.
How does "Cleveland" fit into the mix? It feels like the spirits of police brutality victims are haunting the system in a way.
F: It's not just the police that we're discussing in "Cleveland", but it's the larger complicity of the nation in regards to the institutional murder of black people, and that's much bigger than the police. A number of the cases of the individuals that I mention in the song they weren't obviously killed by police, some of those circumstances were very mysterious, and either the police couldn't be arsed to really investigate the murders or they were complicit in some sort of conspiratorial cover up, but either way that points to something much more insidious and endemic about American society.
Your live performance really is something - Ryan's threatened to slit my throat a number of times and Franklin you seem to be taken over. What atmosphere do you try and create with your live shows?
F: [Laughs] We all enjoy live performance more than anything else, and that's why we're a live band. I think the four of us get something very different and unique out of performing... it's a really good question and I'd be interested to know every individual's answer.
For me it's about catharsis - in the way that a method actor goes about recalling an experience that happened in their life in order to evoke a real emotion, it's the same thing when you have a song that you've written; even if it's only for the three-and-a-half minutes that you're performing the song, you have that space of vindication and validation with regards to whatever that song is about. For that three-and-a-half minutes you are the author of that reality and if it's something painful then it is all the more rewarding, and if it is something joyous then it emits that as well. I don't know of anything better than that.
M: I just love more than anything to intimidate everyone else [laughs]. Actually it's just getting caught up in the moment mixed with memories of going to punk rock and hard rock shows as a kid. There was an aggression there, but the way that I imagined it it wasn't a macho aggression but more of a confrontation, you know? These are ideas that are confronting me just as much as they are confronting people in the audience. It does depend on the night as well, maybe when you watched us I was just feeling really mean... but I'm obviously pretending as I'm small and I would get taken out in any situation [laughs].
The Underside Of Power is out now via Matador.
Get the Best Fit take on the week in music direct to your inbox every Friday