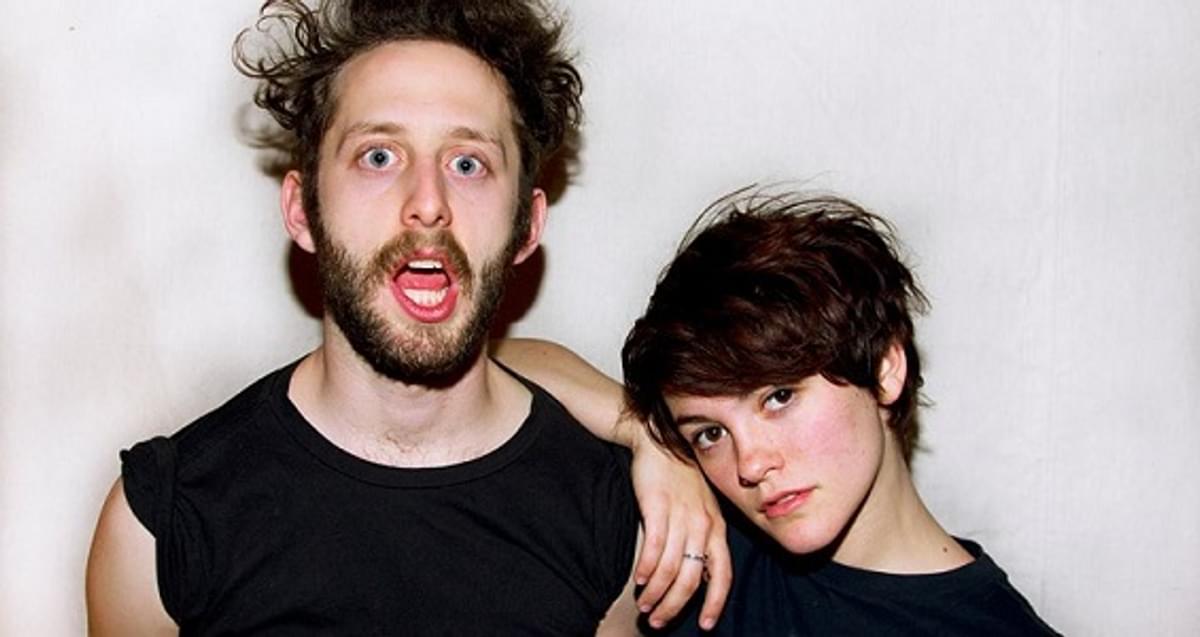 Watch: Diet Cig - "Scene Sick"
We became acquainted with Diet Cig when San Francisco label Father/Daughter records first dropped their debut single "Scene Sick" on the unsuspecting Soundcloud masses. Since then, both that track and follow-up "Harvard" have been busily blowing up the blogosphere and beyond.
As a result, the raucously catchy, sub-two-minute pop wormhole that is "Scene Sick" could be viewed now, just a month after its release, as an ironic commentary on the duo's own success.
Diet Cig's output so far has hinted at a particular dynamic - that of a soft-tongued singer/guitarist with a bitter edge paired with a workmanlike drummer. In their own words, Diet Cig are a "girl with a dream and a boy with a drumset".
The recently released video does nothing to dissuade (and, in fact, emphasizes) that notion: as the camera cuts from Laundromat to parking lot to basketball court, Alex Luciano dances her ass off and sings along as Noah Bowman stands alongside, disaffected, before finally busting his own moves in the final seconds. It's a great, simple moment in a great, simple video for a great, simple song.
All of this is to say that - given what's happened to Diet Cig in the three and a half months since they recorded these songs - "Scene Sick" and it's accompanying video could so, soooooo easily come across as disingenuous or silly, as a ploy to make blogs fall in love with it, to make magazines proclaim that rock and roll is back. But it doesn't. For two and a half minutes, "Scene Sick" refuses to collapse under the weight of time or expectation. It is a wormhole. And the video does nothing to dissuade that notion.
Writing about this, I'm reminded of another buzz band that got their start singing about sweaters. Eight years later, they haven't gone away. I hope Diet Cig don't either. Long live Diet Cig.
February
6 - Brooklyn, NY @ The Flat
13 - New Paltz, NY @ Pirate Haus
14 - Philadelphia, PA @ Two Piece Fest
20 - Albany, NY @ The Low Beat
22 - Bard College @ The Root Cellar
23 - Brooklyn, NY @ Silent Barn (Record Release with Charly Bliss, Earl Boykins, Pocket Hercules)
March
2 - Purchase College @ The Stood (w/ Rivergazer + Small Wonder)
3 - Brooklyn, NY @ Shea Stadium (w/ Rivergazer + Small Wonder)
Subscribe for news and competitions