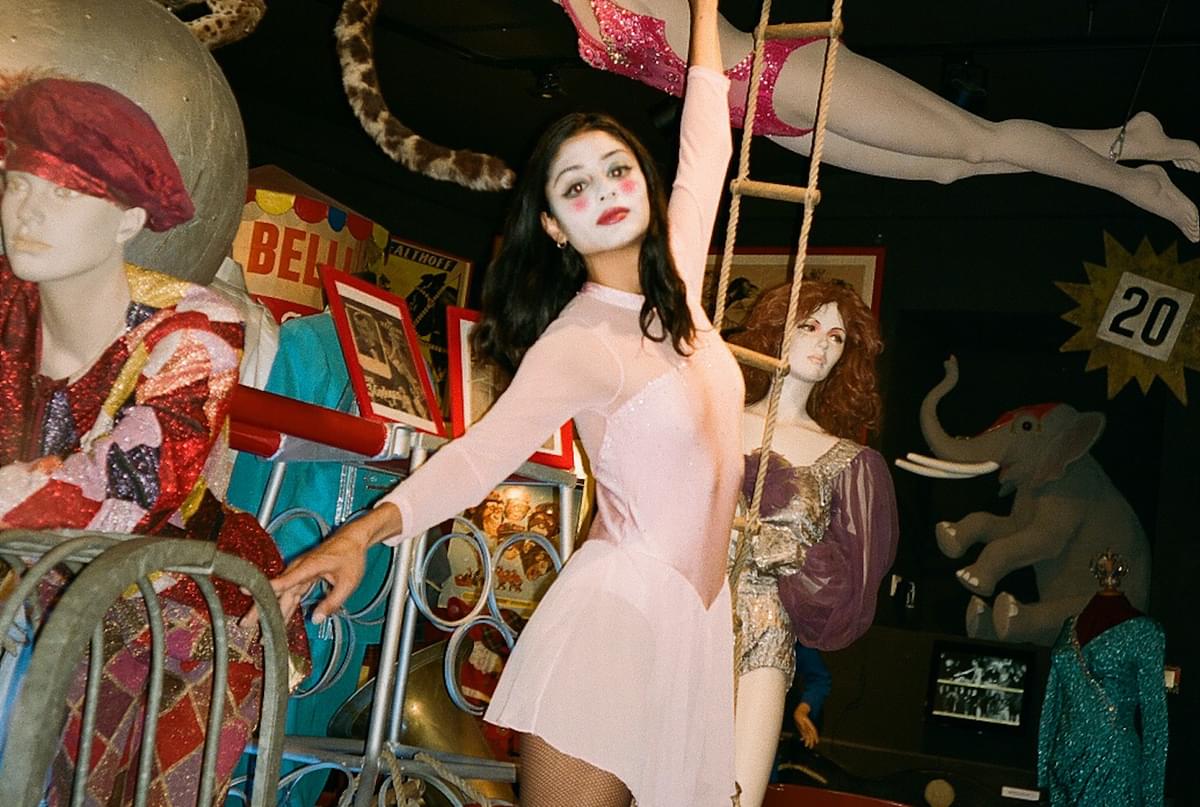 Sofie Royer protests societal sedation on synth-rich "Baker Miller Pink"
Vienna-based Sofie Royer is a songwriter, violinist, and painter who gives new meaning to the term 'multi-talent'.
In a world where many recording artists bill themselves as 'Renaissance people' or 'multi-hyphenates', Sofie Royer puts them all to shame. She plays violin and viola in European concert halls, studies painting in Vienna, and is pursuing a triple major in philosophy, psychology and English. Oh, and she writes and sings brilliant pop songs, too.
Born in California to Austrian and Iranian parents, Royer's home base is now Vienna. It's not surprising that her newest single "Baker Miller Pink" combines a cosmopolitan vibe with an almost Jungian analysis of how individuality and imagination are in constant battle with the sedating effects of mass culture.
The song gets its title from the soothing hue (a/k/a drunk-tank pink) that's been used for years to calm the violent impulses of prisoners. "It's a tone of pink which has been observed to temporarily reduce hostile, violent or aggressive behaviour," says Royer. "To quote Boy George, loving would be easy if your colours were like my dreams. In a world where everything is so flatlined and indoctrinating, "Baker Miller Pink" serves as a protest song against this."
Like the great Jimmy Webb ("MacArthur Park"), Royer writes melodically complex songs that are nonetheless engaging. Her previous single "Schweden Espresso" features soaring, crystalline harmonies that are a lot prettier than the locale of the video: the smoke-filled casinos and a wedding chapel in Las Vegas. Yet the juxtaposition of the innocent Royer wandering through the tawdry terrain of Sin City works nicely somehow.
The synth-driven "Baker Miller Pink" proves that Royer is a discerning sociologist at heart as she sings "All she knows is copied from elsewhere / Not an original thought in that deliberately unbrushed head of hair / Don't think you're special, don't even think / Baker Miller Pink."
Royer's goal for the song was to "encourage one's own imagination and dreams to rise to the surface," she continues. "Written specifically about a movement and scene I was trying to challenge, the lyrics ended up having the ability to call me out just as much as the next everygirl."
In addition to her own music, Royer recently featured on the song "Clarity" from Toro y Moi's new album Mahal, ahead of supporting the California-based chillwave pioneer on his UK and European tour this autumn. Whether she's performing great pop songs or playing violin like Itzhak Perlman, Royer is an immensely talented artist you don't want to miss.
Get the Best Fit take on the week in music direct to your inbox every Friday