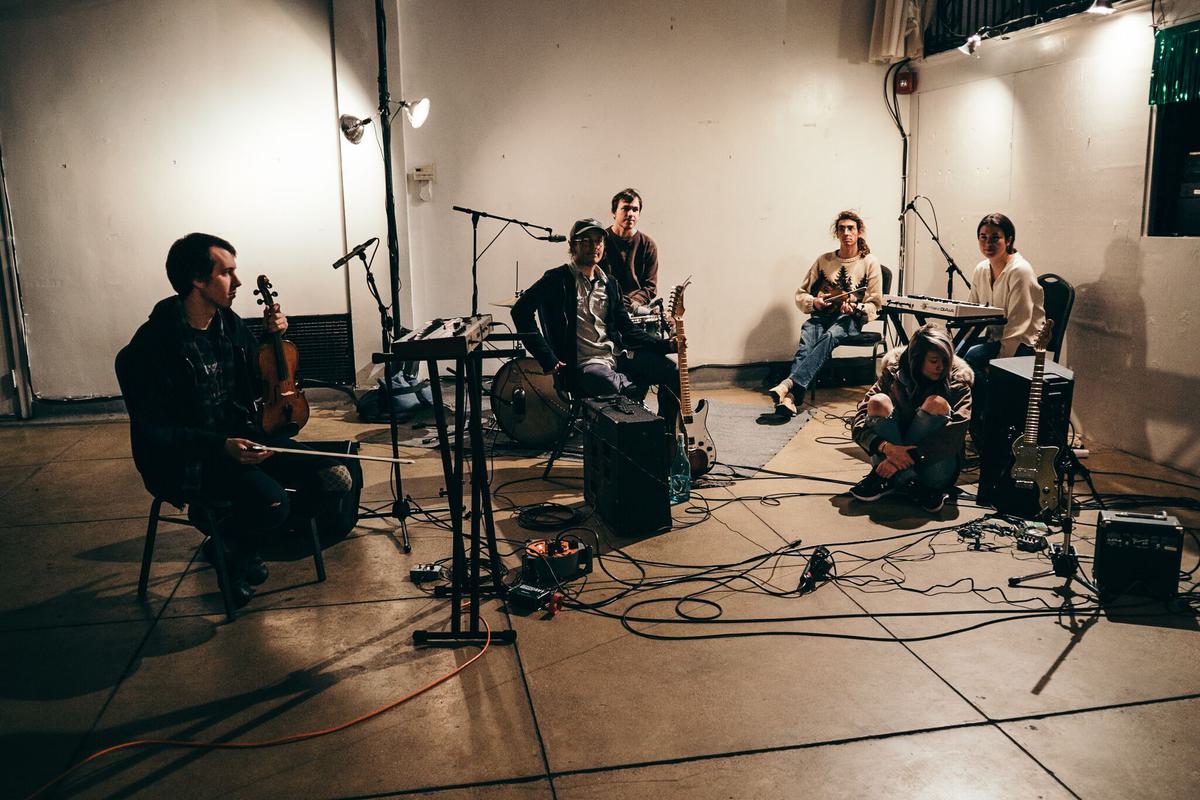 Slowcore outfit Hour unveil three videos to match the quiet beauty of their Tiny Houses album
Philadelphia band Hour today unveil three (yes, three!) videos to accompany songs taken from their stunning debut album Tiny Houses.
Made up of Mike Cormier, solo singer Abi Reimold, Evangeline Krajewski, Matt Fox, Pete Gill (Friendship), and Jason Calhoun (Naps), the instrumental group have made one of the best records of 2018.
Tiny Houses (we were introduced to the album by Gold Flake Paint) sounds like it could have been made in Louisville, Kentucky at the turn of the 1990s as it recalls the barely moving beauty of the likes of The Sonora Pine, Rachel's, and Rodan. Music that wears the clothes of post-rock or instrumental is often cinematic and widescreen but Hour's record occupies small spaces, empty rooms with shafts of light picking up the dust in the air. Intimate and extremely moving, Tiny Houses is a special record.
Today Hours air three exquisite videos for "The Carter Starter", "Still New To This", and "315". You can watch them below (which we urge you to do), along with band leader Mike Cormier's explanation of each clip.
"The three videos represent the art of three very different artists of varying levels of amateurism," explains Cormier. "Nobody involved had ever made a music video before, these were all attempts at capturing slices of three distinct artistic lives and visions, in process and imperfect, connected by songs from the latest Hour release."
"I directed/edited the first video for the song 'The Carter Starter.' All of the women in the video had either very infrequently or never at all held a guitar before. I was just trying to explore how this group of people would interact with the guitar as what is was for them: a clunky object that feels foreign to be holding, while also alluding to and playing with our expectations of the guitar as a cultural symbol and our notions of who we expect to see holding/playing them."
"Jacob Folsom-Fraster, Adam Wriggins, and Andrew Gorham created the skate video for 'Still New To This'. This group has produced a handful of other skate videos which they post on Instagram, and I have always been captivated by their athleticism accented by the stark cityscape of Worcester, Massachusetts. They achieved an amazing balance in this video of being a trick-based skate video and while preserving the city as a dormant character throughout, surging beneath their feet as they seek out more locations to skate. Paired with a song that was written when I had been thinking about the flimsiness of how I project my life to others, the noble defiance inherent in this video style acts as both a compliment and a foil."
"The video for '315' was created and performed by New York-based dance artists Kathleen Elizabeth Dalton and Megan Pinto, in collaboration with Lindsay Phillips and Louisa Armstrong and filmed and edited by Kendra Brisco. Filmed in a small New York City apartment, the piece feels crowded while still illuminating the original isolation and disconnectedness of the song."
"The songs are all reflections on the physical and mental boxes we construct for ourselves," concludes Cormier. "This process can be transcendent and claustrophobic, an exciting give and take reflected throughout the record. Life depicted as both intimate and foreign, constantly constructed then destroyed."