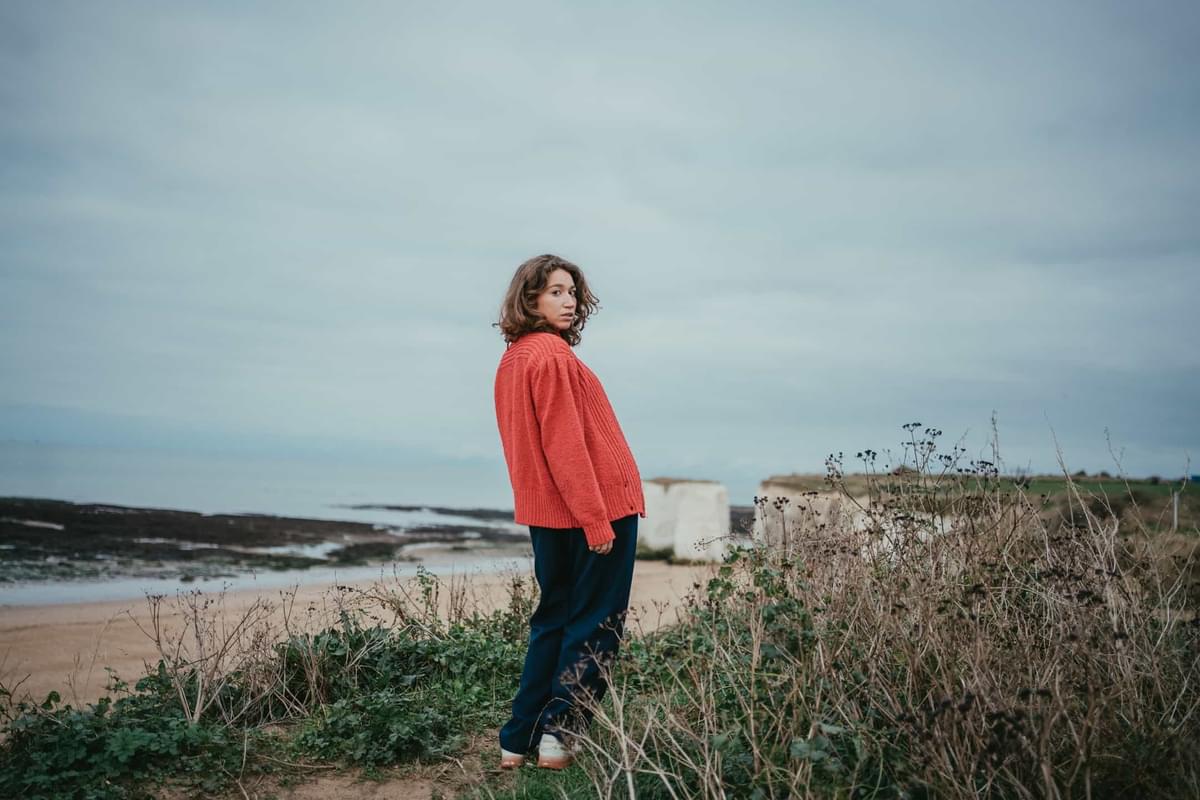 Marie Naffah hails the life-affirming appeal of touring with cathartic cut "I Want More"
London-based troubadour Marie Naffah touts a need to embrace spontaneity and recapture the liberational value of performance on "I Want More", the lead single from upcoming EP Trains.
With the pandemic seeming to place life interminably on hold, Marie Naffah echoes the sentiment of many in seeking to re-engage with the simple pleasures repeatedly postponed over the last two years: a reawakened enthusiasm the singer-songwriter found in interacting with the live music scene once more, seeing her embark on a whistle-stop fifty shows in fifty days tour. Celebrating this to some extent, "I Want More", at its core, treads a thin line between soft ballad and soaring torch song, powered by a series of stirring pop choruses, stitched with subtle guitar cues and booming vocals that amplify the soulful hooks that anchored acclaimed debut EP Golden State.
Naffah's latest single syncs with this universal human drive for impulsiveness - a sense of exploration that has inevitably been pushed to the sidelines recently. "Though this EP isn't necessarily about the pandemic, there are certain elements which definitely speak to it," she says. "'I Want More' appeals to the aspirational elements in all of us, to that deep-seated urge for adventure and achieving our dreams. It goes without saying, all that's been quite a lot harder over the last two years."
The track orbits around the beauty of touring, relationships and opportunities that are often taken for granted. "Although the song initially screens as a love song, the song for me is actually about wanting to feel the magic of live music again. I wanted to get really intimate and into the nitty-gritty of that," Naffah explains. "The song is all about electricity, really – it's a nod to all the cables and amps – it was about wanting to really buzz again. It's about losing a spark and wanting to find it and refusing to settle for 'fine'. I think the beauty of the song is that it can be applicable to so many other things - better relationships, better careers, taking more risks, more adventures. I want this song to dare people to dream, begging the question- 'what do you want more of?'"
Where Golden State's balmy disposition invited images of a sunset-struck Californian road-trip, follow-up EP Trains is primed by the introspective impact of itinerance; notably the cinematic framing offered by train travel. "I think the collections are linked, simply because they're both connected to ways I have felt while travelling," Naffah says. "But whilst Golden State is about a Thelma & Louise-esque coastal drive (with less murder and more margaritas), Trains is about gazing out of a big window on the Great Western Railway. It's less a literal celebration of a place and more an ode to the thoughts you can have when your head is pressed up against a train window."
A meditative state of mind takes precedence, locations emerging as a series of fleeting scenes, with thoughts proving less ephemeral. "The reflection time you get on long journeys is really important for me," says Naffah. "If you get a window seat, it feels like you're the star of a movie watching things go past. Windows have that kind of romance around travel and dreaming."
"In terms of progression, Trains is certainly more melancholic than my last EP. I guess this is natural because they were made during very different years for me (and all of us for that matter). Trains is probably my frankest songwriting to date and there's actually very little hiding. Hopefully for that reason it speaks to the rawness of the last few years, of the inevitable frustrations we've all felt, and that feeling of, well, wanting more."
The insularity of the lockdown-fashioned four-walled existence would bring the source of artistic inspiration into sharp focus, notably the struggle to create in a void. "I often try to write songs that evoke memories from places I've been," Naffah says. "None of us will forget that feeling of being inside, at home, working and living under the same roof. For me as a songwriter, I learnt that the creative process requires a creative environment. You can't write good music without first curating an experience that puts you in the right mindset."
Get the Best Fit take on the week in music direct to your inbox every Friday