Featuring the vocal talents of James Orr Complex's Chris Mack (who is now based in Sao Paolo), the pairing of RM Hubbert and Stevie Jones (joined by Jones' brother Ben, and Stef Sinclair) are somehow keeping the original spirit of EHT alive on "Hearing Those Years", but  still pushing forward.
As synths buzz across the track, the bass and drums shake and move around each other, jockeying for position and creating a nervous energy. Mack's flatly matter-of-fact vocal acts as a soothing counterpoint to Hubbert's hardcore/post-rock electric guitar work which is as sharp and inventive as ever..
"Hearing Those Ears" is taken from new album Fast Diagonal - also feauring contributions from  Sue Tompkins and Ela Orleans - out on 2 December via Chemikal Underground.
A special tour poster has been designed by Glasgow artist Toby Paterson, which you can see below.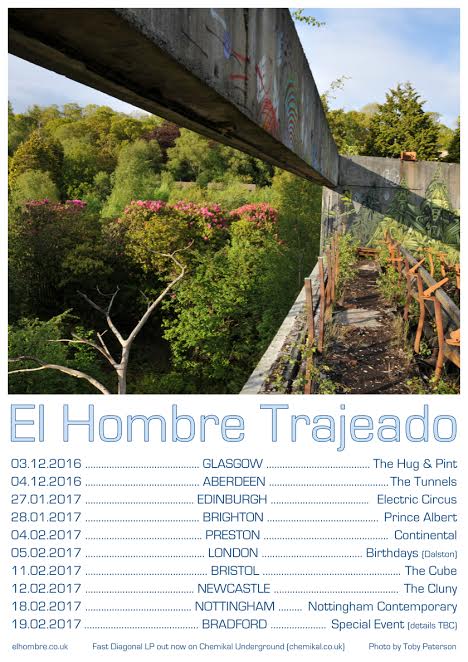 El Hombre Trajeado play album launch shows on 3 December at Glasgow's The Hug and Pint and 4 December at Aberdeen's The Tunnels.