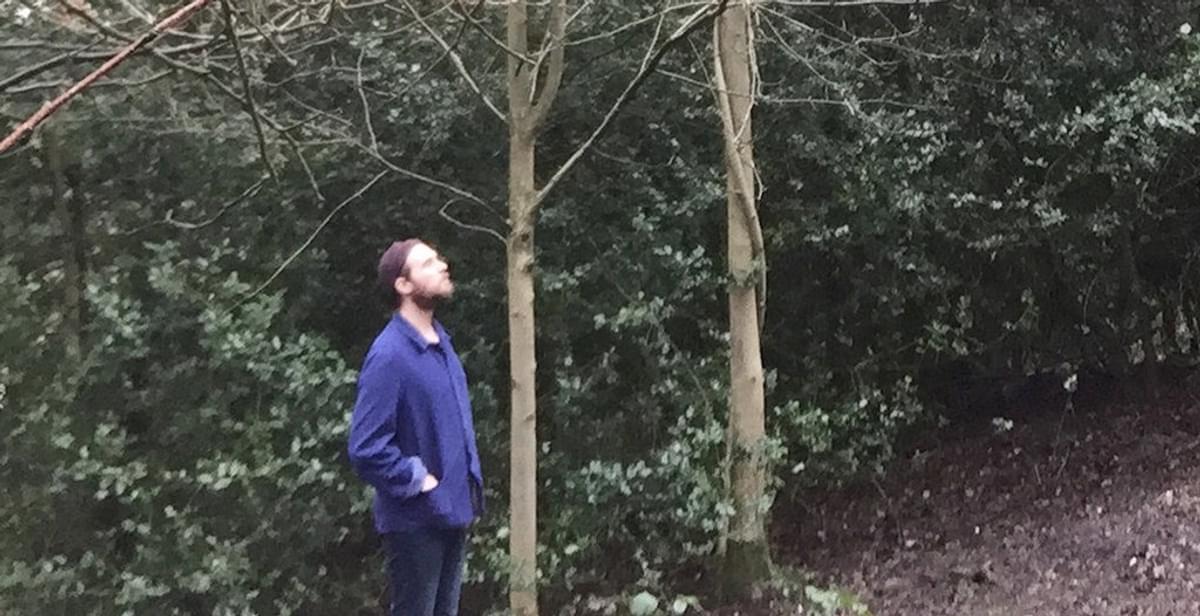 Stream 'Songs From Where I Live', the extremely personal and moving album by Good Good Blood
Tomorrow sees the release of the new album from Fox Food Records' James Smith under his Good Good Blood moniker.
Songs From Where I Live, featuring the Best Fit-approved "Fallen Leaves", is an album dedicated to place in West Yorkshire that James Smith calls home.
Part love letter to the English countryside, part psychogeography and part a study of Smith's struggles with his mental health, the record is a fragile and beautiful psych folk excursion guided by the singer's parched - and touching - vocals.
You can listen to the album in full, below, alongside an in-depth and extremely personal chat from Smith about the importance of Songs From Where I Live.
Hi James, there's a line which goes "I'll try to be better for you" in the song "Sunken Tree"....when it comes to mental health this is a difficult balancing act alongside looking after yourself first of all. How do you feel about coping with these issues when you also have to bear in mind your responsibilities as a father and a husband?
"It is a very difficult balancing act. For a long time I did 'try to be better' which was basically me trying to hide my depression. Like, behave as if nothing was wrong so I wasn't a burden on my wife or kids. Definitely one of the main reasons behind me getting so ill was that I was in a continuous viscous circle of guilt. I'd beat myself up. You know, "why do I feel sad or down when I have an amazing wife and kids and so many great things in my life!" I felt weak, a terrible husband and father. But I masked it as I didn't want to acknowledge I was weak and that line and the following one refers to those feelings. I thought I was doing the right thing hiding how I felt, when actually it was destroying all the good things I had going on. The biggest step in dealing with my depression was me finally accepting it as an illness. It took time but once I'd kind of got my head around that I stopped feeling weak and began to look at it logically and I was able to begin to understand my triggers and what made me feel sad or depressed or whatever. I had shed the stigma and saw it for what it was, I was desperately ill and needed help. The use of the word 'better' is also a trying to highlight that in a lot of ways society wants you to get "better". People ask me that question a lot. 'How do you feel? Are you better now?' But from my experience, with mental illness you don't suddenly get 'better' or 'healed'…you just learn to live with it and how best to tackle those darker thoughts and feelings so that they don't envelop you and send you down the rabbit hole."
Can we assume a place like the "Sunken Tree" is a real place? And what's its significance?
"Yeah there is a part of the woods near town where the dirt has worn away around the foot of the trees and you can see all the roots and stuff. We call them the sunken trees and they are so beautiful. The woods around here are significant as they played such a huge part of me making the album, not just in the lyrics but the whole vibe of the music. I wanted it to be direct and honest and also reference nature and the world around us."
The album is personal to you - do these places you reference play a part in your mental health? I mean, from a personal point of view things close around you - people and places - can impact positively and negatively on your wellbeing...do the songs address this?
"Like I say, the whole album is inspired and influenced by my surroundings. This town where I live being the biggest. I have lived here pretty much all my life and am very emotionally tied to it, probably too much. The album was one part diarising my mental health issues in order to try and make sense of why I was feeling how I was feeling but also another part me recording my love for this place and how, for better or worse, it has shaped me into who I am. Early on during the week I made the album I knew I wanted to use field recordings to try and bring my world into the music, to make it even more tied to where I live and where I spend time. But it is all positive. I love living here and raising my family here. I owe so much to this little northern town, probably my life."
You've spoken openly before about mental health and personal issues...after writing this record, these songs, how do you feel about your place in the world?
"I'm still in a lot of ways coming to terms with my mental health. It's a slow road. I've tried to be as open as I can about it which has definitely helped and I've had so many positive messages from people about it which is really great. It sounds cliché but if me being open and honest has encouraged one person to talk about their mental health then that is an amazing, amazing thing. I know the stigma, I had totally stigmatised myself given how long I went before seeking help. And I know the only way we can break the stigma is to keep talking about mental health in the same way we do a broken arm or a cold. As for my place in the world, I'm still not sure what or where that is…but then again, who does???"
Looking further down the line you could be playing these songs to audiences at least a few times over....as much as this could help you (or even hinder) is there part of the record's purpose that's set aside as a help for the listener? Something for them to identify with, to help them through?
"I first and foremost made this collection of songs as a way to diarise my depression. Like to put it all down on tape and hopefully make sense of it or understand it more. I didn't really have any plans to release it. It was only when I shared it with a few close friends who encouraged me to try and put it out did I start thinking about how others might interpret the album. I really hope people find something to enjoy in there or identify with a song. As an artist that is all you can ask for. With regards to live shows, I have never been someone who plays lots and lots of gigs mainly due to the difficulties in replicating my sound live with just me and my guitar. But I do have some shows lined up and I'm excited to play the songs to people in a really stripped down way. I'm nervous as they are so personal. It'll be interesting to see what people think of them…."
Get the Best Fit take on the week in music direct to your inbox every Friday