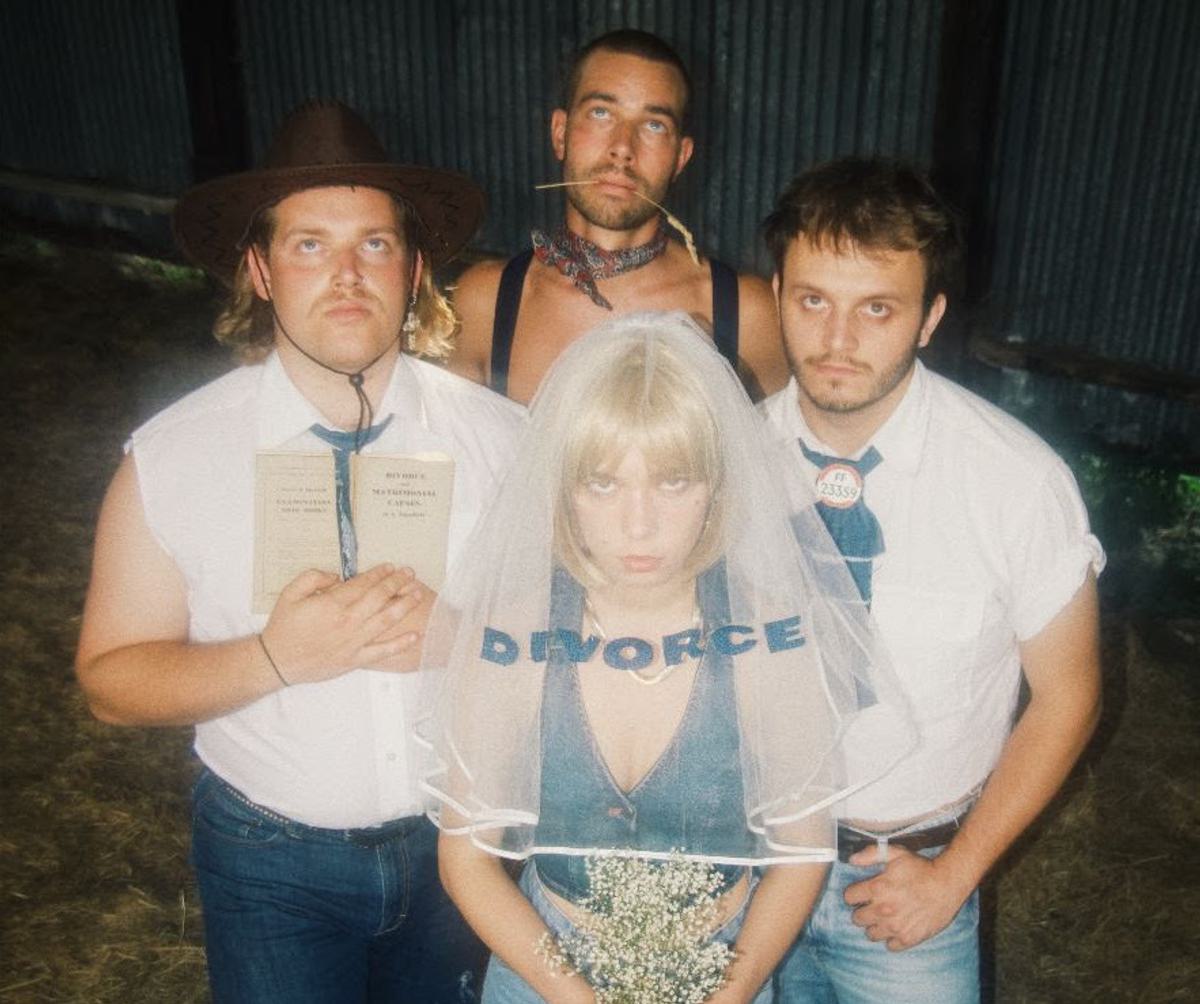 The dramatic thrill of Divorce
01 December 2022, 10:30
Original Photography by Rosie Sco and Meadow Florence
Nottingham newcomers Divorce are indulging in theatrics as they collate a year of work on debut EP Get Mean.
You never know what you'll find when boarding a train.
Will it be the calm, peaceful, serene haven all the rail adverts beg us to believe; where we're free to engross ourselves in the latest novel, with only the conductor's smooth voice detailing the next stop breaking you away from the page; or will the carriage be a dumpster fire of screaming children, begging to get off? God forbid, you could even find yourself surrounded by a hen party; laughing obnoxiously and screaming the words of Britney Spears or Mariah Carey, as though they somehow expect everyone to jump up and dance like a scene lifted from Mamma Mia.
Luckily, Tiger Cohen-Towell has managed to find herself a quiet compartment from which to call as she makes her way back home after a hectic Tuesday morning. "Sorry if it's loud," she apologises profusely, "I really hope you can hear me okay."
We speak a couple weeks before the release of her band's debut EP Get Mean, which is due out 2nd December. The band, Divorce, burst onto Nottingham's indie-rock scene with the release of their grunge-fuelled debut single "Services" and since then have the set the tone for what's seemingly a vibrant future with singles "Pretty" and the folk-indie murder-mystery "Checking Out."
As Cohen-Towell explains, it's been a whirlwind few months for the group, consisting of chief songwriting duo Cohen-Towell and Felix Mackenzie-Barrow, accompanied by Adam Peter Smith on guitar and Kasper Sandstrøm on drums. They're fresh from finishing their very first headline tour, and it's fair to say the band are overjoyed with how it went. It wasn't, however, always so fast-paced.

"Just before the release of 'Checking Out' things slowed down a little and we were all a little bit worried that things had fallen a bit flat," Cohen-Towell explains of the past few months, "but after releasing that it's been great, it's had a great response. Between the beginning of the tour and the end of the tour we feel like a whole new band."
"It was always something I wanted to do," she continues, reflecting on ambitions as a songwriter, having begun putting verses together at the age of 8. "I used to flit between interests growing up but the one constant was that I knew I wanted to sing and that I wanted to write songs." The origins of Divorce stem from the breakdown of Cohen-Towell's previous band Megatrain, which she shared with Mackenzie-Barrow. "We really learned how to record and hone a style as part of that project," she explains, recalling her previous outfit, "but we were just gaining traction live and then the pandemic hit and it all shut down." From the moment it became obvious that Megatrain was set to be halted for a significant period of time, Mackenzie-Barrow and Cohen-Towel set about making a new band, and welcomed Smith and Sandstrøm aboard for the ride. "We started rehearsals in April 2021 and put out a casual track in the Summer of 2021 and that soft launched us as a band… by October we had our first live show supporting TV Priest."
Their debut set came along in collaboration with their current label Hand In Hive, whom they found the old fashioned way of lashing out copies of demos to any label address they could find. Thankfully, Hand In Hive jumped aboard and they've been backing Divorce ever since. "We had no previous relationship with them," Mackenzie-Barrow explains, as he joins the Zoom from his kitchen. "We'd all been doing this kind of stuff for a long time but very much in a DIY capacity. Having them behind us has really enabled us to do things like look at PR, have a bit more of a structured release around it than we would have been able to do on our own; but also just on a psychological level the confidence of having the faith of people on a professional level was perfect."

"The tour has been amazing," he notes of the band's recent experiences on the road. "We feel like a completely different band at the end of this tour, in particular in a live setting. It just really gave us the opportunity to develop some character onstage. We went into it without a massive plan but it's worked itself out. We want to be warm onstage too, we're not trying to be too cool, we just want everyone to have fun."
Within the band, the creative process is already quite defined. It tends to begin with Cohen-Towell and Mackenzie-Barrow throwing ideas between them; their shared musical theatre background and training adding an extra layer of theatricality to their work. More often than not, the inspiration would come from a story they read on the news or something heard online. Newest single "Checking Out" was no different, stemming from a murder they heard about whilst taking part in a friend's songwriting challenge to write a song a day for a week.
"There's always been a theatrical nature to our songwriting," Cohen-Towell smiles. "It's nice to remove yourself from a song and really try and focus on something else. It often becomes a metaphor for something personal, but it can translate as really far away from yourself." For "Checking Out", Cohen-Towell took inspiration from country-singer Marty Robbins, who was renowned for his thoughtful and dramatic explanations of gunfights at dawn, steeped in Americana heroism and western idealism. "Even though 'Checking Out' is quite a graphic murder being described, it's about dysfunctional relationships and that is something that people can relate to," she adds of the song. "It's the same in theatre and art, whatever's being depicted is a metaphor for something more universal that everyone can understand."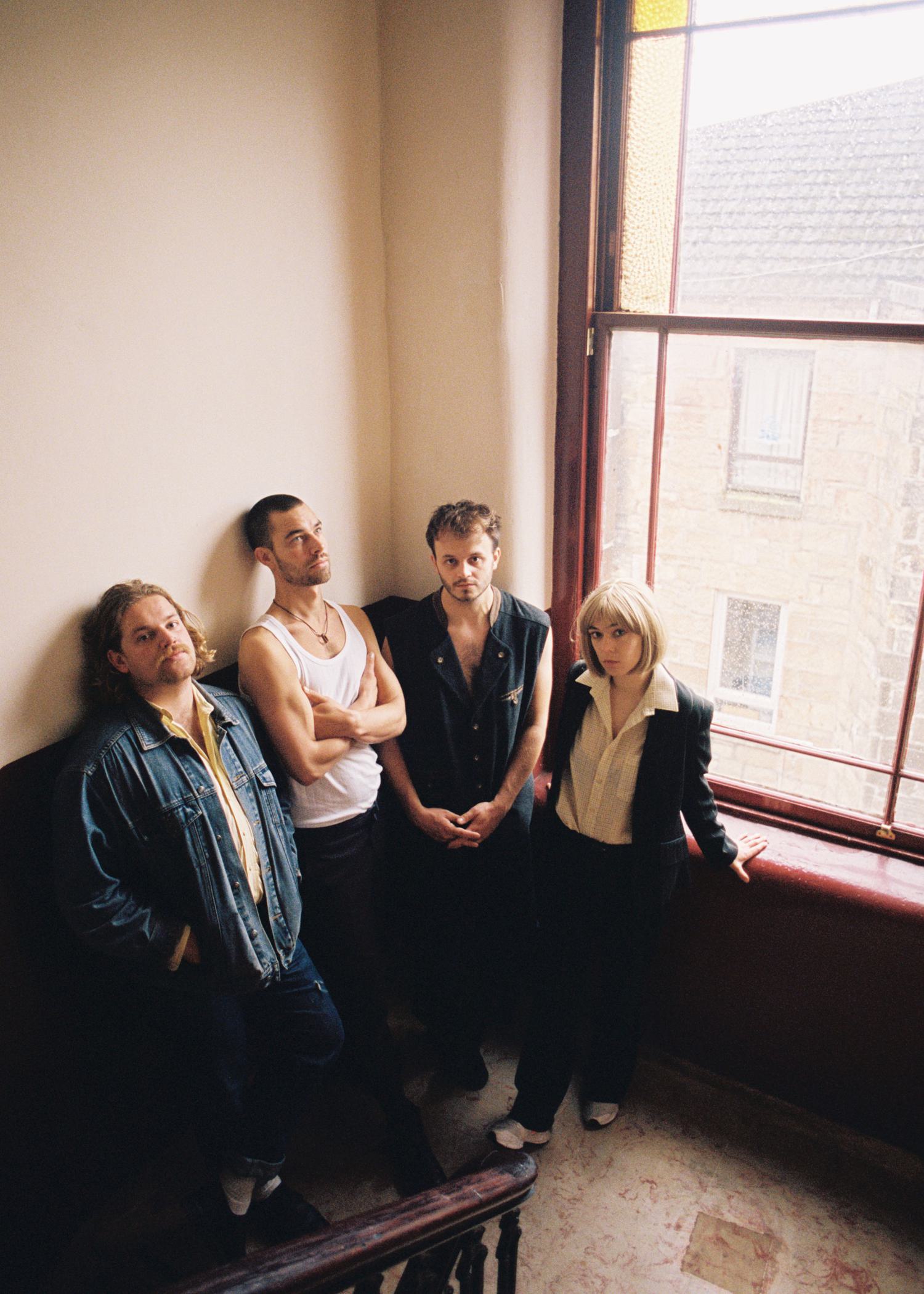 The track is the final single the band will release ahead of their debut project Get Mean, which is set to feature their three previously-released tracks as well as one entirely new song, "The Hill", one of their most experimental and instrumentally courageous tracks to date. The band wanted the EP to act as a summary of their first year as a band, of figuring things out and learning how to make things better. "It's a journey through 2022 for us and all the releases cobbled together but it makes sense," Cohen-Towell explains. "We were worried it wouldn't fit together but I really like the juvenile nature of 'Services' opening the project and then as it goes on it refines itself naturally."
"I hope that the songs move someone in some way," MacKenzie-Barrows adds. "We didn't come out fully formed to the extent that we are now; and I'm sure looking back next year or a few years down the line that this will only look like a small step in a larger journey; but I really want the listeners to get a sense of the warmth we've put into it and the songwriting and come away with a strong sense of who we are."
There are few bands out there at present willing and able to pull off what Divorce have encapsulated within Get Mean's runtime. Their knack for theatricality, ambition, passion for their craft and unique storytelling ability have allowed them to experience the lightning rise they've enjoyed to date. As more music looms on the horizon, and with a newly signed publishing deal with the legendary Sub Pop Records, things just keep getting better. With grit and determination comparable to a speeding train – chaotic noise be damned – it seems like nothing can get in their way.