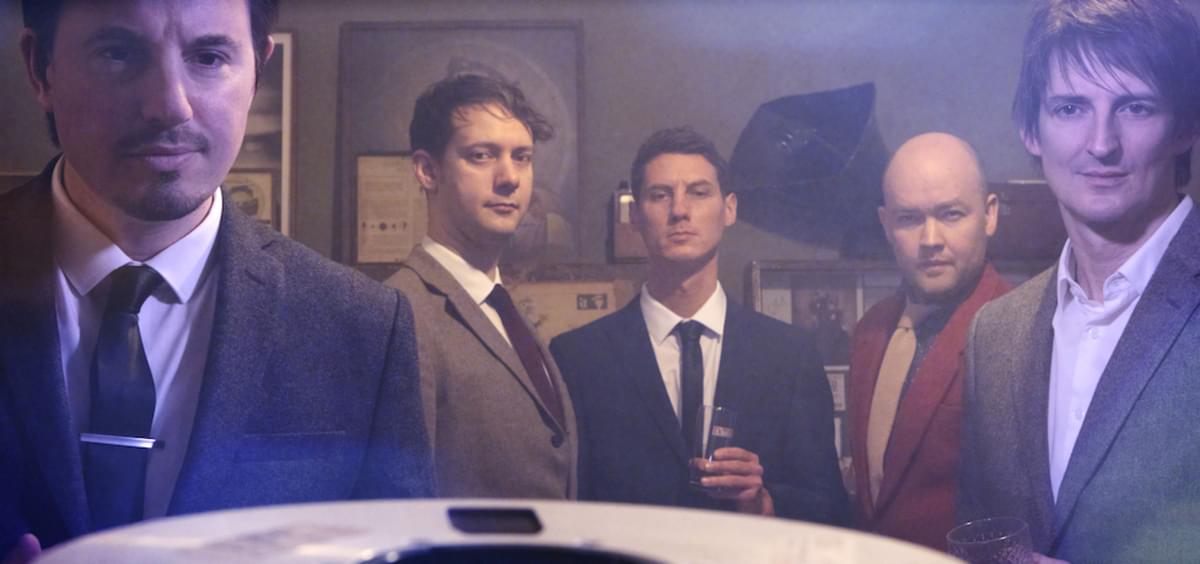 The Leisure Society on nano-brewing and taking back control
20 April 2019, 13:55
The Leisure Society's violinist Mike Siddell explains how the band has come to run their own 'cottage industry' – and are appreciating the new challenges it brings.
Arrivals & Departures
has been a long time coming. The four years that have passed between our last album and this one have been a pretty tumultuous time for all of us in the band – good and bad. As humans, we tend to know when change is coming. You can see the destination ahead, but however much you try to prepare for it, and feel ready to get to the next place, you can only get there at the pace of the vehicle you're travelling in. As much as we have all been itching to get this record out, in hindsight that's how long it needed. The idea of things slowly rumbling into town feels pretty apt considering Britain's political logjam.
We have each been in and around the music industry for most of our lives now: as The Leisure Society and individually in various other projects. We've seen dramatic changes in how it all works, and in how people consume music. The large cogs of the creaking machine are just about catching up with the pace of change in the digital world (they'll no doubt be left behind floundering again at some point), but in that time most musicians have had to learn to adapt to the changing environment on their own. Of course all this change has been really difficult for many, especially smaller record labels, but the challenges can bring more possibilities and potential for creative control. Most bands now have to do a lot more themselves. Rather than the old way of looking for a manager and a record label who would get on with all the business stuff while you concentrate on being the nonchalant artist, now bands tend to take on a lot of this responsibility themselves (while pretending to be nonchalant artists). Being in a band now is like running a cottage industry: doing your own marketing campaigns, deciding how many records get pressed, running the social media, and booking gigs are almost as much a part of the creative process as writing and recording music is. While this obviously can make life more difficult for the average musician, the freedom and creative control this gives has got to be seen as a positive, too. If you embrace the challenge you can really build something bigger and better – and on your own terms.
Not content with being involved in one cottage industry, during the last couple of years myself and Christian [Hardy – singer/multi-instrumentalist in the band] – along with our friend, Mike Petricevic – have started our own (non musical) project. Like this record, it's been a long time in the making. Finally, it also seems to be coming into town this spring. We've been building a small nano brewery on an old farm in Perivale, west London, and our first two beers are Arrivals (6.6% IPA) and Departures (3.7% dark brown ale) – coinciding with The Leisure Society record release. We're hosting our first tap day as Perivale Brewery today (April 20), where Arrivals & Departures beers are exclusively available (more details here). "Beers with ideas" is our thing, and we hope to bring the creativity we have from music to the world of brewing.
Starting small is key. I've been a keen home brewer for a long time, and started on my tiny 40ft narrowboat. I love making beer that's unique, exclusive, and can tell a story – or at least inspire one after drinking. We have a small room in an amazing location on Horsenden Hill, and we hope to build something special there.
It takes a while to "take back control", so to speak, and to find the confidence to manage everything yourselves. Ironically, even though we are bringing things back in-house with this record, this is the first time as a band that we've had a full time manager. But this record sees the first releases from our own imprint, Ego Drain Records, and as we get on the road to promote them as far and wide as we can get them, bear in mind it's all us (with the help of Joe) running our own little mini industry. We are involved in every step of the process. From composing and recording the songs, to finalising the last word on the liner notes, to booking the van, right down to brewing the beer, we hope to be sharing with you after our upcoming gigs.
Get the Best Fit take on the week in music direct to your inbox every Friday