Each week, we here at The Line of Best Fit catch up with one of our favourite artists to find out about what inspires them from outside of the world of music.
In the past, we've spoken to Xiu-Xiu about birdwatching in Guyana, to Poliça about the importance of friendship and to Prince Rama about the art of P.A.U.P (post apocalyptic urban planning).
Today, we catch up with LA's Kisses who, fresh from releasing their brand new album Kids In LA through Splendour, tell us about an idea for a unique business venture that struck them while in the midst of an extensive tour.
Fish In a Cup

I know what you are thinking, what is this fish in a cup and how can I get one today? Well, about 2 years ago, while on tour with my former band Princeton, we hatched a hair brained, get rich quick scheme that could only have been conceived during a 12 hour drive through the midwest. While perusing a Meyer (equivalent to Walmart) in Ohio, we stumbled across rows and rows of beta fish. The fish were in tiny cups of blue liquid and did not look happy. We were a bit lonely on the road and thought it would be great to have a pet, but how? Suddenly, it hit us. Fish in a cup. We went through the water bottle section until we found the perfect, clear water bottle that had a pop top in order to provide proper ventilation. We went and bought crystal rocks to decorate the bottom of the new tank, bought the fish and named him Doukis. He rode with us for weeks in the front cup holder, right next to the air vent to keep him cool. We would take him to venues, restaurants and nearly left him at almost all of these places. Because Doukis brought us so much joy, we began developing the idea to sell this as a physical product on reputable sites such as the home shopping network and QVC. We developed a jingle for the company and spent hours laboring over whether the fish should or should not be included ("fish not included" seemed like a bummer). We eventually decided on the Fish in a Cup coming with a voucher to redeem for a free beta fish at your local pet shop. The idea was golden and keeping me motivated on tour.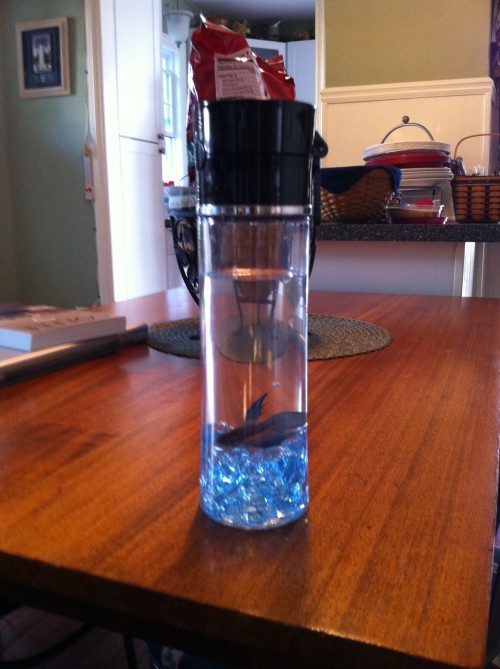 Without going into too much detail, Doukis left this earth in a way that we all regretted, involving leaving him in the van on a day that unexpectedly turned hot. We made a mistake and felt so bad we forever shelved the idea, until recently when my brother became addicted to the show 'Shark Tank' and decided to run it by me again.

As I sat down to write this piece, Fish in a Cup just continued to pop up in my mind. I could not figure out why I considered this something that inspired me in any real way until I realized that it was the larger idea of creating concepts, businesses and business ideas (however silly) that I truly love doing. While Fish in a Cup may not have panned out (yet!) the idea to turn a small fragment of an idea into something bigger and more complete is how I approach each Kisses song and album as well as most other things I put all of myself into. While I unfortunately never recorded the Fish in a Cup jingle, I hope to one day lay it down for you guys in a concise infomercial, complete with terrible acting and excited kids giving fish in a cups to their fathers when they head out on the road for a grueling business trip.
The new album from Kisses – Kids In LA is out now via Splendour.