Sister Rosetta Tharpe was one of the greatest and most inspirational guitarists that ever lived.
Starting out in the '40s, she helped to inspire the rock 'n' roll movement of the '50s - with Elvis and Johnny Cash both citing her among their biggest influences. She was one of the first people to bring gospel music to the nightclubs and broke ground touring America as an African American woman during segregation.
She was a woman performing and recording in what was, and remains, a male-dominated music scene. She was a virtuoso guitarist shredding it up on a white Gibson-SG electric guitar in high heels and a ball gown - sensational and bewilderingly original. An undeniable force, Tharpe broke down barriers of sexism and racism with her grace, charm, sharp wit, strong will, incredible work ethic, and supreme talent.
She should be as well known as Elvis. Yet despite all that she contributed to contemporary music, by the time of her death in 1973, she had been all but forgotten. Buried in an unmarked grave in Philadelphia, Tharpe's legacy was spectral; living on only in the DNA of guitar melodies.
Sister Rosetta Tharpe is not the only female musician that history has failed.
Have you heard of Delia Derbyshire? A pioneering electronica composer who, on ¼ inch mono tape, constructed the original Dr Who theme. Or Clara Schumann? Regarded to be the greatest pianist of the romantic era. What about Winifred Atwell? The honky-tonk ragtime virtuoso pianist and first black person to have a Number One hit in the UK singles chart (and still the only female instrumentalist to do so). These are just a few of the trailblazing women in music who have been largely forgotten.
Not only should we be remembering and paying respect to these women who came before us and helped break down gender stereotypes in music; we should also fight to avoid letting history repeat itself. So, cut to the present day and who are we not hearing, acknowledging or giving due credit to now?
In a recent article in The Guardian, "Why Björk is right to stand up for female producers", we read that in the world of recording, it is all too common that production and engineering credits, through lazy journalism and gender role assumptions, is oft given to a male colleague. Such has been the case for Björk, M.I.A., and Alison Goldfrapp, to name a few.
Björk despairs: "It feel like still today, after all these years, people cannot imagine that woman can write, arrange or produce electronic music."
The music engineering landscape remains predominantly male. In an interview with upcoming engineer, Grace Banks, she points out that women make up only 5% of the professional workforce in audio and music production (SoundGirls.org) while an estimated 6% of the Music Producers' Guild members are female. It begs the question: why? Banks outlines some of the answers in her recent interview with The Quietus. As does Mandy Parnell, one of Britain's finest mastering engineers, when she talks to The Guardian about her work.
But it's not only in the audio sphere of music where inequality is still apparent. Music blog, Crack In The Road, redesigned the Reading and Leeds Festival poster by removing the male-only acts from the lineup to reveal this…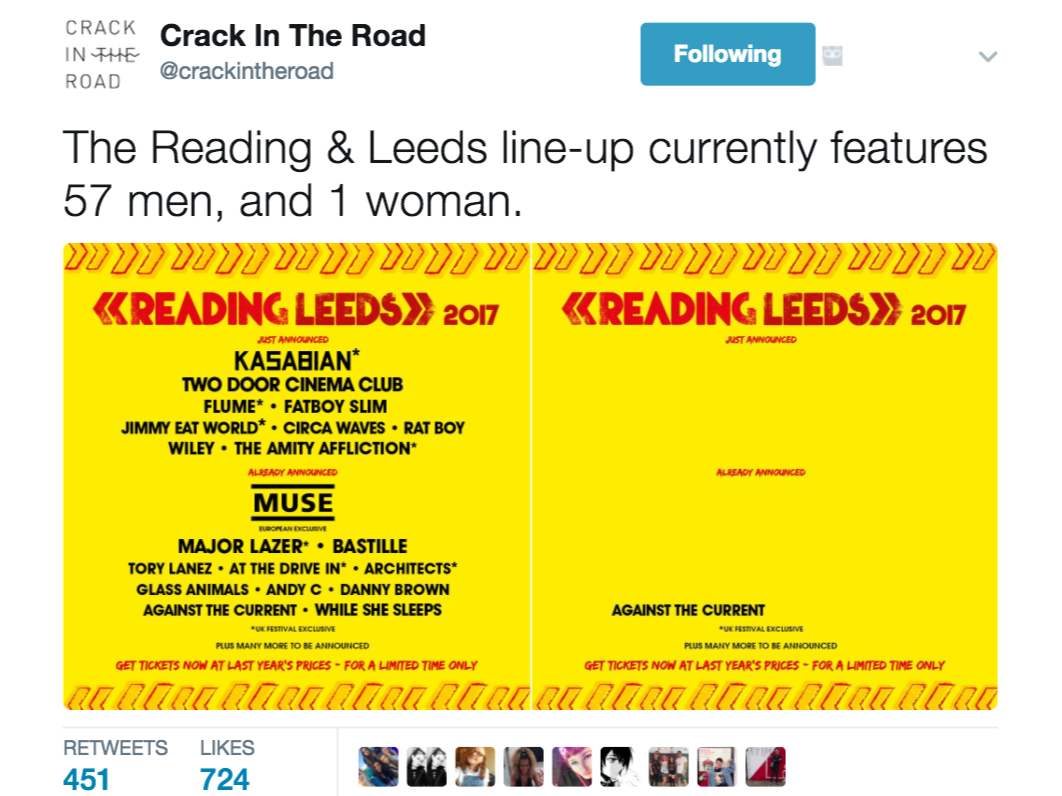 Thankfully, this shocking bit of information got a lot of media coverage but… the festival curator, Melvin Benn, responded with this: "Putting a festival on is a monstrous financial risk. The only way I balance the books is selling tickets. Why do you think we book the same male acts again and again? Because they sell tickets. Trust me, if there was a female act in the rock genre that sold the same amount of tickets as any one of the headline acts this year, I'd book them."
There blatantly is still a lot of work to be done.
As a female singer/songwriter, touring musician, and composer of film and television music, I have experienced sexism in its more subtle, insidious forms as well as its more brazen. Sexism exists in all places of work, not just the music industry and there is still a way to go until equality is realised. But, more than ever before, women's voices are being heard and given platforms to express their views; their achievements being acknowledged and respected; their work supported by funding bodies and communities such as PRSF Women Make Music; and our heroines being rediscovered, remembered, and exalted.
And in more good news, Sister Rosetta is having a resurgence - predominantly thanks to Gayle Wald's biography, Shout, Sister, Shout!: The Untold Story of Rock-n-roll Trailblazer Sister Rosetta Tharpe, as well as some incredible archival footage of Sister Rosetta having been uploaded to YouTube.
Her story has steadily spread and continues to inspire us; it reinforces our determination to continue to write, play, sing and "Shout Sister Shout!"; to have those confrontational conversations that hopefully lead to dispersing discrimination; to continue to shatter stereotypes by venturing into all aspects of music despite it being occupied by a male majority; and to remind us to work hard, and go forth like Rosetta with grace, charm, wit, will, love and talent.