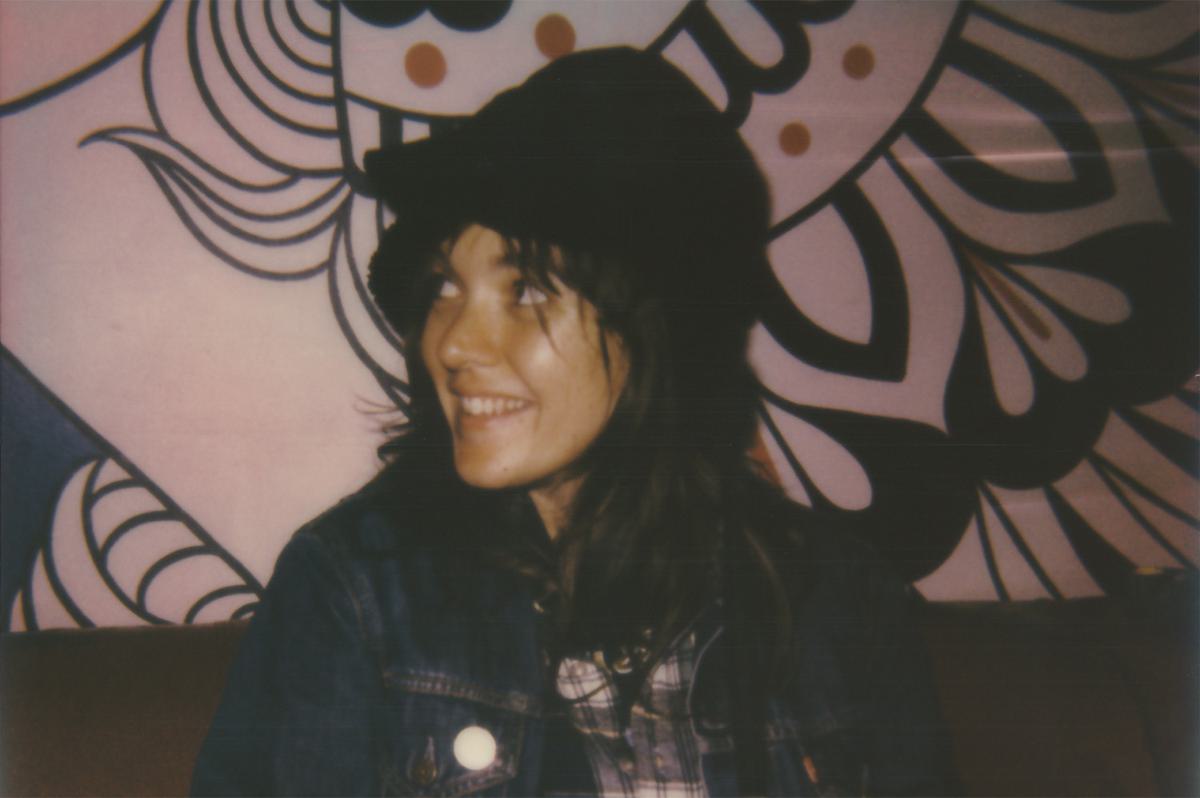 A Life in the Year of the Lyrical Gangsta
28 December 2015, 09:30
As she ends 2015 atop a fistful of critics' lists, Courtney Barnett talks Joe Goggins through a sensational twelve months.
"You'll see a bad review and it'll make you feel like shit, but then I'll see someone call me a genius, and that's equally shit - it's just dumb. People are always going to love you or hate you."
There's a weird little visceral reaction I find myself having when Courtney Barnett utters that second sentence; her speaking voice is so similar to the one she sings in, this languid Australian drawl, that whenever there's overlap between something she says in conversation and her actual lyrics - this particular exchange brings the opening line of "Pedestrian at Best" to mind - it's hard not to pick up on it. This, after a handful of aborted attempts to set up some time over the phone earlier in the year, is the first time I've spoken to the Melbourne native. It just doesn't feel like it; we've been having a conversation - albeit, a one-way one - through speakers and headphones for a while now.
"People need to find a point of interest in the music, and I need one just so that I can write."
It's fitting that the Courtney Barnett sitting before me should sound every inch like the one who's debut album has made her the breakout alternative star of 2015; fans and critics alike seem to have been drawn so irresistibly to Sometimes I Sit and Think, and Sometimes I Just Sit in no small part because she comes across as so unfailingly genuine. She is a disarmingly honest writer, turning the mundanity of how much money she's saving on lattes or the minutiae of a dilapidated hotel room into gripping poetry. She laces her songs with wit and self-deprecating charm, which is why, when she's spinning stories of environmental disaster, picking apart the finer points of her own social anxiety or railing against the expectations of others, she does it so enthrallingly; Barnett possesses the rare ability to take profoundly personal experiences and make them seem totally universal.
That's been reflected in the reaction to her record; she's had a truly remarkable 2015. She's been nominated for a Grammy, for Best New Artist, and made the business end of a slew of year-end lists, including top ten positions from The Guardian (number six), Rough Trade (number three), SPIN (number two), Stereogum (number six) and The AV Club (number nine) and a slot on our own, non-sequenced top 50. Days before we meet, she wins a clutch of trophies at the ARIA Awards in Australia, which, as far as I glean from Barnett, is just about the nearest thing they have down under to the BRITs. It suggests that the possibility of a major commercial crossover is being touted, even if it's yet to fully materialise; typically, though, she's modest about the achievement almost to the point of self-dismissal.
"They're probably the biggest awards we have in Australia," she explains. "They've always seemed very commercial, and not at all like the kind of thing I would win. I've never really followed them, so I'm not sure if indie artists win particularly often. I always remember seeing it being all about pop stars when I was younger."
It's a topic you imagine is bound to cause a little bit of internal conflict for Barnett. On 'Pedestrian at Best', the closest thing she has yet to a hit single, she is far from complementary about that particular side of the industry, suggesting discomfort with praise and unease at the idea that she might end up with more money than she needs. There's a great story she once told about working in a shoe shop to make ends meet and wanting to urge customers against wasting cash on expensive trainers. That same sentiment is palpable now, even after a veritable deluge of praise, the kind that would go straight to most people's heads.
"It's a little weird, to be taken in by that side of the industry," she says. "I guess it probably goes back to, you know, what the point of awards is, and what they're meant to represent and symbolise. They sway and change a bit, and normally it's just the people with the most money from their label who go on to sell the most records. I suppose I don't really care who you are or what your background is; if my album has really connected with you - if you get it - then great."
"Sometimes, I think I know what I'm saying, but you come to figure out that it actually came from another part of your brain, and so it takes some time to figure out exactly what it was you were trying to say in the first place."
Back in her adopted hometown of Melbourne, meanwhile - where she very much came up as part of the underground scene - she's been able to count on the support of her peers; everybody, happily, is pleased for her, rather than envious, although just broaching the topic seems to cause a little bit of awkwardness. "Everyone's been very nice, and everyone's been saying lovely things," she laughs. "They all seem pretty positive, and they're all stoked that someone is, in a way, representing those back home who are still playing shows at a bit more of an underground level, or whatever. To me, there's so many better bands that deserve those awards, but that weren't nominated. What can you do? That's the nature of those things - they're always going to be like that."
The record has brought her a long way when you take into account that she didn't have any particularly lofty aspirations for it; the initial motivation, she says, was just to have something to tour behind, and to try and build up on the songwriting style she'd managed to carve out on her early EPs, particularly last year's A Sea of Split Peas. "Nothing's changed in terms of what I'm trying to do. Getting out on the road and playing to as many people as I can has always been the aim, and will always continue to be the aim. Write songs, record them, release them and play them. I'm not sure what other kind of focus there's supposed to be, you know?"
It's a goal she's currently doing a fine job of reaching; tonight's venue, The Ritz, is a case in point, sitting as it does across the road from the last room Barnett played in Manchester - Gorilla. The latter's a 600-capacity club, and the former is a historic old theatre that holds roughly three times as many people. It's quite the jump to make in seven months, but you get the impression that it's happening everywhere, and Barnett is very much taking it in her stride. There's no nervous pacing in the dressing room, where she has just a guitar, a beer and a well-thumbed copy of Jessica Hopper's book for company when I arrive; the three-piece band setup hasn't changed either, and there's little in the way of additional polish - it's still loud and endearingly rough around the edges on stage. It's hard to imagine her changing her approach for anyone.
"It's better than it going the other way!" she grins, on her progression up the venue ladder. "It's a little bit of a strange feeling, but it becomes a natural thing over time. To me, at least, it feels like it's happened very gradually. I've been playing shows since I was 18, and it's always been getting a little bit bigger, and it came about at certain points in my career - a little bit of a bump with the first EP, and then another with the album, and so on. All it means to me is that the music is connecting with more and more people, which is great."
"I'm an artist, not a machine. I'll do what's right when it feels right, and if it works, I'll know."
Most of the interviews that Barnett gave back in March, around the release of Sometimes I Sit and Think, were scored through with a nervousness - not about how the songs would be received, but more in terms of her wanting to make sure she did justice to them when she talked about them; they were so fresh to her at the time that she was still very much making sense of them herself. A few months and scores of live shows later, she seems to have a better handle on the words she penned for the record. "It took a while to figure out what they meant to me, but I've found that they tend to change over time - they can take on a different importance. Sometimes, I think I know what I'm saying, but you come to figure out that it actually came from another part of your brain, and so it takes some time to figure out exactly what it was you were trying to say in the first place."
It wasn't as if Barnett rushed the record out, either; it might very well have missed out on the raft of end-of-year accolades that it's been enjoying, because the release was originally pencilled in for late 2014. "We actually recorded it last April, so nearly a year before it was out," she recalls. "We were going to put it out at the end of the year, but we were touring so much, and I just couldn't wrap my head around the idea. I needed some time off, honestly, and it just would've been non-stop, just tour tour tour. I remember thinking, "this is stupid." I was ready for some downtime."
It's to Barnett's credit that she decided to take it, too; as frequently as she seems to want to talk herself down, both her actions and words over the past twelve months have exuded a quiet confidence. She wanted control over every last aspect of Sometimes I Sit and Think, including the artwork (one of her own drawings), the running order and every other fine detail. "I got really stressed out over those little things. The track listing, especially, that took so long. I was listening to the record eight times a day, trying to figure out the best flow for it, and constantly doubting whether I had it right. The cover, as well, took me ages, and that was the same on the EPs. I think it's the insecurity that comes with the idea of knowing that you're making something that's going to stick around for a long time. You want it to be this perfect thing, or else you've got to fucking look at it forever. There was a weird mix of feelings, sending it off; on the one hand, it's freedom, and on the other, you know, you can't change anything, so you'd better hope it's going to go over OK."
"|I like hearing people open up their whole interpretation of things. Even if people have taken it differently to how I meant it - if one person out of a thousand has some sort of epiphany, then that's nice."
And, of course, it has. With the critics, writers and bloggers making so much noise, it's easy to forget that it's the fans, the rank and file, who have taken Barnett from clubs to theatres here in the UK, as well as further afield. You have to assume it's down, primarily, to those lyrics; how relatable they seem, and how sharply observed they are. Barnett, classically nonchalant, has a wonderfully simple take on the situation: "people need to find a point of interest in the music, and I need one just so that I can write." There'll have been countless encounters with fans with stories to tell, thanks to offer up and - probably - tattoos to show off over the course of this past year, and that, too, has helped Barnett understand just how far she's managed to connect with people, such a long way from Melbourne. "It's mindblowing," she says. "There's been a lot of people coming up and talking, sharing stories, and I've gotten letters, too - a lot of people being really cool, really lovely. I like that stuff; I like hearing people open up their whole interpretation of things. Even if people have taken it differently to how I meant it - if one person out of a thousand has some sort of epiphany, then that's nice."
Barnett's schedule for 2016 is looking unusually bare so far; she'll tour Australia through January and a couple of U.S. dates in April suggest further activity lined up there, but with nothing to back that up so far, the discussion inevitably turns to the topic of what might be up next on record, and she's relatively evasive. Are there songs already written for a follow-up? "There's songs...yeah, there's songs. There's always songs. But I might just scrap them all, and write totally new ones. It's hard to know how things are going to fit together, this early on. I just put down as many ideas as I can, and decide what to do with them later. There's never a specific outcome or a concept in mind."
There were, at least, some lessons learned during the making of her debut, and she's characteristically low-key when she talks about the idea of LP2. "We did it in a good amount of time, I thought. Didn't spend too long on it. I'd like to go about it in the same way again. What I will say is that we were in a studio that had to close at night, and in my experience, a lot of the good ideas tend to turn up at 2am, so a 24-hour space would be nice."
She doesn't seem to have too clear an idea of her next move, then, but frankly, it probably doesn't matter; she's bought herself some time. She seems genuinely unchanged by her swift procession to indie royalty, and ultimately, it's only going to serve her well. The slow trudge towards 30 seems to terrify her on Sometimes I Sit and Think; "I'm growing older every time I blink my eyes / Boring, neurotic, everything that I despise" she chirps on "Debbie Downer". The thing is, it's that honesty, and that self-awareness, that's led to her where she is today, so it's reassuring that this is, most definitely, the very same Courtney Barnett who wrote those words in her bedroom on the other side of the world.
"There's no pressure," she says, smiling, "I'm an artist, not a machine. I'll do what's right when it feels right, and if it works, I'll know. I'm not in any rush."