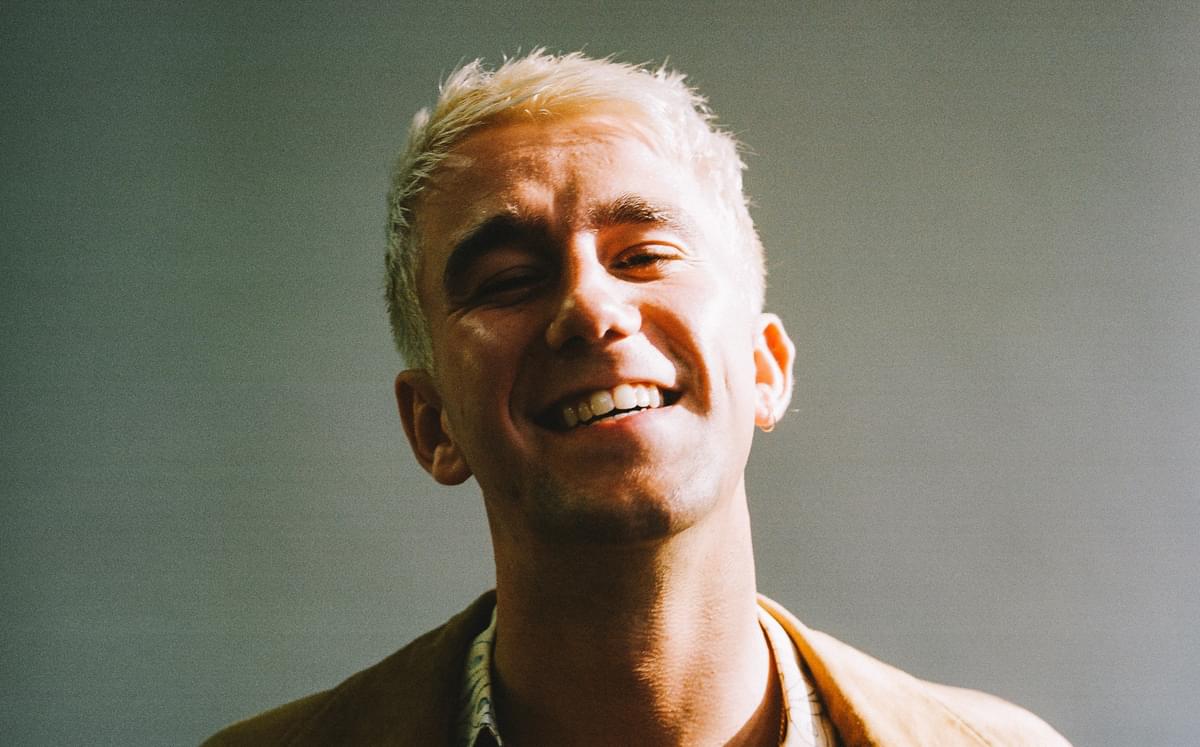 Taking disco forward
03 February 2021, 10:01
Nu disco champion SG Lewis reflects on the unifying power of the dancefloor, and takes us track-by-track through his upcoming debut.
Sam George Lewis, shortened to SG, is a little late to the party.
The 26-year-old British producer has had more than enough reasons to release his debut album up until now, managing to attract a list of VIP collaborators, including Dua Lipa, Victoria Monet, Khalid, Dave and Robyn over the last five years. 2021 is where that changes with times, an album about the fleeting joy of the night out, released in a time where that seems impossible.
Lewis grew up in Reading, UK, as one of three brothers, and each of them inherently gravitated towards music without encouragement or forced instrument lessons from their parents. Rather, it was the kids who were desperate to play, and young Sam even tried the flute at eight years old after seeing it at a school concert - "until I reached the age when I realised playing flute wasn't cool." Nonetheless the kids' passion had an impact on the household. "Music slowly became more and more part of our family life," he explains. "...to the point where most of the things we do as a family revolve around music in one way or another. Whether it's going out or going to festivals or even staying in and just listening to music."
Dance music had always been a part of Lewis' palette, thanks to early exposure to French house crossover hits like Modjo's "Lady (Hear Me Tonight)", which he enjoyed despite not yet coming across the genre's intended purpose. "I didn't know what clubs were, and I had no concept of what house music was, but whenever I heard that song, I always conjoined this image in my head of people dancing by the beach under moonlight. It would always transport me somewhere even though I'd experienced those environments, and that had a power in itself."
Lewis would quickly rectify that with his first festival experience at 15. Reading Festival saw him huddling around the guitar bands that ruled the roost in 2009, until he stumbled into the Radio 1 NME tent. "Crystal Castles were playing... there was strobe lighting and I could hear Alice Glass screaming down the mic with synths coming out, and I was like 'holy shit, what is that!'. It was like a light bulb went off in my head."
A self-described "nervous and shy kid", the idea of performing on stage rattled him, bugging at his dream until he watched a music show hosted on MTV, back when they did that. "The Neptunes and Timbaland were making beats, they were writing the songs, and then I knew that was what I wanted to do. I wanted to be able to spend all day, every day doing that. The performance element was less of a pull for me, which I guess became ironic over time, because that's now a huge part of what I really love."
The next decade-plus saw Lewis go from learning the production ropes via dubstep and electro tutorials to a debut album that carries traits and tenets designed to hold a groove like no other. "Feed the Fire" featuring Lucky Daye is a prime example, moving back and forth between an intoxicated airspace with breathy vocals, and a tight vacuum of a breakdown, one curious bassline threading it all together. Championed by Lewis as one of his "stankiest" low-end rhythms, its primal funk betrays his astute knowledge of dance music's history.
Loves Save the Day by Tim Lawrence was the key text that navigated Lewis through the making of his debut. Recommended to him by one of his close flock of hobbyist DJs, the book is a comprehensive guide to the origins of the records he and his friends were collecting together. The dance music of the 70s that, in ten years, transformed from an underground New York movement to the single biggest force in pop music - disco. "[It] connected so many of the dots of this music that I knew and loved and collected," he explains with excitement. "It taught me about where and who this music came from."
This dive went right into the ins-and-outs of the period, far deeper than the tutorials he frequented at the beginning of his musical journey. As we speak about the clubs that spring to mind when constructing the album, be it NYC's House of Yes, LA's A Club Called Rhonda or LDN's Gala Festival, he is adamant on the importance of inclusivity in club culture.
A few years after the historical Stonewall riots in 1969, disco clubs such as Paradise Club and Studio 54 were much-needed places of respite for minority groups of all kinds, especially the LGBT community. This was in the shadow of a period that saw multiple heinous acts of violence against queerpeople, including gang violence, domestic terrorism and assassination of openly gay and ally politicians. These clubs enabled greater freedom for fluidity, an escape from the discriminating world around them.
Providing people with that shackles-off celebration, where everyone has the safety to dance, has become of utmost importance to Lewis. "I think that's such a massive part of what makes those environments really special: that inclusivity and knowing that everyone is welcomed."
Lewis's single "Impact" gained notoriety upon release thanks to its guest stars Channel Tres and Robyn, and the mid-tempo cut throws them both into a high-def disco spotlight. Like an old Hithouse record sporting a 21st-century updo, it throbs with an acidic bass and husky rapping from Channel Tres, who digs into the trenches of the groove rather than outshining the production. Conversely, there are true disco flourishes in the filtered synths that hit like the colours of an LED dancefloor over Robyn's ecstatic hookline. While adopting the aesthetics of disco, Lewis equally got to the veins of its beliefs and now carries them forward.
However, there's no greater callback to 70s dance music than to have a track with Chic guitarist Nile Rodgers. The type of figure whose name is regularly followed by "himself", Lewis first met the man when he was invited to a series of sessions with fellow up-and-coming artists at Abbey Road in 2018. That day produced fruitful material for the pair that got tucked into the vault, and they kept in touch until Lewis was in LA, ear-testing an exciting new track titled "One More".
"Me and my manager were discussing how we could elevate the song. There was something missing," he recalled. "And [my manager] said 'Why don't you hit up Nile?'" Though reluctant to tap the shoulder of such a legendary musician ("I'm sure he's very busy"), Rodgers responded straight away, getting in the studio and ripping guitar over a first-hand account in the fray of another club session blurred by flashing lights.
"He's a huge source of wisdom, knowledge and inspiration," he tells with a smile of disbelief. "Because his life has been so exceptional, he has so many incredible stories about Bowie and him being at Studio 54, but he's not trying to recount any to impress anyone. He's such a great storyteller who will tell you a story about what he got up to yesterday morning with the same level of detail as he will a story about when him and Bowie made "Let's Dance"."
Further second-hand experience was lent to Lewis by a silent figure who was just as integral to that time period of dance music. Audio engineer Alex Rosner was notable for inventing the first stereo DJ mixer, as well as designing some of the first sound systems in those original New York disco clubs. Enamoured with his speaking voice in interviews, Lewis recorded an interview with the 85-year-old to introduce the record with an ideal preface: "There was harmony in the music, there was harmony in the behaviour of the people / and we had a good time". The hour-long interview was so insightful, times even dedicates an entire song to it, "Rosner's Interlude", where Rosner continues on the subject of harmony and its necessity in a good disco track. Lewis' music has always had that same understanding, a throughline that stretches all the way back to his first single.
"Warm" was released inconspicuously in 2015. Cold yet caressing, the electro-soul slow burner outperformed anyone's expectations, garnering millions of plays on Soundcloud and YouTube, as well as airplay from Zane Lowe and Annie Mac. Speaking in retrospect, Lewis is still baffled by its success: "I still can't quantify it, this is what's so crazy. When it happened, I had no idea what was going on. I didn't know what music to make, no live show, no album. It was literally the first song I had released on a label."
With an incognito feature from British songwriter and SG's "musical sister" Frances, its pitched-down vocals became one of its most entrancing qualities, which makes the fact that they happened by accident even more special. "Her label wasn't down with it featuring Frances on the record. I didn't know what I was doing, so I just [asked] if I could pitch her down [and] keep it on the record and they said 'Yeah, but don't put her name on it'. There was no part of me that [thought] this was going to reach a lot of people, all I knew is that when I listened to it, it was perfect, [and that] if I had heard that song from someone else I would have been really moved by it."
The track became his calling card and grew into a life of its own, making it to film and TV shows such as Ballers and Point Break, but the sturdy evolution of his productions pushed far beyond the weight a song like 'Warm' can hold on an artist's career. Reuniting with Frances on times feels like the subtlest of nods to his career beginnings, as "Heartbreak on the Dancefloor" flaunts an 808 drum pattern to bring a moment of heightened emotion into slow motion.
SG Lewis' last era of work was also a loving tribute to the night out with a triptych of EPs that divided the party hours into three key stages - Dusk, Dark and Dawn - and showed the range of moods he can cover track-to-track. But, from the man himself, "times is really about the present moment, and lyrically doesn't really look either way [into the past or future], even though a lot of influences are from the past. It's about taking that present moment and just accelerating it, because there's no guarantee it may ever be available again."
That instantaneous feeling is apparent from the album's opening vignette, "Time" with Canadian sophisti-pop artist Rhye. A humid resuscitation of classic French house, its core ideas spawned from a walk the two took in LA during the track's inception. "We met for the first time, hanging out and starting to put melodies down, and then [Rhye] said, 'the sun's setting, we should go check it out,'" Lewis recalls during a Best Fit-hosted Instagram livestream with Rhye. "[He] took me up to the canyon and showed me the most incredible sunset over the canyon and waterfront. It was such a beautiful thing to witness that when we got back to the studio. It provided an energy, a feeling that made me treasure the track even more." The idyllic Malibu sunset is a far cry from the grey skies of London, as Rhye pointed out, but Lewis's ability to bottle up something he's witnessed and translate it into sound lends to the immediacy of his music, as he later affirms. "[I now] understand that my job is to capture a feeling, and that can come at any moment. Rather than trying to strong-arm it, going to see something beautiful like that just triggers something." The song's placating hook lands the record's mission statement from the get-go, too: "don't waste this time".
Meanwhile "All We Have", the last track to be added to the album, sees Australian synth-pop duo Lastlings enter that same mindset. "We jumped on Zoom together, which is very 2020, and they sent over this loop of the chords and Amy [Dowdle] singing that verse and refrain. It was so simple, and to start the album with 'Don't waste this time' and to have the second-to-last [song] end with 'All we have is now' felt very full-circle, driving home that point of living in the present and seizing that moment." That idea of euphoria never leaves Lewis' sight, and is almost a cruel sentiment in an age where these moments are robbed from us. But as Nile Rodgers himself once said, "What do great artists do when you see a world around you that's in turmoil? Some of the best artists make you feel good. They look to the future."
Working on a whiteboard, Lewis drafted and redrafted the album multiple times until finishing up with a concise ten tracks, and is keen to explain the journey he ended up with. "It starts with this golden sunset feeling, and then as it progresses through, you notice things get more intense and darker with the real heady feel to "Chemicals" and "Impact", and then it reaches a euphoric peak with "All We Have". We finish with "Fall", which is almost an exhale after that euphoria."
He uses these words - "euphoria" and "exhale" - as one would describe the ebb and flow of a good DJ set, something that has been ingrained into him from the club residencies and sets he's pulled over the years. "It feels like such an instinctive thing to do. I think that it would just feel really weird to me to have the most intense tracks at the start, for instance, and then finish up somewhere in the middle at the end. There has to be a story to the album."
Lewis tentatively revealed that more songs were set to appear on the final release. "It was changing up until the last moment. There's a playlist with probably four other songs on it.... Who knows in the future, but there was one track in particular that I was like [audible groans]. But I basically woke up one morning and I completely started again, pulled up all the tracks that made sense and sat back, and I texted my manager, "It's done". It was the first time in my life that I just had this thing in my stomach that [told me] this is finished."
times represents a hard separator in SG's career progression, its tracklist stringing together solo cuts featuring Lewis himself as lead singer. Lewis first laid vocals on "Meant To Be" from 2016's Yours EP, with the guidance of Howard Lawrence from deep house chieftains Disclosure. Though previously more gun-shy to deploy his own vocals, times has afforded him the opportunity to fully grow into a capable singer in his own right, from the off-the-cuff moment of sobriety found on "Back to Earth", to the soaring lead single "Chemicals", Lewis' most popular song by his own reckoning. Now less reliant on vocal guests, there's a sense of deliverance that comes with that hurdle being lifted. "I feel like the field of play is very open for me right now. I'm always going to love collaborating and that's always going to be something that I do, but I've grown a lot of confidence in working alone."
Rounding out this "ode to the dancefloor" is the aforementioned closer "Fall", a total switch-up to the sort of slow, juggernaut ballad that fleshed out M83's Hurry Up, We're Dreaming. Removed from dance music entirely, Lewis settles on a zero-gravity plane for his adolescent falsetto to wander through the spectre of the night that just took place. He yearns for a simple request, "can we fall all over again?" The conclusion is more of a cliffhanger for where he will take his artistry next, but cements his worth as an album artist. "I wanted to end the album on a note that didn't pigeonhole me as an artist", he said of the track's intentions. "I wanted people to come away with a "to be continued" [moment] at the bottom of the album."
Upon finally turning the record in, it was less of a 'weight off the shoulders' relief and more of a 'first day back at school' excitement for Lewis. Taking just a week out to reflect on the release he's just polished off, he got back into the swing of things quickly, with a hunger to produce more music while he's still in the pique of his creative powers. "I do hope one day I can feel like I've done it and go away for a bit, but I love this thing, this is the only thing I care about," he ardently admits. "And it wasn't really out of necessity because of Spotify or whatever it is. It took me a while to get inspired again, but it was the first thing I did a week later, starting to listen to a different kind of music and absorbing something. I just woke up and [asked] what was resonating with me, and that often involves going backwards because there's a cyclical nature to music. I'm always influenced by the past in one way or another, so it's just like record digging again and starting to filter that in."
Things are going a mile a minute for the producer, but his long-overdue debut album appears to be just the dawn of things to come. "The thing is, I don't want to promise anything too soon, but I'm already quite heavily onto the next thing, so I'm sure there will be lots coming down the pipeline. This isn't the last you're going to be hearing from me in 2021."
SG Lewis's debut album times is released on 19 February.
Get the Best Fit take on the week in music direct to your inbox every Friday