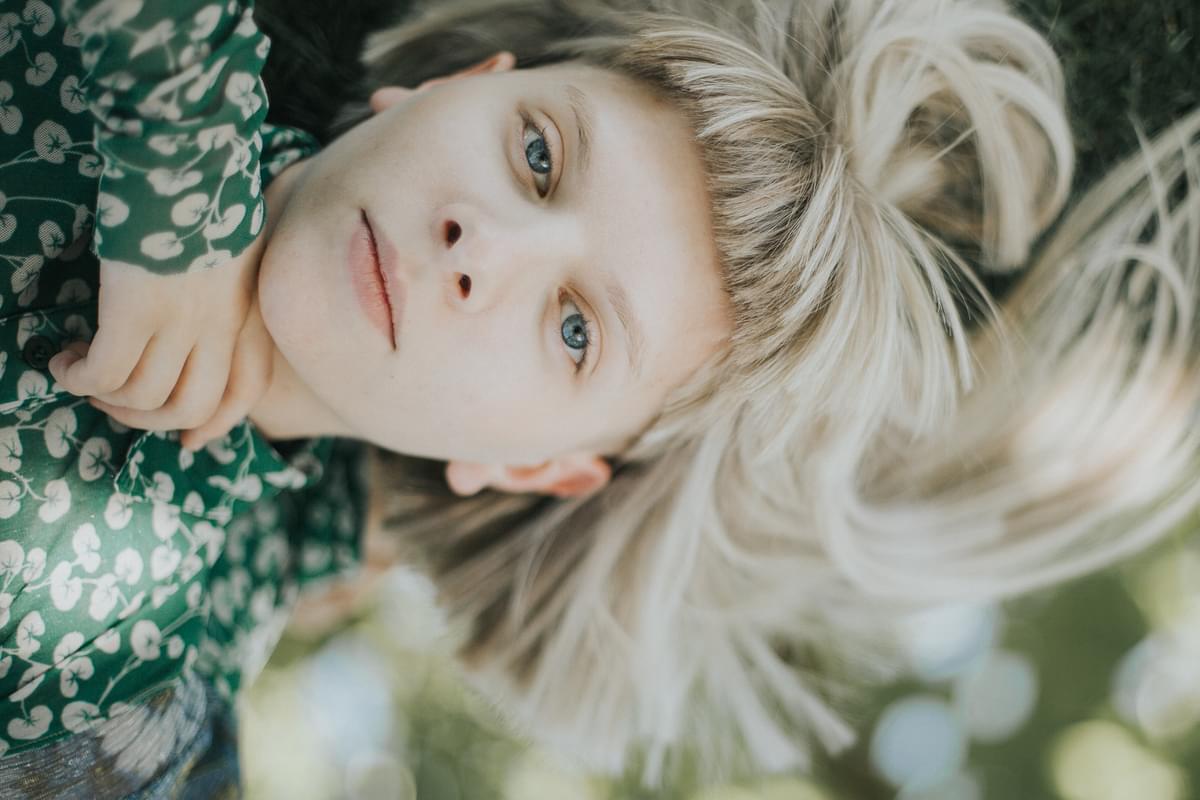 Mother Earth's Warrior
28 September 2018, 00:01
Norway's greatest pop export, AURORA speaks to Cheri Amour about her not-so-difficult second album and why it opens up a forest of thought for our future preservation.
There have long been popular culture characters in our midst hell-bent on saving the planet. Healing the world and making it a better place, for you and me and the entire human race. But there's something different about Aurora Aksnes, better known as million-streamed Norwegian singer/songwriter, AURORA. Her latest release Infections of A Different Kind - Step 1 puts Mother Earth at its heart.
It feels fitting then to be sat in one of London's luscious parks together, AURORA decked out in green amongst the evergreen sipping on her coconut water. She is slight but by no means shy and constantly alert, throwing out relatable anecdotes that seem to be skipping through her mind as she scans her surroundings. Her eyes are shining bright, often looking outwards rather than directly at me. Instead, she is constantly seeking out the sky, the clouds, darting at the path of a pigeon, beaming at a small child opposite us on another table. At one point, she becomes distracted by my stationery choices ("I have the same pen but in green") and is immediately back in the bustling streets of gay Paris where she made the purchase, with her underlying care and compassion for all things, living or otherwise. "I should've brought mine and they've could've spoken".
It's been over two years since the singer sprang onto our stereos like a forest-spirit from the Bergen mountains with her debut EP, Running With Wolves. But whilst her musical mission might be led by a bold vision for a brighter future, her present still looks pretty rosy with debut full-length, All My Demons Greeting Me As A Friend racking up a massive 200 million streams globally. It's an almost magical might for an artist who only celebrated her 22nd birthday this year. But on speaking with AURORA, her emotional intelligence is undeniable. "I know the world is not a fairy tale and we're just doing our best…" she happily admits, an astute admission for someone so renowned for her enchanting pop gems.
For the Bergen-based artist though, her strength clearly comes from the collective power of change rather than the sole-creator. She often refers more holistically to an issue than nitpicking specifics. Indeed, it's this rallying sense of collective change that has gifted AURORA such a solid fan base of "warriors and weirdos" from the depths of South America to the smaller towns and cities of Australia. "It's so important to fight for the things you care about", she continues. "They have proven they can do that. They share my message. They stand up for me. If one person disagrees with what I do, they go to war".
It reminds me of another story of a similarly impassioned figure wanting to make collective change in their world. Often admired as the crowning work of Japanese animation master Hayao Miyazaki and his Studio Ghibli, Princess Mononoke powerfully paints the struggle between the gods of a forest and the humans who consume its resources. And, it seems unbeknownst to Ghibli at the time, over 20 years on from its original release, that same spirit hasn't been lost in Infections of A Different Kind - Step 1.
Her relationship with nature is woven throughout, a sort of Hansel and Gretel style breadcrumb trail through her mind's eye of the world around us. Much like Ghibli's tale which finds the main protagonist locked in a struggle for the future of the unspoiled forest and an elaborate moral universe, the sophomore record is rooted in Mother Earth. "We are killing incredible beauty without even knowing that we've already killed so much", she reflects, her fingers playing with a small burgundy, woven scarf. It looks homemade, thin and narrow, entwined around her small hands. "We've killed entire species of animals. We've killed possibilities of making medicine. We've killed people", she pauses, clearly upset by the thoughts. "It makes me sad because I know the planet will live. She will outlive us all and we will die because we're just tiny ants on her big skin".
But despite her worry, life and death feel like a natural cycle for AURORA, as you might expect from someone so clued up on the climate. She speaks confidently about nature's balance, preferring the pragmatic output of an organism rather than anything overly fussy which could also be true of the sounds she makes. "I don't really like flowers that much. They're too pretty for their own good. People pick them and they get to die inside a vase". If she were a flower, AURORA would be a dried white rose, perfectly encapsulated within a moment of time; pure, classic and radiating humility. Meanwhile, lavender for its medicinal properties and affection to bees gets a glowing write up. "That's my favourite thing about Mother Earth actually", she explains. "All the knowledge and all that she provides us; the fruit, the medicine. That's why we need the rainforest but we tear it down".
Only recently have we seen the devastating effects of illegal logging in the Papua New Guinea forests which provide a home for many of its unique species. Most timbers from New Guinea and its offshore islands are processed in China before being sold around the world, largely for use in furniture and flooring. Likewise, in the Amazon around 17% of the forest has been lost in the last 50 years, mostly due to forest conversion for cattle ranching. Sadly it's the global brand giants causing most of the destruction with Greenpeace releasing a recent report that identified major palm olive producers such as Unilever, Nestlé, Colgate-Palmolive, and Mondelez, have destroyed an area of rainforest almost twice the size of Singapore in less than three years. The problem is, much like the Native American saying, what will happen after the last tree has fallen and the rivers have been poisoned?
Live favourite, "The Seed" encapsulates this idea. Her vocal is moving, selflessly offering herself up to restore what humanity has destroyed: "Suffocate me / So my tears can be rain / I will water the ground where I stand / So the flowers can grow back again". "The Seed" acts like the nucleus of change for AURORA. It's the birth of something. It's thought or an act or a movement. "It's the beginning of everything", she explains, enthused. "The way the seed lies underground with no sun, nothing, darkness but it knows where to go and then it breaks through the stone, the mountain, asphalt, and earth. All these things they came from down there", she insists, pointing at a nearby flower bed at which point her gaze is caught by a fluttering pigeon on the roof. After a few seconds, she apologises: "The pigeons are so distracting".
Conversation turns to her own beginnings, painting a picture of her home back in Norway which sounds like something straight out of a Lord of The Rings novel. A fjord carved out by glaciers in the ice ages with a little island in the middle of it that she would often take a small kayak out to and sleep overnight on in the summer when the sun rarely sets. "On one of them lives quite an angry goat so don't go there. He's like a proper…", she gesticulates the animal's horns with her hands by her ears. "He's intense. All the other ones are fine", she laughs. The open water feels like it is a bit of a theme to her early years, spending much of her childhood on sailboats of some varieties, not surprising for a country that has the kind of tight relationship with water that Brits have with tea. Whether it's coastline, fjord, lake or river, water is everywhere in Norway and Norwegians make the most of it. Her father sailed the seas for four years in a row before she was born, she tells me proudly.
The other towering backdrop to her youth were those sturdy mountains and an ambitious walking regime. The latter almost certainly a contributing factor to her ingenuity and appreciation of the rambling flora and fauna so prevalent in her songwriting today. "We'd go for mountain hikes at least four times a week", she states, matter of factly. "You bring some chocolate with bread and cheese to eat at the top. It's kind of what you do together with your Mum's friend and her kid, you know?" Perhaps not the same as growing up in the flatlands of Norfolk, I admit. "Well, it's very normal in Norway, especially Bergen because you have the mountains everywhere", she continues. There's a mountain in every city at least. In every village. And in my village, we only have eight neighbours, there's only us living there. And I look at the water and I have the forest behind me. She openly sighs and takes a moment, transporting herself back to the shimmering open waters, stood with lungs full of the fresh mountain air.
Surrounded by such a magical setting, it's not surprising that AURORA tries to create a kingdom of her own for listeners. The first hint at the new record, former single "Queendom" is dedicated to "everything that's alive". Insistent that "Queendom" should be a place "with only love", the song is also a celebration of our differences with an open innocence that tries to find the best in all of us. Again, Ghibli's own ethical ethos rings true here, with Princess Mononoke heralded as for its ability to make heroes of outsiders and blurring the stereotypes that usually define such characters. It's the same for AURORA. She is an artist breaking down huge barriers around inclusivity which shine through "Queendom"'s electro-pulse and call-to-arms. "It's very much about giving hope, like being given the tools to become a warrior, a fighter to deal with the now. Not an escape but a way to really stay in the present, and make a change".
Directed by Paris-based, Polish-Australian Director King Burza, the single's video finds Aurora bathed in natural light exploring the cavernous surrounds of an old country home, the dappled light falling on her through the beaten window frames. She leaps through the high-ceiling hallways in flowing white cotton, much like the lyrics suggest, as our lamb. The pulsing chorus beat kicks in with a procession of women dancers weaving behind her arms like the Shiva herself, the fierce warrior Goddess. With Scandinavia often heralded for its gender parity, it's not surprising that a huge part of "Queendom"'s rallying cry is being channeled into some sort of feminist anthem but as AURORA herself says: "it's much more than that. I want it to be a song for people in need".
"I began writing for Infections of A Different Kind the day after my first album was released...it's good when it's fresh when you're still like a predator. You can still smell the blood from the prey."
With its timely post-#metoo-era release, it's not surprising that there's a strong focus on the strength of women in here though as well as flipping assumed gender norms and empowering an army, as she sings: "The women will be my soldiers / With the weight of life on their shoulders". It's an element of Nordic folklore that really spoke to her warrior instincts. "I like that it was often the women that hunted. When the men went out on a journey to kill and steal, the women stayed and were the boss which is kind of cool". Similarly, she sees herself played back to her in scrappy forest-dwelling nymphs, the Huldra. "They had messy hair like I had when I was a child", she jokes.
Propelled by our comparisons, talk turns into a bit of an education in Norwegian children's tales as she boasts that many of them centre around a troll. Whether that's a troll turning to stone in the sun before it eats the children or the story of a young boy from the village who challenges the troll to a porridge-eating contest. Tactfully tying his knapsack to his belly, the boy scoops more porridge into the bag than he eats himself and then, once full, slashes it open encouraging the troll to do the same so they can power through the porridge. Fooled by the boy, the troll cuts his stomach and dies leaving all of the gold and silver in the cave for the boy to take home to pay off his family debts. "Then you have the troll mother who has put her eleven troll children to bed. That's the first song I sang when I was two years old in my Mum's blue kitchen", she recalls. A newborn with pink cheeks begins to whimper to its Mum on the table next to us now which lures the singer's attention away for a fleeting moment, her mouth fixed in a wide-open smile. "Sorry, babies and pigeons. Very distracting", she reasons.
After the brief introduction to Norwegian folklore, it feels apt to ask around the production of the new record which took place in a fairytale studio-cum-chateau somewhere in the South of France. Positioned in a vineyard surrounded by animals and a pond, the castle sounds like the right kind of pastoral setting for such a life-affirming record. AURORA details an almost Beauty And The Beast-like existence there, holed up in the huge house's halls and libraries for just over a month. Chef Marie cooked a three-course meal, three times a day whilst the dog Paula and cat, Ginger amble through the corridors.
It becomes clear quite quickly that AURORA hasn't faced the difficult second album syndrome. "I began writing for it the day after my first album was released because then the first album had been done already for four months", she beams. "That's why I always begin right after I release right after my previous thing. I begin on the next". A natural hunter, she adds: "It's good when it's fresh when you're still like a predator. You can still smell the blood from the prey. And you're kind of just running after it and you know where to go, that's how I felt".
It was a fairly natural process then? "I found it way easier than the first because I really knew what I wanted. I've always known since I was an embryo what I want and now I have the tools to make it happen. I know how to produce, and how to play more instruments. I played the drums and the rhythms. The multi-instrumentalist played drums on all of the songs on Infections of A Different Kind, actually, it's kind of a new passion for her. "I love it. It's very energetic and you get quite tired afterward which I love. I love the feeling of exhausting myself", she grins.
"I have my own dream language which half of the population understands...a fourth...an eleventh so I also had to learn things myself because I am the only one who can know."
Adding to her workload, AURORA took up a lot of the production duties on the record too which makes a powerful statement in a world for far too many women artists are corralled into working with male producers. She's not afraid to tackle this in her own terms, often struggling to articulate what she wanted using the technical language, the singer offers up her own alternative parallels: "Make it sound like water or bellyache". "I realised I don't have the technical language. I have my own dream language which half of the population understands...a fourth...an eleventh so I also had to learn things myself because I am the only one who can know". She's adamant that crafting her music, much like her new love of drums, is one of her biggest pleasures. The ability to realise her imagined worlds into reality gives her a certain sense of belonging which, in the future, might remain a constant more so than the live show. "If there's one thing I'll do less of, you know in forty years, it's touring. But not studio, I'll always be there", she adds resolutely.
But despite her preference, she knows the power of sharing her songs with her legion of fans and she confesses many of the new numbers have already made it into the live set. "I think at one point it was maybe a bit too many. I like all my songs better live just because of the energy so it's always nice to know that the fans will get to experience that first". And that's exactly what AURORA has tried to do with the release schedule of the record, teasing one more single out last week ahead of today's full-length. The stark opener of "Churchyard" finds AURORA's sincere vocal layered over one another and doused in reverb as a solemn strings section soothes in with a morbid twang as she questions the fine balance between life and love. You can almost see the arms flailing theatrics of similarly environmental leaning, Kate Bush against the beat.
Indeed, AURORA isn't the first artist looking to heal the world with their humanitarian ideals. Pop's biggest ally, Cher donated more than 180,000 bottles of water to Flint, Michigan, in the middle of the city's clean-water crisis. Grammy Award-winning, Rihanna was named Harvard Humanitarian of the Year back in 2017 for her philanthropic efforts after funding the build of a state-of-the-art centre for oncology and nuclear medicine to diagnose and treat breast cancer in her home nation of Barbados. Infections of A Different Kind stands united with Mother Earth almost as a vocal shining a floodlight on the dire situation we've left her in.
At this point, playing with the tousled strands of her hair, AURORA is whisked off for another meeting and disappears into the trees of Holland Park, much like the Huldra into the Norwegian forest. Just from spending an hour with her, it's clear how much the Norwegian songwriter cherishes real connections with the people she meets and is keen to create a shared space where we can all co-exist together; new technologies alongside sustainable ecosystems. Without national treasure, David Attenborough preaching about the plastics in our oceans, it's sometimes easy for us to cut out the stark realities of climate change. But high up in those Norwegian mountains, with her ear to the wind, AURORA hears it all and is ready to lead.
Forget Princess Mononoke, AURORA is our modern day pop royalty.
Infections of A Different Kind - Step 1 is out now on Decca Records.
Get the Best Fit take on the week in music direct to your inbox every Friday