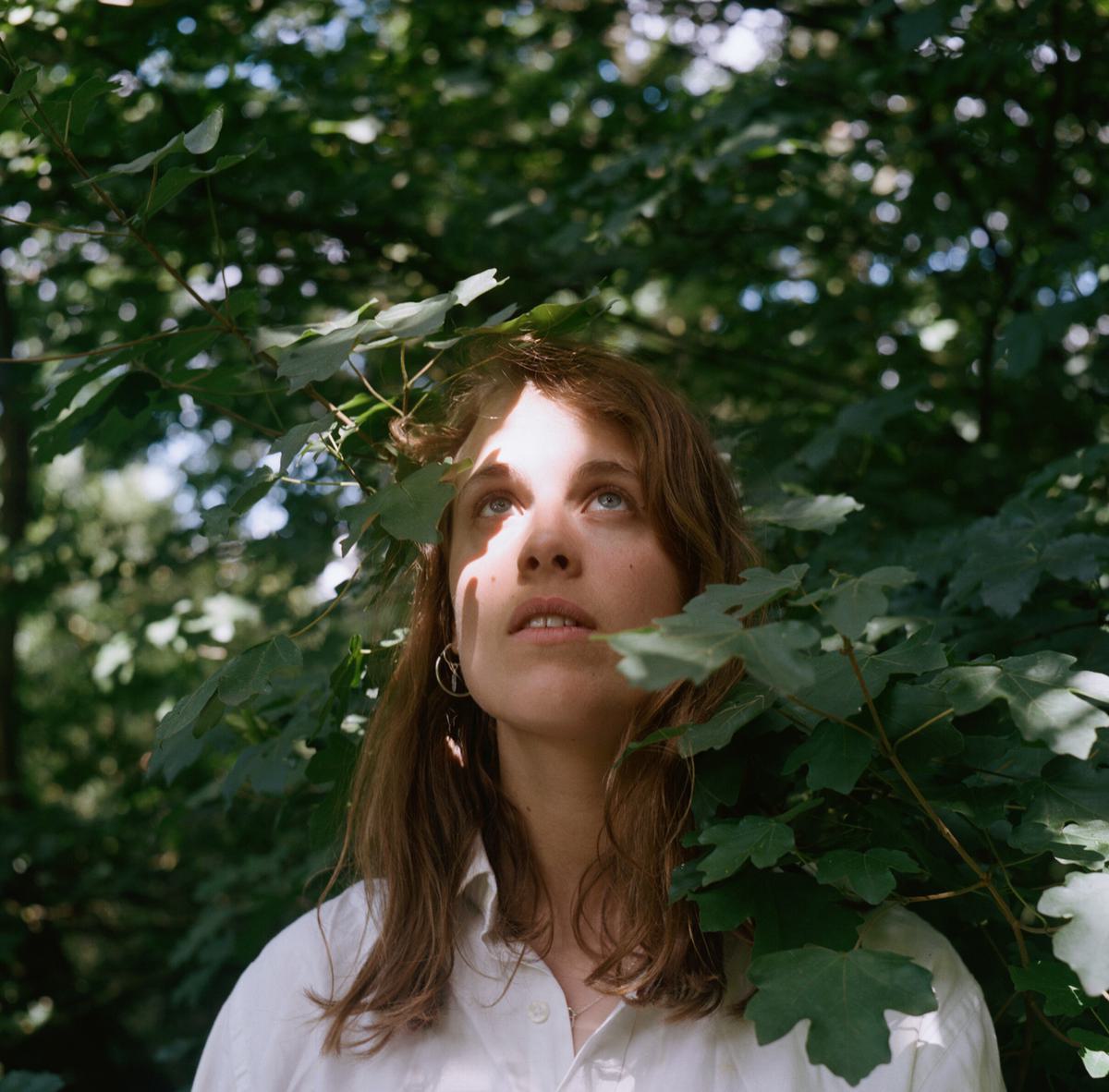 Being Human
25 July 2019, 10:00
Marika Hackman bares her soul to Em Burfitt - warts and all - as she prepares to drop her third full-length record Any Human Friend
Hampstead Heath in July is as spectacular as one might imagine; enough has been written about the place to cover it ten times over and yet it still feels as though you're the only person in the world up there.
Dogs are demanding their owners play fetch, young lovers are cradled beneath tree branches putting off telling their friends where to find them, and Marika Hackman is freshly back from a quick trip to Berlin, still buzzing over the Women's World Cup final and Megan Rapinoe's epic lead to victory. Oh, and her newest album, Any Human Friend, which comes out next month
Hackman is what some of us in the community like to refer to as a Sporty Gay. She plays footie twice a week with her mates and is remiss over the fact none of us present are jumping feet-first into the bathing ponds. She's also great craic; climbing a tree for the sake of a photograph and venturing into a patch of long grass for the same. "There are snakes in here," she says, disappearing off into the wilderness and reemerging with a blade of it between her teeth.
On the verge of the release of her third album, Any Human Friend, and the several in-stores that are going to be kicking off a UK and then US tour, Hackman is full of enviably bright energy; one that can only come at the end of a great storm. She's readier than ever for what's to come and in dire need to hear people's thoughts on the record. "I always read the comments and feedback. I'm obsessed with it to a bad extent," she says, stopping to clarify. "It's not like it affects me going forward or that I change anything based on it, but I just want to know what people think. I want to know how it's impacting people.
2017's I'm Not Your Man was revelatory in that it was Hackman stepping away from the labels that the music press threw at her on her first album, We Slept At Last, from folky to dreamy to mirrors reflected at other artists on the scene like Laura Marling and Johnny Flynn. Though We Slept At Last was steeped in metaphor and the music of both Marling and Flynn is respectively brilliant in their own way, a sneaky indulgence into Hackman's lyrics revealed something a little darker and rockier even then. I'm Not Your Man was, in some ways, an explosive change, unleashing pop bangers onto the world with more than a hint of queerness.
"It's so weird," broaches Hackman of the transitory state between processes. "When you've basically been having a conversation with yourself for an entire year and you have all this stuff you've been fine-tuning and working on, and then you can't hear the response for such a long time." Picking at some grass, she adds: "That's why I like playing shows, 'cause you can see that happening in front of you. You can be standing in a room and physically see how your music is bringing a thousand people together to sing a chorus."
One of the best pieces of feedback Hackman has received recently was in response to the all-too-relatable video for "i'm not where you are". In the video, a despondent and depersonalised millennial coasts through a series of relationships by mentally checking out; not on purpose, kind of dickishly, but not purposely. The response? This is the anthem for the emotionally detached. As she tells me this, Hackman is also laughing. "I was like, 'Yes, exactly!' It's not something that ever gets sung or written about, just that feeling of the fear of being numb." A feeling the album neither shies away from or ignores; instead, bringing it to the forefront as a means of saying it's okay, we're all a little bit broken.
"It still blows my mind," she utters, shaking her head in knowing disbelief: "Even after eight years of releasing music, I still get overwhelmed and excited. I've got a lot of milestones to hit that I'd really like to, so every time I get anywhere nearer to hitting those and I can see crowds being affected by what I'm doing, that still feels like a huge deal to me." The most recent blade of grass is soon discarded to the side of her knee and she looks at me. "I've had a long career comparatively to a lot of people already, but it's a slow burn. I appreciate every little thing at every turn, which I'm grateful for."
It's true that you see almost every part of London from the Heath. It's also true that if you concentrate really hard when you're picking at grass or leaves, you can peel away the green until you're holding its skeleton in your hands. Indeed, many blades of grass were harmed in the making of this chat. This is precisely what Marika Hackman has done with Any Human Friend; she's peeled away her skin to expose every muscle memory and zap of nerves in the form of not just a group of songs but a single, continuous, piece of music with several parts.
Hackman co-produced the album alongside David Wrench who's mixed for artists such as The xx, FKA Twigs, and Bat For Lashes. Each track is carefully and methodically sewn together, providing no unwanted breathers between songs. It's its own energy source; it tells a story from beginning to end, with incredibly constructed pop songs and hard-hitting lyrical honesty attached with buzzing, psych-y, otherworldly instrumentation that wouldn't be out of place in a David Lynch film.
All of this, Hackman says, was no accident. The opening track, "wanderlust", is a return-to-acoustic, with quiet guitar, vocals, and the ambiance of the world outside from birds to traffic. The recording as it is on the record is how it was when it was originally recorded on a headphone mic at her kitchen table; a moment trapped in time, the track lulls you into a false sense of the security of saying, this is something I'm used to, to a whole new world. "It's kind of this timeless little pocket, just this captured moment in time," she expands. "And then you have this big whirring vroooooom that sucks you up and spits you out and completely changes your expectation of what the entire record's gonna be about."
"And it's on a song about selling out," Hackman adds, cheekily. "'Cause I'm making pop music now, so it's like a massive joke. But I wrote all the outros and things, like the segue between "send my love" and "hand solo", and it was definitely a conscious decision to let the songs all roll together." She furthers: "The whole thing is that it takes you on this journey where it's rolling through and the pace is quite consistent. There's like the odd moment to breathe, but it's constantly coming at you."
At the end of the record is the title track, "any human friend" where Hackman soothes: "meet me on the outside / 'cause we don't belong / and everybody's looking at me like I'm made of stone". The sentiment of which, she urges, is incredibly important to her. "That's why it is the title track," she explains. "Those lyrics are all about the whole idea that we dull ourselves down to try to be the same when, actually, we all just need to accept each other for being these brilliant, golden shiny things." In terms of its place in the arc of the album, and its descent back into the isolated acousticness at the beginning, Hackman explains it as a "psych-y rollercoaster of what it is to be human going through all this shit."
"We dull ourselves down to try to be the same when, actually, we all just need to accept each other for being these brilliant, golden shiny things".
"That's the whole point of the record," she continues. "I'm baring my soul, warts and all so that people can listen to it and be like, 'It's okay to be like this sometimes. It's okay to show my ugly side because that's part of being human'. It's not this fucking Instagram picture-perfect smiley-smiley thing all the time. And the more you hear people being real about their experiences, the more you feel better in your own skin."
The album's cover art - in which Hackman stands in front of a white wall in "giant pants, holding a piglet across my boobs" - plays into the narrative, as well. "It's a complete reflection of that," she exclaims. "It's like, here I am, completely unsexualised. I don't look like a supermodel. It's just me in natural light standing in front of a wall; it's the most fucking raw thing and it was terrifying to put an image of myself like that out there."
Hackman has no shame about her body, nor is she fussed about being naked. She's proud and has mastered the Jennifer-Beals-in-Flashdance change of shirt into another shirt. But, as she tells it, releasing an image so physically and emotionally raw out into the world where there's no taking it back, was a whole other beast. "There's the part of myself that's obviously a bit vain and, you know, I wanna look really hot 'cause this picture's gonna be everywhere," she says. "But then there's the part of me that's me as the artist who's like 'No, this is an important message and it's a bold image that sums up the record'." Adopting a stern-if-slightly-comedic tint to her vocalised inner voice, she adds: "Like, 'Put it out, ya dick!' Then that first part of me's like, 'Yeah, actually, I completely agree with you.' So I put it out and have no regrets."
If you're curious about the piglet, they were six weeks old and fell asleep in Hackman's arms. A meet cute if ever there was one.
While walking the Heath, at one point, Hackman holds her hand over her eyes and squints off into the distance. Not to the view over London or the grass teeming with the song of crickets, but rather to a man standing alone on the hill. "Is he in his pants?" she asks, resulting in a chorus of hands-over-eyes to see whether or not he is (he was) and the deep internal wondering about his life I know I felt. Either way, it felt all too perfect a reflection of exposing one's soul. Just a guy in his pants.
On Any Human Friend, Hackman is further exploring what it means to be open, holding nothing back. One of many incredible queer women making music right now singing about what it is to be queer; in short, to be human and existing, and queer on the side, she's excited to be a part of this motion forward. To hear a queer woman openly talk about sex with women in mainstream media is a hell of a lot more important than anyone who might question it would think: As with the record and all of her songs, she refuses to close herself off to anyone looking for a connection. While her songs have always included nods to her sexuality, it wasn't until she wrote 'Boyfriend' and 'Violet', that she questioned whether or not she was ready to do this.
"It got an amazing response and connected with so many people," Hackman says, humbly. "There were some really sweet things, as well, which very much keep me going as an artist, like kids coming up to me from small towns in American just being like, 'You helped me come out to my parents.' Or, 'listening to your music made me understand something about who I was.' All that kind of stuff where you're like, 'Fuck, I didn't have that when I was a kid.' So I'm really happy I'm filling that role alongside so many other amazing queer artists at the moment.'
"It's not about being a queer artist. It's about being a person releasing music that everyone can connect to - including queer people."
Playing a game of namechecking our favourite queer artists that would rival Wimbledon, there's a certain childish glee in the knowledge that we don't run out right away: Shura, King Princess, Anna Calvi, The Japanese House, St. Vincent, Janelle Monae, MUNA, Christine and the Queens. In the right way that it can still be seen as small, but what representation there is, is bold and real and fucking there. That wasn't always the case and these artists, including Marika Hackman herself, are ushering in a new wave of inspiration for those who listen to be exactly who they are.
"Rather than being like, 'Oh the more I focus on my queer side', this record is more, let's just open me up. Be direct. Be fucking honest. That's what connects," states Hackman, disposing of another blade of grass; earth to earth. "People can tell when shit is contrived and doesn't sit right. It's very clear that people want human connection and they want it through art and music." She laughs, concluding: "So, you know, might as well do it."
"It's incredible how people can find themselves through that by just having a bit of reflection back at them," says Hackman. "I always knew I was queer growing up and I had no problem with that in myself at all, but it would have been really nice to have a record I could have listened to and recognised something." She continues: "It's like when everyone was always banging on about how The Notebook made them cry loads and all these romcoms. I just didn't find it emotional at all, and then I found Imagine Me & You and I had real emotion towards it. Even though it's a fucking cheesy romcom."
In what Hackman rightfully describes as a "legendary film", cheesy rom-com though it is, Imagine Me & You pits Piper Perabo and Lena Headey opposite one another in the queer millennial version of When Harry Met Sally. Headey works in a flower shop, Perabo is getting hitched, and they meet and gradually fall in love. Spoiler alert: There's a scene at the end where the two reconnect and share a kiss in the middle of a crowded street. Cheesy romcom or no, representation matters.
"It felt like, 'Oh, this is what everyone gets out of these films.' I never even realised, I just thought they were kind of shit, but then it's like 'No, it's because someone's actually reflecting back what it feels like to be me'. That's kind of what everyone's looking for, right?" Hackman asks, rhetorically. "And it IS exciting when they kiss. It IS kind of hot. It's not me sitting there completely numb to it, like, 'Cool, whatever.' I would've loved to have had that in music, as well. I was music-obsessed as a kid and I think if I'd have had more of that around, I probably would've been more open with everything a lot earlier on, to be honest."
Back on the topic of the queer artists who are currently out there and veering from a deep-dive into the Best Lesbian Films From the Early Noughties, Hackman's view on them is powerful. "They're all making very high-quality music," she says. "It transcends [sexuality]. It's not about being a queer artist within a queer community." Thinking of queer kids who are growing up with this around, she's also very excited and interested to see what levels of openness and inclusivity the next generation and the generation after that bring to the table. "It's about being a person releasing music that everyone can connect to - including queer people."
Any Human Friend follows I'm Not Your Man's suit in that it plays with pop production in a clever, unformulaic way. The formulaic stuff in the charts that appears successful, Hackman isn't so much into. "It's incredibly dull," she admits. "It all follows a template and I think that's tedious. That's the stuff where you can tell that eight guys have sat in a room writing it who've all written ten billion pop songs." But, she adds, there's also some really good pop music coming out; intelligent pop that spans genres. "I think genres are ceasing to exist now, which is great. It's like making political statements or having clever musicality and I know I bang on about her all the time, but The Japanese House (Amber Bain) writes amazing contemplative pop music. MUNA write incredible pop music; King Princess; Christine and the Queens."
"There's pop music and then there's pop music," Hackman deducts. "I'm totally here for people fucking around with pop production. I commend any artist who messes around with trying lots of different things and is brave enough to do that." She goes on: "You obviously worry you're gonna piss off fans, but if that's what you want to do and is your aim as an artist, don't worry about that. Just go ahead and make it."
"I feel like if you don't feel scared by what you're making then you're not growing. You're not learning. You're probably not being honest, either. I like to do things that scare me," admits Hackman. "If I didn't, I wouldn't have continued playing music." Her sage advice on this - and, to be fair, everything - is actually quite simple: "Always do," she says, knowingly. "That's what I say. Unless it's gonna hurt someone, always do."
Any Human Friend is out on 9 August via AMF Records and Sub Pop.