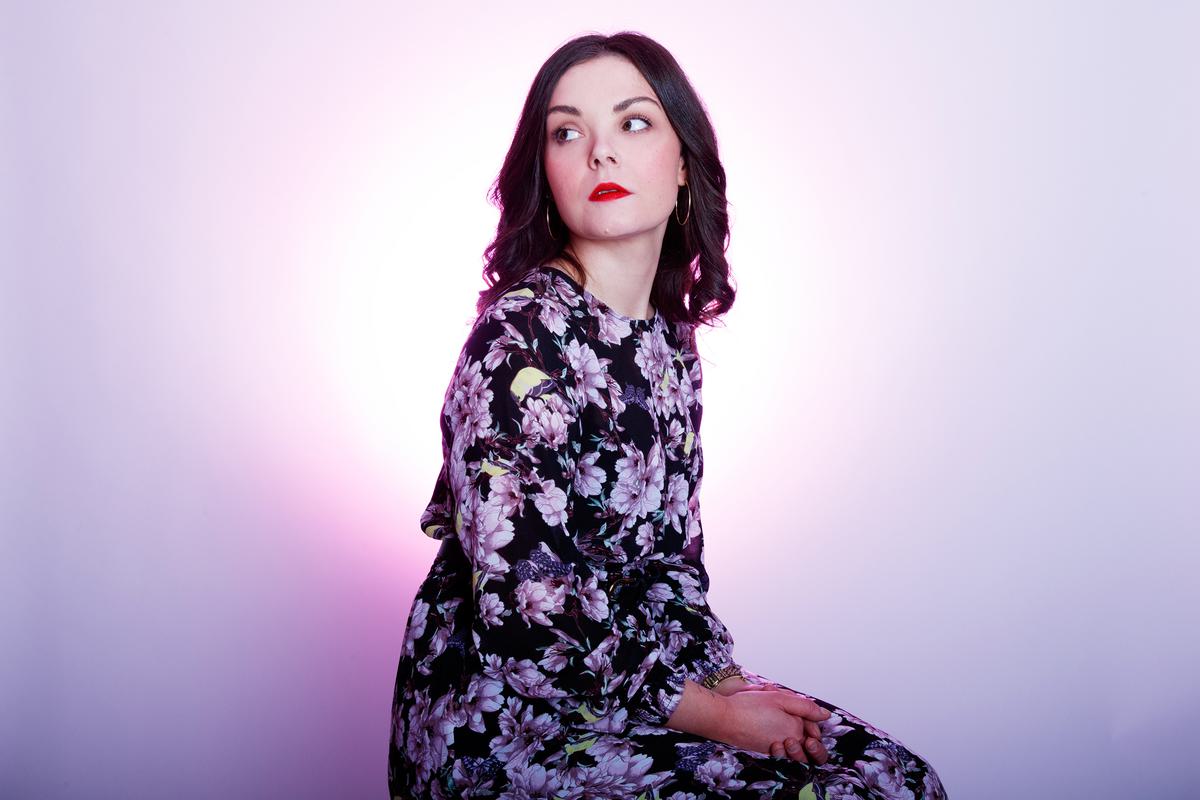 Versions of Us
17 May 2019, 08:00
Seven years since brewing up Honeyblood, Stina Tweeddale is stepping out solo for her third record, In Plain Sight, and is no less bewitching
There are proper blustering winds on the Thursday afternoon I meet Honeyblood frontwoman and founder, Stina Tweeddale.
As she enters through the glass doors of Soho Theatre to settle in at one of the brown leather booths, her hair is windswept and we both seem a bit flustered. It's clear that Tweeddale has very much been thrust head first back into the interview circuit for the new record, three years after 2016's Babes Never Die, but she's quick to assure me that it's totally fine. "It's funny, I've done like two interviews for the record. I've hardly done anything so people are asking me these questions and I've been like "I have no idea, I haven't thought about that yet", she laughs.
It's a slightly different vibe to her recent Ask Me Anything on Instagram earlier this year with her cat Lucifer lurking on the back of the sofa behind her. She's a bit bashful about the tech set up of that whole intimate affair. "My phone's broken. It's absolutely smashed because of my cat actually". I remark on what a handsome fella he is and she immediately lights up cooing "He is, isn't he?" A proper Salem sidekick. "He escaped yesterday as I was getting my flight, I was pulling my bag out of the door and he just zipped through and I thought "Well, that's it mate. You're out for two days now", she says with a smug smile. I start to explain the benefits of a natty tracking collar that I've picked up for my own feline to which she's quick to respond "I'm a weird cat person too".
It's not just her love for cats though that makes Tweeddale such a relatable figure. She's slogged away with dogged determination and a true vision for this project since her teenage years growing up in Edinburgh's Oxgang area. Type the area into a Google search and one of the suggestions to complete your sentence will be "crime". Not exactly known for its high brow exports and cultural references, she's the first to admit. "Have any of yous seen that meme with that girl singing and then her Mum goes "That's disgusting" Have you seen it?", her Scottish accent seemingly heightened. "They live in the place that I grew up. I found that out and I was like 'Ugh... it's really embarrassing'. That pretty much sums it up though".
In fact, there is a nod to the suburb on Babes Never Die album track "Gangs" as she reflects on her differences with the other kids at school while grappling with her own ambition to make it out of the sticks. "Went to school with the catchment kids / From nicer areas than this / Same flesh, same heart / Only a few streets apart / So don't let your fear, don't let your fear / Keep you here / They'll turn into quicksand".
Taking her own advice then, Tweeddale - with a maintenance grant in tow - headed out of Edinburgh to Glasgow's melting pot of culture and creativity to study and pursue that musical career. Her early efforts find her with a signature noughties fringe fronting unsigned pop band Boycotts and it was during one of the band's shows where she met Shona McVicar, performing as the backline for Partwind Partwolf. The pair immediately bonded over being women in their respective groups as well as the music they grew up with. Think alt-rock icons The Deal sisters in The Breeders and seasoned storyteller Polly Jean Harvey. Their early EP recording, "Thrift Shop" was recorded in their bathroom with one mic and saw the duo galvanising the local scene to drum up support for their own guerilla show at The Old Hairdressers in Glasgow for its release.
The eponymous debut would be something of a step up for the band, joining fellow Scots The Twilight Sad and Frightened Rabbit on Brighton based label, Fat Cat Records with Peter Katis (Interpol, the National) picking up production duties. The record dished out a handful of killer singles. Telecaster trilling 'Bud' blossoms through adversity ("All of the leaves have fallen off / What must you do but wait to welcome the frost") while 'Super Rat' spouts vicious truths straight out of the burn book ("I will hate you forever / You really do disgust me") over singalong strings.
Two years after the debut, Honeyblood as we knew it - all tea dresses and buoyant helium balloons - got a bit darker as they headed into the woods, and a new era for sophomore release Babes Never Die. Part of this new raucous edge was thanks to the force of Cat Myers who replaced Shona McVicar on drumming duties (McVicar cited the band's rigorous tour regime as her reason for leaving). Speaking with The Guardian in 2016 on the new release, Myers explained: "Led Zeppelin, Foo Fighters – the Dave Grohl drum solos, that's my bag. Stina and I bounced off that, and the music became heavier: more riffs, more aggression."
That was certainly true of lead single "Ready For The Magic" which crashed back onto our stereos with some of those stadium sized drum solos and fuzzed out guitars straight from an art rock disco. But did the release feel like a seismic shift for the band? Sipping on her glass of water, Tweeddale takes a moment to gather her response. "I think for every band, the first record is this collection of songs that have taken years and years coming and then you put them all together. The second one, it was like a shift in the way that I write as well writing for a project - the next record - and with Cat joining the band, it definitely felt like it became more of a streamlined thing".
Funny then to find the pair supporting Dave Grohl and co at their Murrayfield shows in Edinburgh, a moment that Tweeddale definitely recognises as a big step up, but something they both revelled in. "When we did the Foo Fighters gig, we played two new songs. I mean, why not? Just make it even more difficult than it already was", she lets out a laugh. "I think that was the shift because we played "Babes Never Die" and '"Love Is A Disease". They were the only two songs that we'd written at that point. But I wrote that whole record to reflect the live show that had changed since Cat joined the band".
Touring has sort of been at the root of much of Honeyblood's reinvention - first with McVicar's departure after finding the experience too tough and now parting ways with Myers who was quite the opposite. Tweeddale is quick to agree having watched Myers pick up touring gigs with both Mogwai and KT Tunstall in between records two and three. "Obviously Cat's just been going from strength to strength. When she was away with Mogwai, I was kind of like "Go, be free! Live your life!" She gesticulates with her arms like wings fluttering into an infinite sky. "I'll just stay here and write this weird album by myself which is what I kinda did…"
Tweeddale's ability to reinvent herself, record after record, is admirable particularly for an artist that's not even celebrated her thirtieth birthday yet. Her ascent from bedroom demos into a fully-fledged rock outfit and now, with a strong platform and fanfare behind her, she is stepping out on her own. Something, she explains, her closest friends weren't all that surprised by. "I've kinda been speaking to people about this. Like, people who know me really well and they're like 'But yeah, it was always a solo project. You wanted it to be a band but it never really was'. She continues: "It was always supposed to be a band because I had this romantic notion of being in a band and now I've just sort of given in like "No, it's always been a solo project" but under the guise of a band. It's exciting to do it this way. New album, new plan. It never gets boring".
While the scenes might have changed from ceramic tiles in a bathroom to stadium size stages at Murrayfield, Tweeddale's vision as an artist has remained: "With any band, it's usually a joint decision with all of them together but with me, it's not, because it's my vision and my ideas and I'd never ask anyone to have to follow that. You know, I hold myself accountable to that".
"It's been a bit of a rocky road to get here but now that I've got here, it is very much set in my vision and what I'm doing"
Going through two line up changes to get to this point, it seems only natural to find Tweeddale turning inwards, writing furiously on the new material isolated in her little house in the middle of nowhere. "I moved out to the sticks in Glasgow, set up a studio and tried to really zone in on what I was trying to do. I was feeling sorry for myself at points because you know, it's kind of sad especially when your bandmate is away touring and doing all this great stuff but then you kind of have to go through emotions like that to write a record", she admits.
But it wasn't just on-stage where Tweeddale was feeling the strain. "There were a lot of changes in my personal life as well. I just feel like it's been a bit of a rocky road to get here but now that I've got here, it is very much set in my vision and what I'm doing.". It must feel quite precious to have Honeyblood as a solo project for the first time since its inception? "I don't know yet because usually as it starts to get closer to release date, I start to panic more because I'm like "Oh wait, now people are going to hear it" and that's what happened with Babes… because it was so different".
She's a bit sidetracked here as a huge gaggle of fancy dancers with set hair pieces and brightly coloured frocks bustle into the theatre's cafe. We look out at them across the flowers in a small glass vase between us. Not unlike her own long sleeved floral dress which is the colour of spring hyacinths. "You know if the first one does well and people like it, you'd have to hope that they like the follow up especially if it changes a lot. Now I've been through that as an experience, I'm a bit more prepared. If people like it, that's good and if people don't well...this is the direction, the way it's going. I'll just kind of stream roller through that".
She reaches into her jacket pocket to pull out her phone which she lays out on the table in front of us. The screen lights up to reveal the backdrop of the record. On the sleeve design, we find Tweeddale camouflaged against a backdrop papered in earthy florals, like something from a Charlotte Perkins Gilman novel; The Woman In The Wallpaper. A gothic tale which finds our protagonist laid up in a new home under strict bed-rest haunted by the wallpaper that surrounds her, desperate to unpick the spiralling structures of its form said to represent family, medicine, and tradition in which the narrator finds herself trapped. Turns out, Tweeddale was suffering from her own traumas making this record, waking from countless fitful nights from recurring night terrors. When the Babes...tour came to an end, after countless nights in strange hotel rooms, it was actually back home in Glasgow that she ended up having these horrendous hallucinations. "It's weird because it was in my bed at home", she tries to reason. "Not when I was on tour when I was sleeping less, in weird places".
"There's definitely some punky ones on this record...it's not all weird trippy synth art"
Former single "She's A Nightmare" came straight out of these restless nights and brings to life the women who haunted Tweeddale's dreams during that period - a threatening apparition who, as the song suggests, was there at every turn. If Babes… went dark into the forest, then In Plain Sight writhes in dirgey doom ("Take The Wheel") and tales of infidelity ("Touch") and her own self-delusion ("Harmless"). The latter coming to grips with your personal faults and tapping into those vulnerabilities to breed new strength. Fitting for a record that aims to move past the sounds and signature styles that Babes... may have rested on. "The thought process that I went through when writing this record was 'Well, we've done the guitar thing and the rock thing, so I don't want to do that again. It was more about experimenting with songwriting as well because I was so used to writing for the tour. Putting in all the build ups and the stops all the time because it's like how do you pin those up somewhere else or stop it without a build up? Me and Cat played off each other so well and she's such a pushy drummer that was just how we would write naturally".
"Instead, I got a piano and started writing synth bits. That was pretty daunting starting with the piano rather than the guitar, the guitar only came after". Yet despite her intention to shift dramatically from her rock record laurels, she found a welcome starting point in former album track "Love Is A Disease" which follows a similar idea using a synth bass line to carry the beat and melody. "That was like the beginning actually. I remember when I started writing for this record, everybody asked me "What is it you want to do?" and I was like "Well, "Love Is A Disease" is the base line". Not the baseline but the bass line". She does both hand gestures between an actual instrument and the bottom of the floor to illustrate her point. "Although there is still some old school Honeyblood", she adds, reassuringly. It's true that The Third Degree could definitely be a take on the hooks of pit favourite "Killer Bangs"? "It's very much the first record", she agrees. "It's like joining the two together and taking influences from both of them. "There's definitely some punky ones on this record. It's not all weird trippy synth art".
Who better then to contort and craft these new found sounds in the studio than John Congleton. Heading out to LA during Halloween season, the revered producer behind St Vincent and Angel Olsen also shared Tweeddale's need for efficiency in the studio. "He works really, really fast and I work really fast as well. I don't like working slow". There was no long-winded, testing jamming phase then? "Not for me", she states emphatically. "We got the record done in nine days. Eleven songs in nine days". She repeats this, clearly impressed by their productivity. "The fastest I've made a record. The first record was ten days. The second record was twelve so I came back down for this one. Third record; nine. It is really efficient, isn't it?" she beams. I do the calculations quickly and deduce that's not even a day a song. "I'm not joking. I like to work fast. I left, because we had a couple of days left in the studio, and I'm phoning John up like 'I gotta come back now. I'm going to redo that guitar in that song. I'm going to redo the vocals here, I've got another idea" and he was just like 'Look, no. You're not doing any of that. It's fine the way it is. Just leave it'.
But aside from the pedal trickery, there are still some well-worn themes of female friendships ringing throughout the latest release. Some good, some bad, and in most instances inspired by her best friend and her muse. "So my mate that I write songs about. She's going to hate me for speaking about her like this…", she says as a quick sheepish aside. "I'm not trying to be all 'She's amazing, she's the best person ever'. I accept her exactly as she is which sometimes can be a terrible person!", there's a strong emphasis and proper R roll on the "terrible" here. "You make awful decisions and we get up to all sorts of trouble. And that's why she's my best friend. "The Third Degree" is for her. She is always been there for me. It's about having people who understand what your life is but when you're there, you're there, you know?"
For an artist constantly on the road, it must be difficult maintaining these connections. "As a musician who tours a lot, I'm getting to the stage in my life where I start to miss really big things in my friends' lives and I can't be there. I've missed a couple of weddings. I've missed landmark things". Thankfully, there are new ways to stay connected now that means, even on the road, Tweeddale can be surrounded by people who get it. "It is nice to make new friends as well. (Manchester band) PINS are like my best friends. We met through people connecting us on Twitter. Things like that help, where actually we have got our little girl gang and it's pretty fearless". It will later seem obvious when Tweeddale announces Anna from the Manchester indie types as her bassist in the new look line up ahead of the band's first live dates this month. A series of smaller community musical halls including one right down the road from me, I admit. She's immediately animated, confessing she actually did her uni dissertation on the subject: "Edinburgh's Summerhall is the oldest in Europe", she tells me proudly.
It feels like a fitting passion point for an artist who, despite travelling the globe with her music, has ended up back in bonnie Scotland to restore, recharge and reassemble ahead of album number three. Because whilst Tweeddale might've been haunted on her return to the city, her dream for Honeyblood is finally a realisation, stepping out on her own with a record that is all her own. From the soaring strings of "Gibberish" to the latino swing of Tweedale's current favourite "Tarantella", In Plain Sight gathers together the fragments of a vision for this project that has been brewing for a while. From the gangs to going it alone, Honeyblood remains bewitching.
In Plain Sight is released on 24 May via Marathon Artists