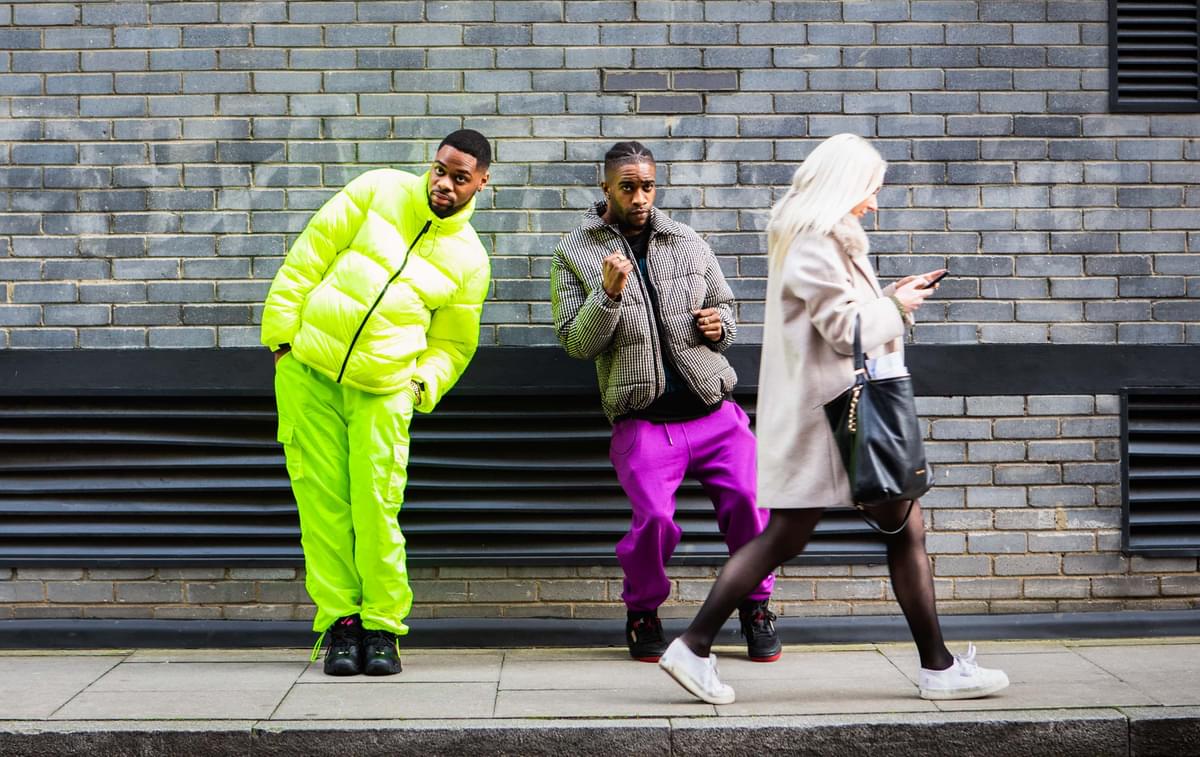 Defying All Expectations
27 March 2020, 08:30
Rap may have launched Dublin's Hare Squead, but a rich mix of musical and creative traditions has powered this innovative duo forward, from African gospel and the poetry of Maya Angelou, to US country music and traditional Irish songwriting.
From day one, Hare Squead have shown themselves to be genre-less, seeing boundaries as something to be blurred and boxes something to be broken out of.
In 2016, they found success outside of their local Dublin scene with the upbeat, poppy "Long Way to Go" and quickly rode that buzz by dropping debut EP Supernormal. With its standout single, "Herside Story" - the EP kept up the warm, playful vibes of 'Long Way To Go', while 2017 releases like "Pure: flipped the narrative, diving into dark stylings and icy synths, and "Flowers" dug into RnB vibes with its piano melody and sultry vocals but unexpectedly peppered the soundscape with skippy bars and choppy samples. "Zoo of the New" was inspired by a Sylvia Plath poem - "Child", a work spoken from a mother to her child, written after her son's first birthday and shortly before she tragically died - a pretty unexpected literary source for a so-called rap group.
"Flowers" and "Pure" racked up more than five million combined streams on Spotify alone, while Goldlink included a remix of "Herside Story" on his 2017 At What Cost album – breaking the group to millions of new listeners across the world. They went on to support the likes of Nas, Joey Bada$$ and Dua Lipa on tour.
Now based in London, they've gone through some changes - original third member Jessy Rose stepped away from the group due to struggles with mental health – and are ready to get back to that global audience with their latest EP Superweird, but it all started in South Dublin neighbourhood Tallaght.
"There's horses and shit, it's nice. You can see mountains around and stuff in Tallaght," says Lilo Blues, describing the place where he first met Tony Konstone when they were kids, a sort of urban sprawl flanked by Irish nature. "We used to call each other 'square head' because we had those Will Smith, Fresh Prince high top hair styles," laugh Tony, explaining where the name for their budding group came from. "One day we switched that round and said 'Hare Squead represent!', and it sort of stuck, and we've just been rocking it."
Despite Dublin becoming more diverse in recent years, it was still significant for them - young men of African heritage - to find each other; peers into the same stuff who shared something. "It was like, 'Ah, he skates, he's black, I skate, I'm black. It was relatable, we shared some similarities," says Lilo.
"Growing up in Dublin we were the first generation of black kids at school and stuff," adds Tony. "There wouldn't be many black kids skating, so we just found each other and were like, 'You're that too', and it just clicked."
As they grew, so did Dublin's music scene and culture. In 2015, Rejjie Snow broke through with "All Around The World" – going on to support Madonna on tour and showing the world that Ireland could produce rappers of extraordinary calibre – while Lagos-born, Dublin-raised MC Simi Crowns started making left-field work exploring the cross pollination of Irish experiences and African roots, and Emzee A (also Nigerian-born) made waves with his own unique brand of hazy, lo-fi cloud rap, drawing on subjects like the writings of the Dalai Lama. Documentaries like Broken Song and Irish Rappers Revealed shined a light on sounds bubbling up in neighbourhoods across town from Hare Squead's stomping ground of Tallaght, digging into the white, working-class rap scene of Dubin's northside.
A drill scene also began to take shape, quite apart from the city's hip-hop community and through (largely) teen artists and crews forging a new take on the sound. Some of them – like so-called Godfather of the scene, INK – were even breaking from the received wisdom that drill on this side of the Atlantic has to be delivered in a London intonation - and spitting in their own Dublin accents. It would have been hard to imagine just a decade ago that young names like Reggie, J.B2 and Jug Jug, or crews like AV9, D15 and 090 would be adding more facets to the city's small rap scene.
It might have surprised Hare Squead too, back in Tallaght as teenagers figuring out their cultural identities. As well as skating, they found an affinity when it came to music, folding in that idiosyncratically early-2000s skater mix of hip-hop, pop punk and emo: from Green Day and Fall Out Boy, to Outkast and Snoop Dogg. "Everything really," says Lilo, remembering what music they first bonded over. "Back in the days when there wasn't really social media, YouTube wasn't really accessible, or Spotify.."
"Whatever was on MTV," adds Tony.
They both started their creative journeys in different ways. For Lilo, it was playing drums – his first musical passion – then keyboard in church (no one else in the church band could play keys so he took them on) at the age of twelve, after which he learnt bass, then guitar; a multi-instrumentalist (and later, producer) who self-taught largely through watching YouTube videos. "At church we played African gospel," he remembers. "Which is really different to American gospel with its jazz fusion. This was what people would describe as 'tropical', it's very rhythmical. It was Congolese, Angolan, similar to Nigerian music too. I loved it. People are hearing us rap and they think that's all there is to us, but I come from all these different musical inspirations and influences. Hip-hop allowed us to have a certain platform, and we're definitely hip-hop children, but we're not predominantly hip-hop artists The music speaks for itself, we have so much in us."
Tony agrees: "People think we make hip-hop because they've seen us rapping, but there's so much more than that, like Lilo singing or the jazzy beats." He grew up with a love of poetry, as well as skating, football, bikes and music, which now informs how he sees lyrics and storytelling. "I love Maya Angelou, she's amazing, all her writing. "Phenomenal Woman" really stuck with me, I was like 'Woah!'," he says, "I take, from a lot of writers, how they articulate themselves personally, or connect with the reader that is kind of special, it makes it a moment. You might relate to it in some way."
Hare Squead's recent output backs up their assertion that they're more than the box people might have filed them away in. Last year's up-tempo "Petty" drew on UK dancehall and Afrobeats, while "100 Miles" -a bubbly, guitar-led track underpinned with a G-funk bassline - was inspired by the emotional vulnerability of Aretha Franklin's "I Say a Little Prayer." On their latest EP, the bass-driven "Trenches" draws on trap stylings, while "Wanna Love" melds warm, sensual synths with afrobeats inflections and soulful vocals, "Love Stuff" brings a poppy RnB flavour and "Like I'm Barack (feat. Peter Xan)" bubbles with skippy vocals and production above a dreamy, melodic loop.
"Minor Gangsters (Gully)" really shows off their genuine need (and ability) to play around with different sounds and genres, a smooth guitar line threaded through paired-back trappy beats. There's inventive use of vocal sampling too, dotted about above the instrumentation, adding urgency to the more languid undertones while the duo rap about how - while they might not have lived a life of crime that a presumptuous person might assume – they know people close to that world. It also turns judgement aimed at those in that world on its head, reminding listeners from a position of privilege that they know little about poverty and what forces others into lives of crime: "Have you ever been broke all you had was Indomie / I remember being hungry had to force myself to sleep / I done been broke, bummy, I was not supposed to eat / Fuck the white man telling me that I'm a minor G, ya dig"
It's not just an innovative track, flexing their creative chops and touching on important social subjects, it's inspired by real-life events. Last summer Hare Squead had a high-profile a run-in with the Tory party's leadership contender Rory Stewart, who posted a video on social media of a painfully awkward encounter with them in East London, and after which he was accused of making racist comments. He approached them on Brick Lane during one of his now infamous walkabouts (cringingly dubbed "RoryWalks") for a chat, which was short-lived after Stewart explained he was a politician: the young men said they didn't "fuck with politics" and left, calling for world peace as they walked away.
After this Stewart described the incident as having been with "minor gangsters" who "can come up to me and spend a minute telling me I'm an idiot". This drew accusations of racism from many politicians, including Dawn Butler, David Lammy and Diane Abbott, and Stewart apologised the next day, tweeting: "I am very sorry towards the guys and towards everyone else. I was wrong".
Hare Squead accused him of being "racist" and insightfully called out what they recognised as the hypocrisy in his treatment of young black men – using them when it's advantageous to his campaign, reducing them to racist stereotypes when it's not. Lilo told The Guardian at the time: "It's just another example of another weirdo white man trying to take advantage of black boys when it's convenient, then ridiculing them. That guy needs to apologise. He wants to seem like the people's man, mixing with people from diverse backgrounds, but he's chasing clout and now he's trying to chat shit about us. I'm not letting this guy tarnish our name, especially given the positive message we try to push in our music.
"I'm not a gangster, I'm not pretending to be and I'm not going to let some corny, goofy-looking man say I am. We're all about peace and love, and he calls us gangsters. It was definitely racist."
Unafraid to call out the powers that be (even to make music about the hypocrisy and prejudice they see) Hare Squead are also fearless in their influences, drawing from far-reaching, and often unexpected, corners of the musical spectrum to build their contemporary collage of sounds. "I think the best song writing comes from country artists, Chris Stapleton, Sturgill Simpson, they're all amazing writers," says Lilo, pasionately. "Their storytelling is really descriptive, and without being too preachy there's always this poetic element as well. When I look at Irish songwriting too, they share that same flavour, that flair."
Lilo describes his love for traditional Irish music – like folk band The Dubliners, who grew out of the fledgling Dublin ballad scene of the late '50s and early '60s – and the country's folk poetry, with an enthusiasm that might surprise people who've shelved Hare Squead in a hip-hop, rap bracket. There's something about the sentiment in this art that speaks to him, and it's not just something Lilo listens to and draws inspiration from, he's making it too. "I've made some Irish trad type music too, but I haven't done anything with it," he says. "I might just put everything up on Soundcloud so people can see the depth."
With so many different influences and strands to their heritage and upbringings, do Hare Squead think of themselves as being 'Irish' artists? Tony says: "To a certain extent yeah, I always say we're from Ireland and we grew up there and have influences from there, friends there, family...so that's the Irish part. But other than that, we just make music." Lilo agrees: "I come from there, but I don't want that to be what defines me, not an 'Irish' artist, just an artist."
They're both happy to see music in Ireland starting to blossom and grow, despite not necessarily counting themselves as part of the scene. "With urban music it's still young [in Ireland], but over the last few years it's started growing," says Tony. "It's not surprising that most people haven't heard about it, you don't really expect it with Ireland, but drill music's been doing really well - a lot of guys over there are really making noise."
The group has been doing some developing too, establishing themselves as a duo since Jessy Rose had to leave for health reasons. How has the creative process, or just being artists, changed since becoming a duo? They say there's not much different in terms of process now, but that for long-time fans there is obviously one voice no longer there. And it's a very loyal fanbase Hare Squead have built, Lilo and Tony talking about people that have "been there since day one, so die hard". Lilo says: "'One of the only reasons I do this is for them. They literally give me fuel."
"I don't even think it's the music sometimes," Tony adds, when asked about why listeners connect with them so strongly. "I think it's personality, just clicking in some way. With the fans we just show each other natural love and good vibes."
In terms of creative progression, they say they're where they were always headed, as a trio or otherwise. "We just wanted to continue the journey," Lilo explains. "We were always going in the direction of being genre-less, even as a trio. We're just going to keep pushing boundaries. To us, it's just us being ourselves."
The new EP, then – with its canny interweaving of sounds, everything from trap and afrobeats to RnB and G-Funk – while being a reintroduction of sorts, is also another progression, a step-on, from the Hare Squead their fans already love. "It's kind of a continuation of the story from where we were at: explains Tony. "Musically, we have a lot to say and we're going to keep doing that, keep expressing, keep showing that."
When asked about personal highlights from the record Lilo talks about "Baeboo" – a louche, languid, sensual track driven by an electro funk beat, and unexpectedly soulful auto-tuned vocal delivery – as really encapsulating that genre-less direction they feel defines their sound. "If you listen to that compared to, say 'Minor Gangsters', it's completely different sonics, different vocal characters, different range," Lilo explains. "You'd never expect the guys on 'Minor Gangsters' to come out with 'Baeboo'."
Do you enjoy that element of surprise? Of going against people's expectations of Hare Squead? "I love just being ourselves, that's what expression is. Imagine how annoying it would be if you were a painter and you could only paint in one colour. Look, I'm dressed in like neon today, tomorrow I could dress really formal, that's expression."
They've already been featured on a GoldLink album, and the Superweird EP boasts features from London rapper Peter Xan – another boundary breaker, fusing elements of pop with trap music – and East London hip-hop-meets-jazz-rap artist Jay Prince. Looking forward, what would their dream collabs be? The pair clearly relish the freedom this thought experiment offers, mulling over the countless creative options.
"Esperanza Spalding - she's this crazy jazz head, who's really pushing boundaries in jazz music - which is a big compliment, because jazz has already been pushed and pushed. So for her to push it further is big," Lilo exclaims. "Then, D Angelo - he's the reason I accepted the flaws in my voice. I used to think my falsetto sounded a bit playful but his falsetto is so sick. It can sound a bit playful to some people but he helped me find the way I sound sexy! It's on his album Black Messiah, I think, there's a song on it called 'The Charade' - it's one of my favourite records ever. And Young Thug is just the G.O.A.T - I love Young Thug with all my heart. All of them push boundaries."
Tony's response is equally revealing of how true Hare Squead are to their genre-less mission statement. "I think I'd change my mind about this all the time, but: Bon Inver. He's fucking amazing," he says. "Rihanna as well, they're both sick, and try so many different styles. She [Rihanna] really knows where she's going. People didn't like ANTI but I thought it was one of the best albums of that decade." Lilo agrees, laughing shyly: "I'm low key part of The Navy."
The pair are excited to share new music and visuals – like the psychedelic trip of the "Minor Gangsters (Gully)" video, all acid skies and neon landscapes, shot in the dramatic scenery of Iceland – and earlier in the year enjoyed reconnecting with their global fanbase, taking their sound to shows closer to home in Dublin and London, as well as Amsterdam, Berlin, Paris and Iceland. Mainly though, they're just itching to get more music out there, showing the world what they're made of. "There's so much more music to come, says Tony enthusiastically. "Finally, we've got these seven songs [the Superweird EP], then we've got more coming after that."
Interestingly, Lilo comes back to that most unexpected of genres when thinking about what the next year will bring and what he's excited for creatively: he's always got that Irish trad music in his back pocket to stir into the mix. "I should just do it shouldn't I?" he says laughing, but with that genuine love of taking what people expect of him, and flipping it on its head. The Hare Squead mind-set that's brought them to this point. "I have at least an album's worth of stuff, I could just narrow that down into an EP and just throw it out there. No push, no nothing, just for the music."
Just for the music – how Hare Squead started, and how they mean to go on.
The Superweird EP is out now via independently popular
Get the Best Fit take on the week in music direct to your inbox every Friday