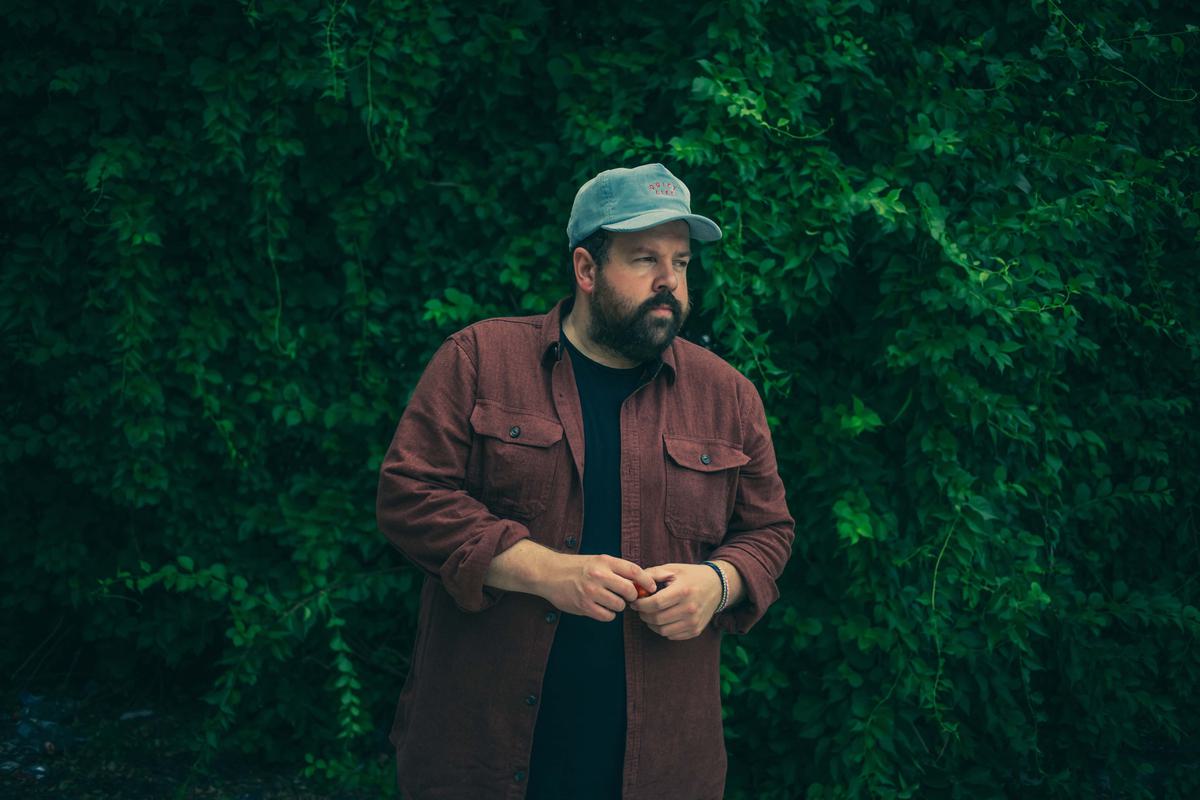 The Gentle Storyteller
06 November 2020, 09:30
By embracing and subverting country's traditional roots, Donovan Woods is using his latest album to unpack stoic masculinity – and to spotlight the creative work of those less privileged than himself.
Donovan Woods has made a career out of everyman's poetry – whether narrating the sad mundanity of a break-up or playing the pizza delivery guy in his own videos. But the Canadian singer-songwriter isn't sure perceptions of him match up with reality. "People always say, 'He looks like a guy I want to have a beer with'. But I don't drink beer, and I don't like strangers," he grins.​
Despite his protests, Woods speaks with the same muted reflection and sensitivity that runs through his grand country-pop sound, most recently crystallised on his new record, Without People. It's a collection of acutely personal folk tales, illustrated with collaborative videos that feature dance troops, illustrators and live painters (most recently, London-based dancer Wing Yue Leung can be seen leaping around a grassy verge to single "Grew Apart").
The funding that went to the notably diverse cast of artists was originally slated for a run-of-the-mill promotional campaign, but – in a year dually dominated by civil rights movements and mass economic upheaval – Woods decided to change direction. "I'm so bored with myself. Diversity really, really makes a difference in the art that you make. In an organisation that has many different viewpoints, the conversations are better, the improvising that you do with actors that are from a whole different background is better, the points of view are better... it's just true."
"Part of me died a little when I heard about the billboard, though. That might have been the 'billboard window' for me ... at a certain point, this is not going to be the greatest thing to see up there," he laughs.
Woods has what I'll reluctantly describe as "Big Dad Energy". It's something about the beard, the fuzzy flannel shirt he seems almost sewn into, and his Ohio-esque drawl (Woods is from a Canadian border town called Sarnia, a stone's throw from Michigan). He also does have three little ones of his own – aged eight, six and 20 months old. Today he's poised to do the school run, which is an hour long because Canada.
"I'm not naturally good at being a dad. So it's been a real challenge for me to get better," he admits. "I always hear men say when they have kids, 'Everything was so clear to me', you know, and I've been searching for that feeling for the longest time. To be a good parent, you have to really be able to be present." Woods acknowledges that this is tough when you're running not just your own music career, but a label as well. "I never take a break from thinking about it. And so being able to put that away, it's really difficult for me. To like, compartmentalize the stress of your work with the stress of the kids and not conflate the two – because kids are really stressful, a really hard thing to deal with."
Being so honest about your parental foibles sounds like a good way to grow into the role, but it's also made Woods a lightning rod for unsolicited – and sometimes questionable – parenting tips. "Your parents chime in with this advice and you're like... 'are you out of your fucking mind?' I remember very early on, I had an aunt who told me that when they're crying at night, you just dip your finger in rum and you put it in their mouth. And... I mean, probably that's harmless, but I don't know about getting your baby drunk." But there are more insidious differences, he says, in the way 21st century parents are now expected to behave.
"You're sort of obligated to follow the script, the guide where you go, 'It's the greatest thing ever'... 'I see everything so clearly now. I see the world through her eyes'. And as soon as I hear a dad start to talk like that, I'm always inclined to dig a little bit deeper and be like, 'Let's have a real conversation about how you're feeling rather than just this Dad Rhetoric'. Because, you know, parenting is very different than it was even 10 years ago, I think. The expectations of our work are so much more intense than they were then. And the way we view ourselves through the lens of social media and broadcasting our lives out is so different, too. I don't think very many people acknowledge it."
Woods is fascinated by masculinity, and particularly how the woefully-stubborn rule of 'big boys don't cry' seems to strand men on their own emotional islands. He jokes that it's "not something we put in the press releases", though.
"It's not really a great time to say, 'I'm studying the world of men'. And you know, I don't know that there's like much sympathy for men's issues," he considers. "That's not to say that I'm a men's rights activist in any way. But, as we get older, the attitude and edgy anger that we cultivated as a young man – thinking that when we're [grown, we'll be] capable and able to protect our family and this sort of narrative that we get in our heads – we find more and more that that's useless. And in fact, it poisons a lot of our relationships." Woods makes an allusion to the popular meme with the kid wearing a massive rucksack, with the kid labelled 'women' and the rucksack labelled 'men who won't go to therapy'. "There is strange unknownness in men. And I think most men have an internal life that's not great. And so I like to talk about it a lot."
Without People does indeed explore the trials men endure, mainly through Woods' own bleeding-heart storytelling. There's the stinging ballad "The Last Time I Saw You", which tells of the quiet shock of unexpectedly seeing an ex-partner at a party. And there's "Grew Apart", whose chorus is made up of the sad platitudes men tell each other after a break-up. "To me, it's about male fragility and not being able to say the reasons that somebody ended a relationship – and instead just using these linguistic placeholders. You realise it's just an obfuscation."
The song employs the use of an 'unreliable narrator' – a device Woods notes requires a degree of trust in your audience. "And it's getting harder to do that. Because I mean, I don't know if you watched the US presidential debate last time, but nobody's speaking above the third grade level in any way." Luckily, Woods knows that no matter how obtuse or weird he gets, his fans tend to parse the meaning – well, most of them. "A guy recently sent a message [about "Grew Apart"] that was like, 'Dude, you really nailed it with that song. Sometimes, you're right. There's just no reason you broke up, you just grew apart'." He chuckles. "Nah, dude, you got the exact wrong message."
Woods' writes lyrics much like Phillip Larkin wrote poems: by taking a microscopic detail and exploding it into a statement about human nature. "Good Lover", a feathery ballad about losing love featured on his last studio album, Both Ways, explores heartbreak by invoking specific places: from the basement apartment the musician shares with his new love, to the empty house he's forced to clean out when things inevitably collapse.
Woods is clearly proud of this observational approach, so much so that he now takes it to songwriting sessions with other artists. "The best songwriting to me is like this: how do we make it about this one thing? Okay, how do we make it about these two things? Now how do we make it about everything?" he says.
He mentions the song "Penny In the Slot" by Fionn Regan as an example of how this should be done. "I was in university when that was first out. There's something about the specificity of his language – there's a bit where he steals some things from a house, and he lists each item: a tablecloth, some Hennessy, some cutlery, and a book on Presidents deceased. It's the literalness of it that thrills me: he's going through something really profound, and he's describing these sorts of inane details. That was inspiring to me."
It's clear talking to him that Woods is a touch obsessed with language and its ability to construct reality – both within and outside of art. He quips that artists like Thom Yorke and alt-J have "trapped themselves" in their own prose, so much so that it's hard to imagine them living the same teeth-brushing, house-cleaning mundanity as the rest of us. "They've constructed entire worlds [in their music]. So the idea of seeing Thom Yorke shopping for groceries or something … or even how he, like, got married … I have a friend that keeps Tweeting this thing about how Thom Yorke 'is a hubby now'," he laughs. "And just the notion of him being a hubby is like... he doesn't even feel like he looks at the same moon as us, you know?! It seems like he's operating in some different realm."
Having spent a decent amount of time at awards ceremonies (probably his most notable was last year's Juno Awards, where Both Ways scooped Contemporary Roots Album of the Year), I figure Woods might have bumped into Radiohead's squinty genius himself. Does he think he'd be as disappointed with Yorke as he says his fans would be meeting him. "But… what if he's a goofball?" Woods exclaims, aghast at the prospect. "As you get further in the entertainment industry, you do meet these people and you have to guard yourself against them." I ask Woods to clarify 'guard', and he tells me about a time he nearly met one of his major inspirations, Rufus Wainwright. "I met his husband at a party. I said, 'I love your husband's work'. And he said, 'You want to meet him? He's in this back room'. And I was like, 'Fuck no, I don't want anywhere near that guy'. Because if he doesn't like me, if he makes fun of me, I'll be devastated." I joke that surely the most disappointing experience you can have with an artist is sleeping with them. Woods sighs heavily, laughs. "Well, I've probably provided that experience on my own for some people."
We circle back to language, this time in the context of songwriting. Woods is adamant that each song he writes has its own distinct dialect – often expressed through the first line he finds to fit the melody. "The first song on the record is "Last Time I Saw You". And the first line of that is, 'Last time I saw you arrived with someone else / And I was happy just to see you, but I kept it to myself.' When we wrote that, I knew that was the language – it's sort of circular, resigned but specific. And once you find that, then you can make it like... a barfing. Just barf up all the emotion."
And Woods' approach to songwriting is bitterly emotive. For him, songwriting is like journaling – a habit his mum has pressed him for years to take up. He's also worryingly prescient about his future, having written an album about divorce a good few years before he was even married... and before he got divorced. "There's something about pinning down the little specific fears that you're having. At the time when you're making the record, it's like making a collage or mood board about the particular ways you're feeling. And usually, it's something you're worried is true about yourself, or that's counterintuitive to the thing you want to project to the world." Woods indicates that there's a sense of closure to capturing that feeling in a song. "It's like sticking down a photograph of a vacation or something – once you got it in the book, you can close it up, and then you don't have to think about it anymore."
There is a consequence to this autobiographical approach though – Woods sometimes gets called out by the protagonists of his own stories. I ask about the typical reception: are people flattered? Angry? "They usually don't love it," he says quietly. "It doesn't matter how much you cache the language or try to make it dreamy or wishy washy, people always know. But, I mean, I don't know what I'm gonna do... I don't really care? I think if somebody wrote me into a song, I would be flattered that I occupied any space in their memory." Woods says that in reality, the person who appears in the song is often an amalgamation of many people – but that's not an answer ex-lovers and friends tend to like much. "The truth is that, in any art, you're just conflating all your memories."
Woods usually spends a good percentage of his year in Nashville, the spiritual home of his honeyed country-courting sound. He took an incredible 72 flights last year – most to the States – but with airlines suspended and borders closed, trips are off for the foreseeable. "I miss the people there. I miss my friends," he says mournfully. I note that diversity and representation are important to him (aside from his collaborations project, there's a notable bevvy of queer and non-white characters in his music videos) and question how this progressive view sits with Nashville's more conservative patrons. Country music has its problems, he shrugs, but the genre's figureheads have often faced their own struggles with poverty and deprivation.
"I think there's a part of country music that's not unlike 90s hip-hop, where the guys making country are the guys that grew up in neighbourhoods blighted by the opioid crisis. They come from towns that are pretty bleak." Woods says this is the reason why some country music might seem like "nonsense party music" –"When they come to town and become stars, they just say 'I'm in a good mood, I'm gonna party all the time, and that's what my music is about'. I think it's a little bit of posturing... because they don't feel like they belong in the world in some way."
One thing's for certain, Nashville is easier to stomach than LA. "If I'm in Los Angeles for even 25 minutes, I'm like, 'I gotta get cooler shoes, I gotta get cooler clothes, and I'm gonna live here and it's fucking ... I'm doing it!' It's really a seductive environment. Whereas Nashville does feel a little bit more like common ground. You'll see famous people at the grocery store. You can feel the broken dreams in the air in Nashville, it's omnipresent."
We restrain ourselves from wading into election talk, but Woods acknowledges the uncomfortable and somewhat unpredictable impact the current State-side turmoil could have on its Northerly sibling. "The things that happen that there – we often have a boom and echo here… their boat getting rocked is going to move our water. Conservatism takes over there, and we tend to have a little bit of a rattle over here, too. Because we're sort of in love with them in a way – but, we can't pretend like we're not disappointed when they are when they seem horrible. They're like our big brother that we can't get away from."
Whilst the pandemic may have stranded Woods and his country brethren on separate sides of the border, he wasn't ready to change his plans to launch Without People. "The first conversation we had was, like, do we delay this record? And I just thought, I'm gonna... I'm gonna walk into the ocean if we have to sit on the songs for a year." He smiles. With the video collaborations drip-dripping into the world, Woods is relishing seeing new perspectives on the work he's grown so close to. "I am so much more thrilled by artists whose process and background I don't understand. And you know, the songs have a life, too. I felt like they needed to come out."
Without People is out now via Meant Well