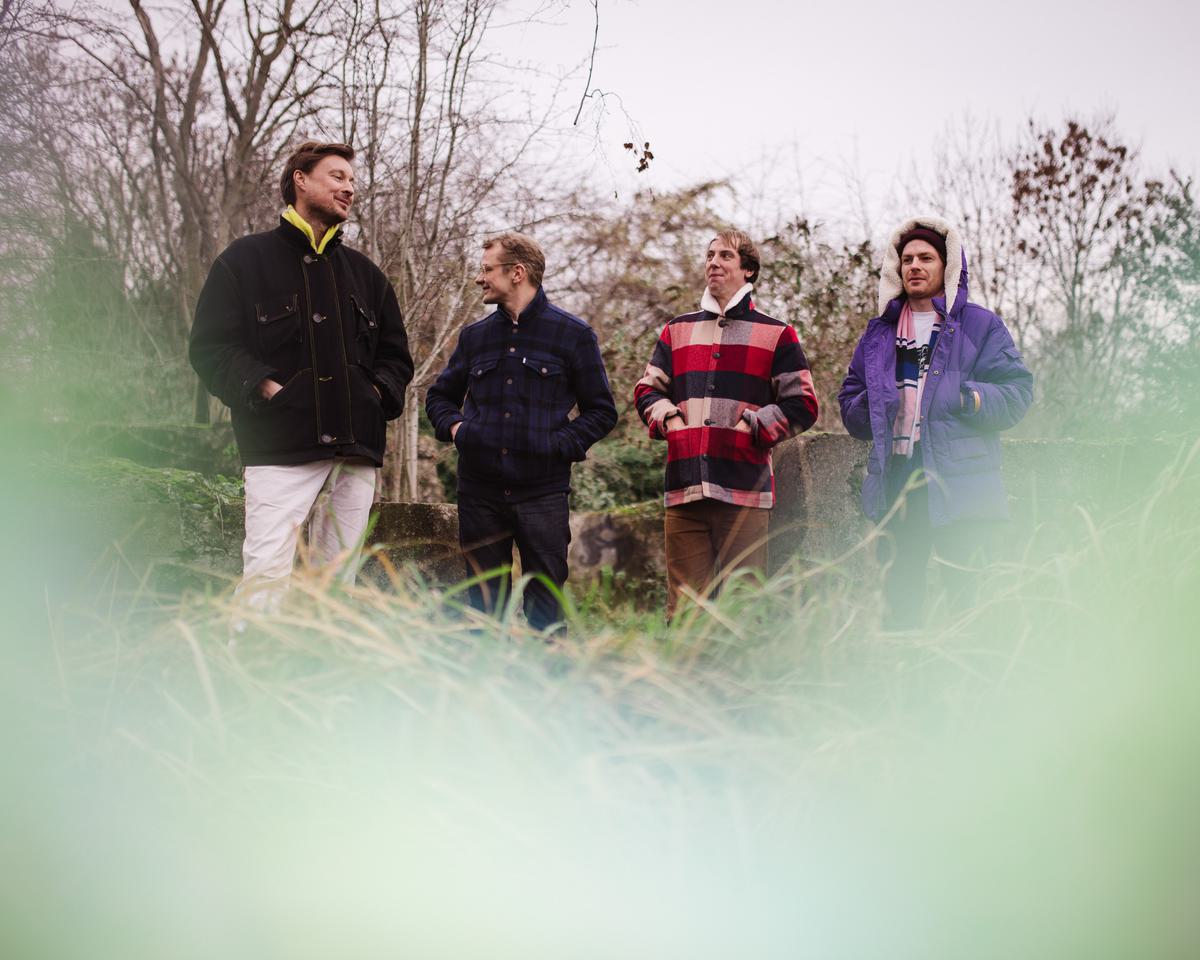 Everything Flows
23 January 2018, 18:00
Django Django were on ruthless form during the creation of new album Marble Skies, cutting tracks that were good enough to be hits all for the sake of flow. The result, they tell Patrick Clarke, is their finest record to date.
By January 2016, Django Django were well and truly burnt out.
No one had really expected the foursome's lives to vault so suddenly into semi-stardom after the release of their self-titled debut in 2012, but from the time that record was nominated for the Mercury Prize a few months later the band were thrust straight into the incessant grind of popular acclaim. Days after a mammoth tour of Australia with Foals finally ground to a halt at the start of that year, their drummer and producer David Maclean was hospitalised with exhaustion.
"The last gig with Foals was cancelled because there was a forest fire nearby, and I don't know if I could have done it if it had gone ahead. I was just so broken," he recalls. "We'd done a year's worth of touring, we were jetlagged, and everything else had piled on top by the end of the year. I had acute tonsillitis which is a sign that you're just fucked, basically, and I spent a couple of days in hospital with exhaustion. It can be gruelling when you hammer the touring like we've done. We got the Mercury nomination in 2012 and then it was just go; on the road forever."
"You can get a bit stuck in the mud with the same processes and techniques; it's good to have a change, something different to freshen things up." - Tommy Grace
When it came to re-grouping for the initial stages of their forthcoming third LP Marble Skies, Maclean stayed apart for a while longer, at first spending time producing for KT Tunstall and then working with the band remotely while he recuperated in his hometown of Dundee. It became both a break and a switch-up of the band's dynamic that was needed. "You taking time off re-energised things for us as well," synth player Tommy Grace says to his bandmate. "It was the longest period that me, Jim [Dixon, bassist] and Vinny [Neff, guitarist and vocalist] have worked as a threesome, so it mixed things up and had a different dynamic. The stuff that we did there, a lot of it became the core of the album. "Marble Skies" came out of that, "Champagne", "Further", "Sundials" and "Tic Tac Toe" did too, about half the album emerged from those sessions, but in a totally different form. Then when Dave came back he turned them on their heads. You can get a bit stuck in the mud with the same processes and techniques; it's good to have a change, something different to freshen things up."
Isolation was no bother when it came to Maclean's own engagement with the early stages of the new record, he asserts. In fact it was a minor lease of life for his creative process too. "It was good for picking up on little hooks that I noticed that could be choruses," he says. "In a jam session you don't know your arse from your elbow a little bit, so I could chop it up, which is what I really like doing, arranging stuff. I had this really weird synth, a crappy '90s synth I was writing on and making beats on. I enjoy that, it comes from the fact that I was always a DJ first and foremost, making mixtapes and getting into arrangements. If Tommy's doing his mad John Carpenter synth thing, Vinny's doing a rockabilly track and Jim's doing a folk song I'll try and join the dots and see a thread."
"We have our individual grey areas that we're not very skilled in musically, but fortunately we naturally fill in each other's gaps," Grace expands. "I don't know how much of that is just fortuitous, but it works for us.
"We were always greater than the sum of our parts," adds Maclean. "I was making dance music, hip hop beats, dancehall rhythms, for years, and I just couldn't do melodies. I was scared. When I got together with Vinny he completed that side of it all. It's knowing what you're good at and sticking to it. I don't stick and play chords too much; I'll do production, rhythms and arranging, which Vinny doesn't. We're all happy to get on with our jobs, we're all good at our little place in the band by now, and it somehow works, like four artists trying to paint one painting. It's weird and somehow we get there. We're hardly ever in the same room actually; maybe we could do that on the next one!"
The three of us at least have made it to the same room on this occasion, sat in the band's modest studio in North London, tucked at the end of a stretching corridor at the back of a coffee shop, an island of aesthetic lit up with multi-coloured fairy lights in the depths of a gloomy industrial estate. The band constructed and soundproofed the room themselves, and were intent on utilising its charms for a back to basics approach for Marble Skies, a retreat from the more expansive production of their second effort Born Under Saturn.
Maclean gestures to a shelf stacked to the brim with rickety looking synthesisers, a worn-in looking drum kit at the back of the room and a laptop with recording software still open onscreen. "It's this kind of thing we wanted," he says with gusto. "No desk, no middleman, no engineer, not even drum booths. When we made the first album there was nothing but a bed and a table. I would get up in the morning or after work and do it like that. Now we've gone back to a table and a room, just with more shit and no bed. We did take stuff away from the second album, like how to mic amps for example; we used to just plug a guitar with a lead into the back of a computer and play. Essentially we went back to the way we made the first album but with more experience."
That old cliché of limitations breeding better art is one that the Maclean and Grace believe their career to have proven true. "It's why I think we could, for example, just go away and take one instrument each and make a record, there's things to be said about pushing the instruments you have," says the former. "Like how we'd just plug the guitar directly in to the computer," his bandmate adds. "It's like, how do you get that sounding good if that's all you're able to do? It makes you think laterally and in creative ways, that sort of effort and striving to make it work that makes it personal or original. We still are amateurs in many respects; we still don't really understand compression and EQ. In staying faithful as amateurs you still get that, you've got to find creative ways of making your limited style of recording sound good."
At first it's tricky to pin down what feels a veiled sense of disappointment within Django Django for the way their second LP turned out. It did well in the outside world – a smattering of four star reviews and a place in the top 20 are no mean feat – but for a band who place so much emphasis on tightness and flow, the musicians seem at odds with Born Under Saturn's sprawling length. This time around they've taken immense care to give themselves space to trim things down, to discard tracks that don't work in the broader sense of the record and write specifically with the flow in mind. There's an assuredness bordering on brutality to this cutting process this time around – an EP's worth of potential hit singles didn't make the final tracklisting, they say – that feels like the product of a lesson learnt by a perceived mistake.
What are their thoughts, I ask directly, on their second album? "We got a bit freaked out…" Maclean says meditatively.
"I just think it was too long, that's all," Grace expands. "If it was just a bit shorter it would have been better, there's really good tracks in there. If we'd recognised the ones we were really, really fond of, maybe spent just a wee bit more time with a couple of them I think it would have been better. We're not slagging it off though; I think it's really important when it comes to where we are now."
"We're just getting on with things...We're not worried too much about things or what you're supposed to be or be doing. This contentment about this is what we're doing, take it or leave it." - David Maclean
It's worth remembering that Born Under Saturn was still a decent record, and that Django Django did rein themselves in from total over-indulgence: "We were thinking about doing a Sandinista!-style thing with 40 tracks…" Maclean recalls, with just a hint of regret at what might have been. From that record's sprawl and their debut album's tightly wound sparks, on Marble Skies the band feel they've extracted a happy middle ground that they're proud to proclaim the best work they've ever done. "It's just our most coherent," the drummer explains. "We've learnt where to have it sprawling and where to rein it in. I liked listening back to it and I think that's a good sign. The last two I couldn't bear to listen to because at the last hurdle we didn't have the time and space to finesse it. Personally it's my favourite of the three."
"Everyone had their favourite tracks on the last record and when you suggested dropping one it was like 'You can't, my wife loves it!' This time we were just a bit more ruthless and the album's benefitted for it, definitely. We stopped and thought about 'let's get the track order right', spend time going back to tweak things and make them right. We looked at the album as an A side and a B side - we were just able to sort of sit on it for a bit and just get that perspective." Grace adds.
"Take us as we are / We have come too far", swoop the opening lyrics of the record as the title track glides into propulsive motion. Is there something to be read into those words when it comes to a newfound sense of confidence and freedom? "It's about feeling settled as a band," Maclean says. "We're just getting on with things. And in life I guess, all the other guys have kids now. We're not worried too much about things or what you're supposed to be or be doing. This contentment about this is what we're doing, take it or leave it.
"When you're climbing up what seems like an endless ladder of your first gigs, trying to get a record deal, trying to get a publishing deal, getting all these things under your belt, once you do two albums without breaking up or getting dropped, you feel like you reach a plateau where you can settle a bit. Luckily we've got a supportive label too," he continues. This plateau is no metaphor for stagnation, either. "You just stop freaking out so much about things. Not artistically, to keep the mountain analogy going you can find new nooks and crannies and other trajectories."
There was still much to be learnt during Marble Skies, not least from the presence of Anna Prior, the band's label-mate and drummer with Metronomy, who filled in while their regular percussionist was working remotely. "Dave's a brilliant drummer but it was a totally different style," remembers Grace. "We're mates from when we toured with Metronomy and we share the same record label, we were lucky she was she was just glad to do it. She could play all day, which gave us the time to settle in to the groove."
"She's my favourite drummer around at the moment," says Maclean. "When we toured with Metronomy I'd watch her from the side of the stage just thinking, this is amazing. Then she'd be watching me and I'd be so embarrassed! She'd talk about pitching the drums, whereas I'm just like, 'drums have a pitch?' I'm self-taught and don't really have a clue, she's a pro drummer, she does beats that I wouldn't naturally do, like the Krautrocky beat for "Marble Skies", that really worked. It's a pain now because I have to play it live…"
Elsewhere on the record there's a notable foray into collaborative work. Writing credits are shared with Jan Hammer (he of Miami Vice theme tune fame) on "Sun Dials", with the band having reworked a riff from his 1975 album The First Seven Days, while Rebecca Taylor of Slow Club, whose solo EP was produced by Maclean, features on lead vocals on the record's second track "Surface to Air". Taylor's name is one rapidly rising in stature, but crucially her inclusion (however excellent) was for functional reasons, rather than a grasp at upping the record's mass appeal.
"Tommy had written the song 'Surface to Air' but it just wasn't working and we thought it wasn't going to make the cut, but it turned out it was made for her. On this album we decided that with anything we did we'd take the path that needs to be taken, rather than worry about how we're taking it. If a song wants to be really rockabilly we'll go down that path, if a song wants to be really electronic then it will. If a song works with Rebecca singing on it that's cool, it could be a rapper or whatever, we're very open to just making music, not worrying about what band we're supposed to be, so that helps. Once you have that mind-set then that clears things up."
The band were not, they say, actively seeking out collaborators, but rather approaching Marble Skies with a fiercely objective eye for its flow – an album with its defined A and B side or 'like a decent mixtape' as Maclean describes it. This involved more than a laboured decision-making process of sifting through the results of their sessions and picking which one follows another, but recording and writing again and again to find the right step for the record to take. Take the way the sweetly lopsided, mazing piano of "Sundials" slides into the austere pumping electro of "Beam Me Up" without a bump in the stylistic blend, or how the ceaseless energy of the record's opening title track loses none of its momentum once Taylor takes over on her relaxed, assured featuring spot.
Once again, Maclean says, this is a product of experience. "I remember finishing the first and up to the second half I was like 'this is just how I want it to flow', and then it kind of goes 'bleurgh' at the end. Then with the second album it's just tumbling all the way through… You don't always have time to get everything right but with this one we were like, fuck that, let's get it right. If we don't feel like it's right, we'll write some more songs."
The result, they believe, is not only their best album to date, but a statement of quite thoughtful intent. They are, as Maclean is at pains to point out, a serious band, not the light-hearted genre-hoppers they're sometimes dismissed as. "We're not trying to be goofy or wacky," he says. "Often we'll get described as quirky, but we're not. We're making serious music that's focused, we're not goofing around. Just because we touch on different genres, or have our magpie approach with rhythms, we're not making pastiche songs. We want to be us, and we're good at reining it in and keeping the thread running through it. Mostly it's about trying to have a dynamic, different textures and things. If I put on an album and it's only got one texture again and again and again I get so bored. That's why I loved Screamadelica when that came out, the different twists and turns."
He's right to call Marble Skies Django Django's best album to date, a perfect middle ground between the wonky charm of their debut and the sprawling ambition of its follow-up, tightened to perfection and propelled with the sense of assuredness of a band whose much-needed time off seems to have informed them that they know exactly what they're doing. The only thing that remains is to take this excellent piece of work to the wider world. For the first time, Maclean says, there's no anxiety over what the press and public might think. "I'm just happy to roll it out and see where it gets to. If I'm happy with something, I'm selfish, fuck it. Everyone can say it's shit, I'll be content. I don't care what anyone says."
There is one lesson, however, that it doesn't look like he's learnt. With another tour on the horizon, is he concerned about over-stretching again? "We'll probably overdo it again to be honest!" he says with a glimmer. "It's inevitable really. We want a right rave up this time around."
Marble Skies is released on 26 January via Because Music